Feed our World for LIFE!
Give a Gift that Grows
Empower impoverished families with the training and tools they need to grow their own food – and for just £20 a month, you could help feed a family for LIFE!
Transform Communities with Sustainable Solutions
Feed our World for Life
Give a man a fish, and you feed him for a day.
Teach a man to fish, and he'll feed himself for life.

Our sustainable food projects help people to feed themselves and their families for life, transforming entire communities for generations to come.
We currently have two sustainable food projects that are making a big difference in the lives of thousands of impoverished families throughout Asia and Africa, our sustainable, long-term Vegetable Gardens and our Climate Smart Villages.
As part of our sustainable Vegetable Garden projects, vulnerable people receive garden beds and land, training sessions on growing a variety of crops, and the opportunity to sell the produce in local markets. We also give people livestock such as chickens, sheep, and goats!
Our Climate Smart Villages provide people living in rural villages with farmland and training in diversified agricultural farming methods. From land preparation to harvesting, we train people in a range of skills and provide them with all the essentials tools, seeds, fertilizers and support they need to prosper in their Climate Smart Villages.
These projects help provide people with a sustainable livelihood and put food on the table for years to come. The families we help used to worry where their next meal was coming from, but now they are excited to be growing and selling their own food!
For just £20 a month, you can give someone a sustainable Vegetable Garden or help create a Climate Smart Village.
Give a gift that grows today!
What Happens When You Give a Vegetable Garden: Alice's Story

Alice comes from the Karamoja region in rural Uganda, which is plagued by poor rains and drought.
This means that many people in the Karamoja region rely on emergency food relief, and people just don't believe that the land can grow healthy crops based on failed crops of the past. Youth unemployment is extremely high in this area, and literacy levels are low, which makes it difficult for young people like Alice to make a living.
We've been working in Karamoja with young people like Alice, delivering training in Climate Resilient Sustainable Agriculture and providing everything they need to grow their own food, as one of our Vegetable Garden projects.
"After seeing the vegetables doing so well, I thought I can do the same myself. I planted onion, spinach and sukumawiki. Surprisingly, they performed well after a little training." – Alice, 25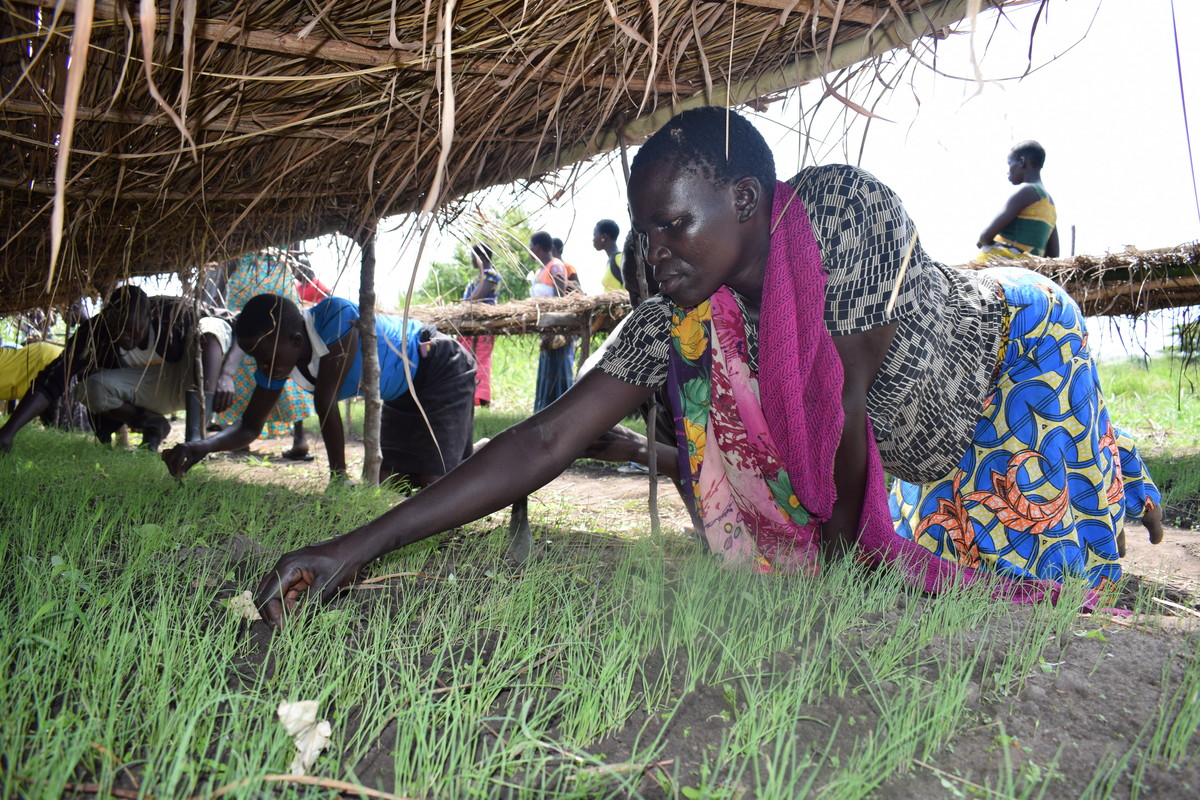 The young people we worked with were over the moon with the crops they managed to grow – Alice can grow enough to feed her children, earn a weekly income and even buy 6 goats!
We also helped Alice to become a trainer in her community, so she can help other young people to learn about and use better agricultural practices. After doing so well herself, Alice plans to set up her own business and run classes to boost her income and help her community.
For just £20 a month, you can help us continue to set up sustainable agricultural projects and deliver specialist training to help provide sustainable food sources and feed people for life!