We take small change and make a big difference with it.

Penny Appeal was set up in 2009 to provide poverty relief across Asia, the Middle East and Africa by offering water solutions, organising mass feedings, supporting orphan care and providing emergency food and medical aid.

Since then we have transformed lives and empowered communities around the world, helping to break the poverty cycle and build brighter futures.

Our work and our teams have grown considerably in the past few years, allowing us to launch many new campaigns and work in even more crisis-hit countries.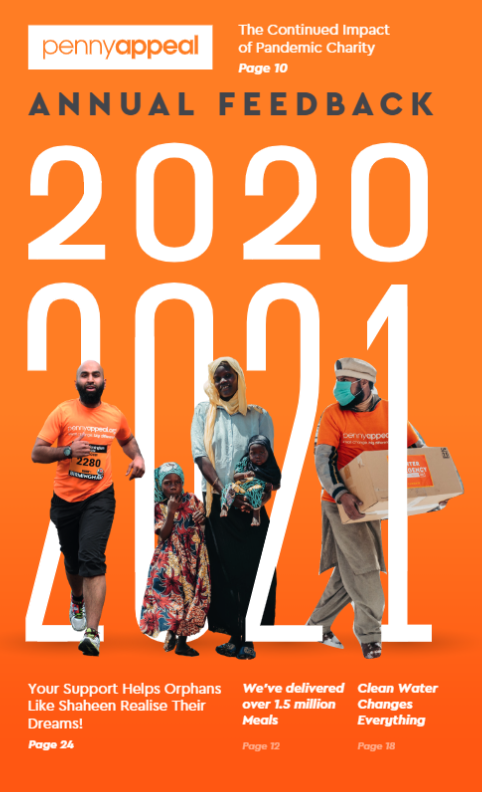 Penny Appeal's way of doing charity is simple, and has a massive impact. We make charitable giving affordable and rewardable, ensuring everyone can help the poor and needy by donating just a few pennies each day.
"We take small change and make a big difference with it."
Alour projectare carefully constructed and designed to be accessible and effective. They are a blend of emergency support, short-term relief and longer-term sustainable interventions. This multi-focus approach means we can save lives immediately, improve situations in the coming days and weeks, and transform communities for years to come, always giving desperate people the support they need depending on their situation.
We're reaching out to benefit the maximum number of poor and needy people, in ways that cost our donors just a bit of loose change each day.
Penny Appeal is committed to making it easy for you to see how your donations are used. For more information pleastake a look at our easy to follow Understanding our Accounts document.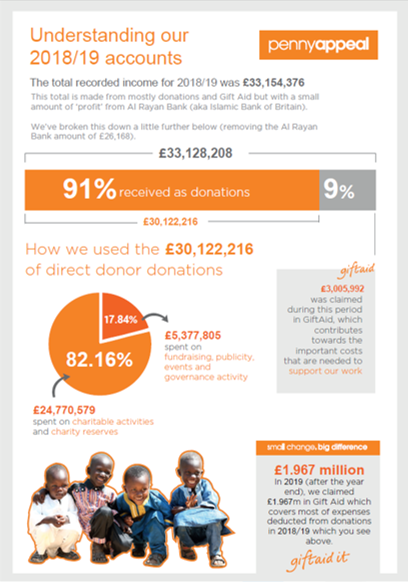 Safeguarding
Penny Appeal has a commitment to continuously improving safeguarding processes and has a culture of vigilance and awareness. In addition, our zero tolerance approach to breaches of our safeguarding policies means that we will thoroughly investigate all alleged breaches.
Some of our staff and volunteers carry out roles that require them to work with people who are considered to be at higher risk of harm, including children and adults at risk. Our vetting process for staff, volunteers and consultants includes the appropriate background checks, interviews and a Disclosure and Barring Service (DBS) check, where relevant. All staff undertake an online safeguarding course and those with a front-facing role, attend a comprehensive, in-house safeguarding training session. We continuously monitor guidance from Government, the Charity Commission, BOND and SAFEcic on procedures and protocols for safeguarding.
If you are a member of staff, volunteer, donor or beneficiary, you can confidentially report a safeguarding concern by emailing: safeguarding@pennyappeal.org or by phoning +44 3000 11 11 11
All calls will be treated in the strictest of confidence.
Opting out of text messages from Penny Appeal
Why is my opt-out text showing as not delivered?
Sometimes this is because of settings with your network provide or device setting. You can get in touch with your network provider where they can offer advice specific your network and or device setting options.
I'm on Plus Net and I cannot use the OPT OUT code
PlusNet does not allow customers to use the opt-out codes. You can call: 03000 11 11 11 or email: info@pennyappeal.org with your mobile number, first name, last name and we can manually opt you out of receiving further text messages from us.
Does my network charge to send the opt-out message?
Some networks will not allow you to message short codes to avoid incurring charges, so you'll need to check the terms and conditions of your provider. Alternatively, email: info@pennyappeal.org with your mobile number, first name, last name and we can manually opt you out of receiving further text messages from us.
I've opted out but still received another message.
This may be due to the timing of the opt-out request or scheduling of messages. You still receive it may be our systems are still updating, please let us know if you are still receiving messages after 48 hours of opting out.
Are there any other ways to opt out of SMS?
Yes please see the following
Text: HDTH to 88802
Call: 03000 11 11 11
Email: info@pennyappeal.org
Text: STOP to +44 78112345678