A Winter Emergency Calls for Winter Charity
This Ramadan, donate to provide life-saving winter aid.
We're all trying to stay safe and stay home where possible to prevent the spread of COVID-19, as well as keeping out of the bitter cold. But for 736 million people living in extreme poverty right now, this could be impossible. You can bring the feeling of home to thousands of people this Ramadan.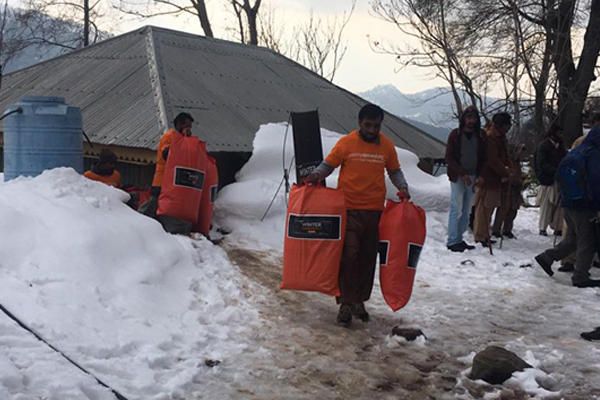 Millions of people from all corners of the globe are suffering from severe poverty and displacement; their lack of food, clothing, fuel, shelter will make it extremely difficult to protect themselves this season.
Home is not home for:
The 1.6 billion people living in an insufficient shelter

The 150 million people who are homeless

The 26 million refugees around the world.

The 45.7 million internally displaced peoples.
It is hard to stay safe at home if you have no home.

Home is Not Home for Many Around the Globe…
For millions of people around the world, home is not a safe place.
Home is not home for the displaced, the abused, the lonely, or the forgotten. War, famine, poverty, disaster, and now COVID-19 have taken away the security that homes should offer families.
This winter is set to be one of the toughest on record, especially for those who are already struggling to get by. The cold can kill, and the brutal chill of winter coupled with the danger of COVID-19 is threatening the lives of millions.
Help protect them from the cold with your winter charity.
We're working in 9 countries around the world this year to help our brothers and sisters in need with the support of your winter charity, providing them with life-saving winter essentials. We are also working at home in the UK as part of our winter charity appeal, to support the most vulnerable among us this season.

International Winter Charity
Last winter, Penny Appeal was able to help 20,330 people thanks to all your winter charity, Alhamdulillah! Your heart-warming generosity provided real warmth to vulnerable people in frightful situations, eased their suffering, and brought hope to those who truly needed it.
Save lives this Ramadan with a simple donation; protect lives with your winter charity.
This Ramadan, our Winter Charity appeal has set out to bring the safety and warmth of home to the many families who have either lost theirs or are living in less than ideal circumstances. Home can be more than a place, it can be the people you love or the feeling of security and comfort; home can be found in the smile of your child or the warmth of a hug. Home isn't where you live or where you're from, home is a feeling.
You can help thousands of people this winter by making a donation to our Winter Charity appeal today. Winter is going to be a challenge for those living in poverty but we can help them cope with the cold weather and protect them from COVID-19 by giving winter charity to any of our brothers and sister who need it.
If you have any questions about our Winter Emergency appeal or you'd like a little more information, please take a look at our FAQ page.