Home is Not Home for Those Struggling in Yemen
The Yemeni people are not prepared for the winter cold; millions of lives are at risk.
Years of war have left Yemen defenceless, and struggling to get by in the midst of one of the world' worst famines. Over 20 million Yemeni people are food insecure; making them vulnerable to illness brought on by the bitter cold of winter. Home does not feel like home when you have lost everything
Your donations can help save lives.
Protect Lives in Yemen Today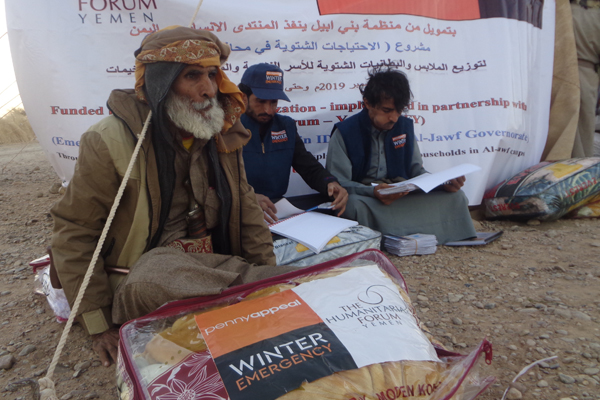 3.6 million people are internally displaced within Yemen, having fled their homes in search of safety. Many of these people are living in a makeshift shelter with absolutely no heating with winter on their doorsteps, they pray for emergency support.
Penny Appeal is on the ground in the Al-Jaw governorate, providing vulnerable Yemenis with tents, warm winter clothing and blankets.
Winter will be crippling to poor Yemeni families living in makeshift shelters, but with your help we can keep away the cold.
Winter in Yemen
It's hard to stay safe at home, when your home isn't safe. The ongoing war in Yemen has devastated the country; widespread conflict and famine have left 80% of the population in need of urgent humanitarian aid. Now, as the bitter winter settles in, Yemenis are put in even more danger.
The drop in temperature makes finding food even more difficult, and many people are just not strong enough to fight off the cold. Donate to Yemen Winter Appeal today.
The Al-Jawf governorate is one of the most war-affected areas and is home to thousands of displaced families who have fled other parts of the country in fear for their lives. Torrential rainfall has previously caused brutal flash flooding in this area over the summer, and over 15,000 displaced families lost their tents and shelters, as well as clothing, blankets and personal belongings. Many of these families have not been able to find new shelter and are sadly living out in the open.
Penny Appeal are working on the ground to protect lives in the Al-Jawf governorate, as part of our Yemen Winter Appeal. We're supplying families in need with tents to shelter them for the winter, as well as providing hundreds of people with warm clothing and thick winter blankets.
Help protect these innocent lives this winter.