Home is Not Home for the Poor in Pakistan
After the severe flooding in late August and over 339,000 confirmed cases of COVID-19 throughout the country, Pakistan needs our support this season. Everyday life is a struggle for the poor but in winter, they begin a fight for their lives.
Help us keep families in Pakistan safe and warm this year.
Protect Lives in Pakistan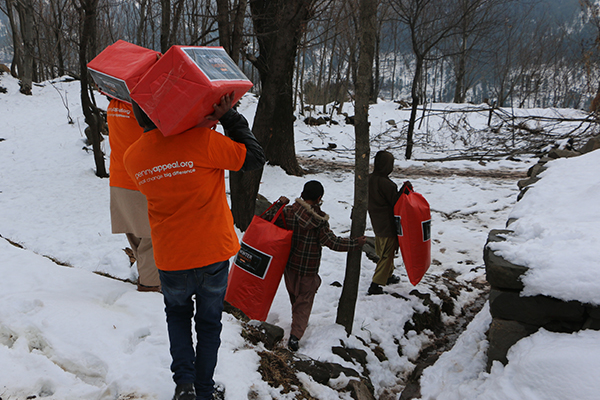 Home doesn't feel like a secure place for impoverished families as the cold weather sets in around them. Each year, Pakistan experiences harsh freezing weather throughout the winter but this year, due to La-Nina, Pakistan is expecting a prolonged winter season with well below zero temperatures.
Penny Appeal are working in Khyber Pakhtunkhwa this winter to provide some of Pakistan's poorest families with warm clothes, blankets, shelter assistance and more. It is hard to feel at home when you are shaking from the cold.
Help keep families in Pakistan safe and warm this year.
Winter in Pakistan
Winter is the most difficult season for those living in poverty in Pakistan. Temperatures drop below freezing at night during the winter months, and Pakistan'most vulnerable people just do not have the money to buy winter clothes or blankets to keep them warm.
Millions of the country's poorest people live in fear that they won't make it through the winter months. It's difficult for Pakistani families to feel protected in their homes when they have next to nothing.
Donate to Pakistan Winter Appeal today to keep families safe and warm.
This year, Penny Appeal are on the ground in the Khyber Pakhtunkhwa province to protect the vulnerable families living there from the bitter chill of winter. This area of Pakistan often encounters heavy snowfall during the winter months and those who can afford to leave for the season do. But poor, disadvantaged families who barely make enough money to feed their children have no choice but to stay in their homes and pray they make it through the winter.
Due to heavy monsoon rainfall and flash flooding this August, many schools, roads, homes and other property were damaged in this area, and not everyone has been fortunate enough to properly rebuild. Without proper shelter or supplies, home is not home.
Impoverished families now find themselves exposed to the cold, with a higher risk of illness. COVID-19 is still prevalent in Pakistan, and La-Nina brings with it a longer winter season; the people of Pakistan need your help.
Penny Appeal have set out to protect families who are at-risk this season by providing warm clothes, blankets, shelter assistance and other essential winter aid. Help us save lives iKhyber Pakhtunkhwthis winter and ease the hardships of the poor.