Tis the Season...to Save Lives in Pakistan this Winter
Winters in Khyber Pakhtunkhwa are miserably cold. This area of Pakistan often encounters heavy snowfall during the winter months, and this year is no exception. Snow covers the ground, and families living in rural villages here are freezing. Without warm clothing, blankets and shelter, our most vulnerable Pakistani brothers and sisters will suffer.
Protect Pakistan this winter, donate now to save lives.
Protect Lives - Shamila Story
In District Swat, Khyber Pakhtunkhwa, temperatures have dropped below freezing and impoverished families living remotely here are in serious danger of freezing themselves. Without protection from the cold, their fears for winter could become a terrible reality.
Each year, Pakistan experiences harsh, freezing weather throughout the winter but this year, due to La-Nina, Pakistan is expecting a prolonged winter season with temperatures dropping well below zero. If recent winter weather in Khyber Pakhtunkhwa is anything to go by, then a prolonged cold season could be disastrous for those living in poverty.
Penny Appeal have already distributed warm winter clothing to 968 of people in Swat so far, and with your help, we can continue to provide some of Pakistan's poorest families with warm clothes, blankets, hygiene essentials and shelter assistance.
Winter in Pakistan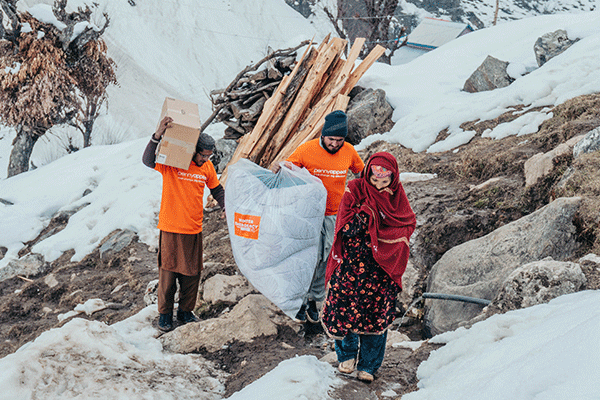 Winter is the most difficult season for families living in poverty in Pakistan. Temperatures drop below freezing at night during the winter months, and Pakistan's most vulnerable people just do not have the money to buy winter clothes or blankets to keep them warm. Millions of the country's poorest people live in fear that they won't make it through the winter.
Abdul, an elderly man from Swat, had these fears as well but thanks to your donations, we were able to deliver warm clothing and blankets to him and his family, alhamdulillah!
"I am poor and cannot have warm clothing for all of the members of my household, therefore I try to bear some of the cold myself." Abdul says, "[The warm clothing and quilts] have helped us stay warm, and we pray for the prosperity and success of those who provided us this. I am glad and thankful to Penny Appeal Pakistan for helping me stay warm in this severe cold."
Penny Appeal are protecting families in Pakistan who are at-risk this season like Abdul's by providing warm clothes, blankets, shelter assistance and other essential winter aid. Donate to our Pakistan Winter Appeal today to keep families protected all winter long.
Help us save lives in Khyber Pakhtunkhwa this winter, donate today to make a difference.