Winter in Syria
Send the gift of warmth to protect Syrians from the bitter cold this winter.
Winter in Syria can be extremely difficult, with prolonged periods of snow, temperatures dropping well below zero, and freezing rain that causes floods and muddy living conditions.
Many of the tents and makeshift shelters which displaced people live in offer little protection from the harsh elements of winter in Syria.
A simple gift of warmth could protect Syrian families from the freezing temperatures that threaten their lives. Warm clothing, blankets, nutritious food and reliable shelters could be the difference between life and death for vulnerable Syrians this winter.
Donate to our Syria Winter Appeal
Winter is every parents' nightmare in Syria
Over 6 million men, women and children are currently displaced within Syria, many with only the clothes on their back and makeshift shelters to protect them from the cold. Winters are bitterly harsh in Syria, and many families fear the drop in temperature and heavy snow. Without adequate winter clothing or warm, dry shelter, many are exceedingly likely to fall ill during the winter season.
Seham Alahmad is one of the many Syrians who share worries over what winter will bring. She is a refugee from Palmyra, who took up residence in a displacement camp with her family over 2 years ago. One day her husband went to collect the firewood for the family, but sadly he never returned to the tent. Seham spoke to authorities about his disappearance, but no one has been able to find him. Seham has 3 young children and with her husband missing and no relatives nearby, she is unable to properly support her children. She has been relying on the kindness of her neighbours to get by but she fears for her children's health and safety, especially as the weather started to get bad.
Seham's winter worries were put to rest, when she received a Winter Kit and food for her family through Penny Appeal's winter appeal.
"When the winter came, I thought that my children will not survive this year. How could I feed them? How could I keep them warm? I prayed to God to help me. It did not cross my mind that an organisation would come to help us especially since we were in a distant place where this doesn't happen often, but you came. After receiving the basket, I felt safe at least for now. My children have had enough to protect them from the winter cold. Now we have food. It felt like the days when my husband was with us and I didn't have to worry so much. I would like to thank you for saving us from the cold winter." – Seham Alahmad, 25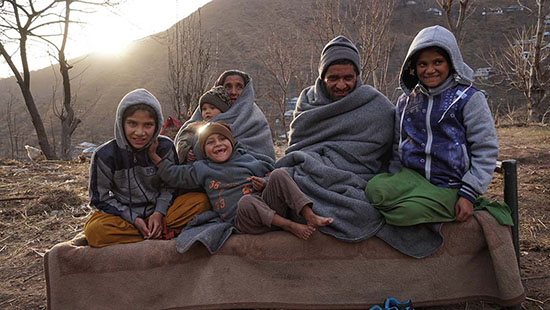 Last winter, we were able to help nearly 4,000 people keep warm and well nourished in Syria, providing them with food, fuel, warm clothing, blankets and fuel for heaters to stay warm throughout the cold months. This year, you can help even more families like Seham's by donating vital winter items to Syria!


A simple gift can protect a life; share the warmth with Syria this winter.
Donate winter supplies today!