Rebuilding Syria – Brick by Brick
After over a decade of brutal war and persecution, an estimated 6.8 million Syrians have been made refugees. A further 6.7 million are internally displaced and dependent on humanitarian aid, making this the world's largest refugee and displacement crisis of our lifetimes. As the war ravages on, Syrian families are in desperate need of finding safety and security. This year, Penny Appeal are working with our partners on the ground, inside Syria itself, to re-settle Syrian families in our unique £2,000 Syrian Homes.
"Verily, the believers are like bricks of a building, each part strengthening the other." Prophet Muhammad (ﷺ)
Your kindness is their shelter. Your generosity is their protection. In northwest Syria, more than a million people are living in temporary camps, suffering through extreme weather conditions, without income or work and without enough clean water. Most of these people are living in tents which are ill-equipped to protect them from hot summers and cold winters (as well as natural disasters such as floods) leading to many deaths in the camps every year.
Save the life of a displaced Syrian family by building them a home they can call their own.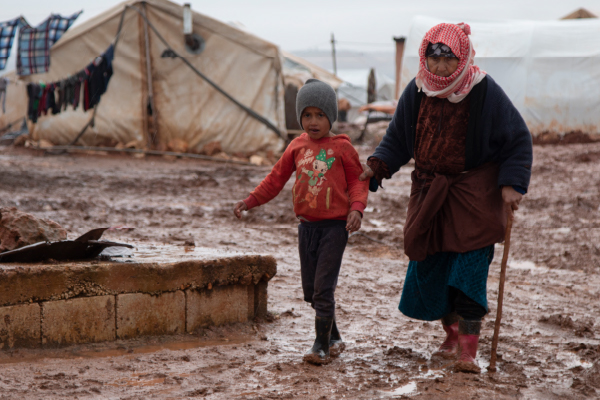 Dedicate a Syrian Home in memory of a loved one
Your Penny Appeal £2,000 Syrian Home will be built with a plaque on the exterior, which can bear an inscription of your choosing. You might choose to add your own name, the name of a family member, a hadith – the choice is yours.
Why not do something incredible and build a Penny Appeal £2,000 Syrian Home in celebration of a departed loved one? Let their memory live on in the form of a life-saving shelter for our Syrian brothers and sisters.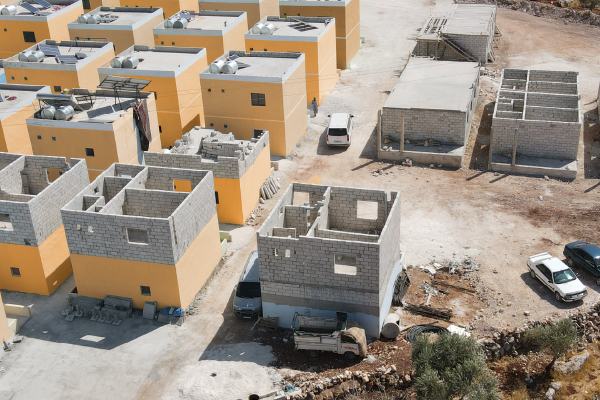 FAQs
How many people will be housed by the Syrian Home I build?
It will vary, but the homes are being built with families of 6 people in mind.
How long will it take to build the Syrian Home?
Approximately twelve months, insha'Allah. Working inside Syria is met with many logistical challenges, so we can only offer an approximation and do our best to complete the homes as early as possible.
How much does it cost to build a Syrian Home?
It costs £2,000 to build the home. You can also opt to pay £167 per month for a period of twelve months.
Can I use my Zakat to build a Syrian Home?
Yes, our Penny Appeal £2,000 Syrian Homes are Zakat applicable.
What can I put on the plaque?
The home will be built with a plaque on the exterior, which can bear an inscription of your choosing. You might choose to add your own name, the name of a family member, a dedication in memory of a departed loved one, a hadith, or similar.
How are the locations for the homes chosen?
The homes are being built in a Syrian village where we have acquired suitable land and permissions for building. We are working with a partner organisation who has strong links to the local area and knowledge of the local communities.
Furthermore, our partner organisation runs a medical point in the village where they provide health services, vaccinations, and psychosocial support, in addition to care for children with learning difficulties.
Can I make a regular payment?
Yes, small payments made regularly add up to a big difference – this is the Penny Appeal way. You can set up an affordable monthly Direct Debit and help us build homes for just pennies per day. Automatic, monthly payments are the most efficient way to support Penny Appeal as they reduce the cost of administration. Regular commitments allow us to plan ahead and ensure that we have a reliable source of income to provide support and empower development.
I can no longer afford the monthly payment. What can I do?
Please get in touch with us before cancelling your monthly payment as we could reduce the amount so that you can still help us provide life-saving aid. It also helps if you tell us first so that we can update our records.
Why should I Gift Aid my payment?
It really helps us if you can Gift Aid your donation – it increases the value of your donation by 25%. If you are a UK taxpayer, selecting to 'Gift Aid' your donation (either by checking the box online or ticking the box on a paper donation form) will make it worth more to us at no extra cost to you.
In order for Penny Appeal to reclaim the tax you have paid on your donations, you must have paid income or capital gains tax (in the UK) equal to the tax that will be claimed by all the charities that you donate to (currently 25p for every £1 you give) in the same tax year.
The tax reclaimed will be used to help fund the administration costs of the charity so that more of your actual donation can go directly to those in need.
Gift Aid can be added to your donation if you are donating your own money. We regret that Gift Aid cannot be reclaimed if you are paying donations that you collected from others, even if everyone was a UK taxpayer. Neither can it be reclaimed on donations made by companies. Other taxes such as VAT and council tax do not qualify. Gift Aid cannot be claimed on payments for any ticketed events.
Please notify us if you are no longer eligible, wish to cancel this declaration, change your name or home address or if you no longer pay sufficient tax on your income and/or capital gains.
By ticking the box you agree that you are eligible to claim Gift Aid as explained above and that we can treat this donation, any donations made in the last 4 years, and future donations as Gift Aid, and that you understand that if you pay less income tax and/or capital gains tax than the amount of Gift Aid claimed on all your donations in that tax year, it is your responsibility to pay any difference.
Is my payment secure?
We only use secure systems with banking standard safety features to make sure that your payment and financial data cannot be compromised. All online payments are securely processed via KeyIVR Ltd, PayPal or SmartDebit, and no financial data is retained on our servers.