Three children die every minute from drinking dirty water.

Today is World Water Day! This annual day takes place on 22 March every year, focusing attention on the importance of water. The theme for World Water Day 2018 is 'Nature for Water' – exploring nature-based solutions to the water challenges we face in the 21st century.
With reliable access to clean water, thousands of lives could be saved each day. Provide clean water by building a well in your name or that of a loved one
It costs from just £300 to build a well in a needy community; that's just from 82p per day to give the gift of water.
Drinking dirty, diseased water is one of the most common causes of death in the developing world - and one of the most preventable - so you could be saving countless lives for years to come.
Through Thirst Relief we're building wells in 9 countries, providing safe water to drink, wash, clean, to grow crops and to hydrate animals. This can lead to healthier lives, a better chance to go to school or work and a route out of poverty.
See your donation change lives
Reliable access to safe, clean water means that drinking, cooking, washing, watering crops and animals and making wudu no longer pose a risk of illness. This allows those less fortunate a chance to break free from poverty and transform their lives for years to come.
Once we've received the full payment for your well, we can then start to assess the best place for it to be built in your chosen country, with your chosen plaque details.
We use a stringent third-party selection process to ensure only the most needy benefit and the whole process from start to finish after payment is an estimated 9 to 12 months.
When your well has been built and functional, we'll send you an individual feedback report so you can see it in action and find out about the people whose lives you've changed.
Your feedback report contains:
Information on where the well is exactly located

Information about the community who have benefited

A message from the grateful community

Pictures of the construction and the finished well in use

A framed picture to share with friends and family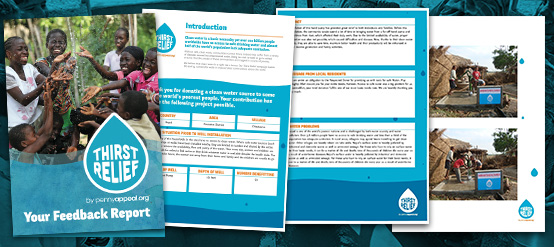 Please donate now to change the lives of those in a water-scarce community
Give the gift of safe, clean water today