Thirst Relief
Build a Well

Currently, a staggering 785 million people around the world lack access to a clean source of water.
Penny Appeals Thirst Relief appeal can assure that people are happy, hydrated and hygienic!
Donate as little as £25 a month now and you can build a well in your name or that of a loved one.


💧 Not only do our Solar Panel Water & Power Centres provide clean water, but they also transform a community's way of living.
How Much Does it Cost to Build a Well
It costs from just £300 to donate a well to a community in need; that's just 82p per day to give the gift of water.
Drinking dirty, diseased water is one of the most common causes of death in the developing world - and one of the most preventable – so with your water donation, you could be saving countless lives for years to come.

Through Thirst Relief we're building wells in countries around the world, providing safe water to drink, wash, clean, to grow crops and to hydrate animals. This can lead to healthier lives, a better chance to go to school or work and a route out of poverty for good.


Feedback About Your Well
Once we've received the full payment for your well, we can then start to assess the best place for it to be built in your chosen country, with your chosen plaque details.
We use a stringent third-party selection process to ensure only the most in need benefit, and the whole process from start to finish after payment is an estimated 9 to 12 months.
When your well has been built and functional, we'll send you an individual feedback report so you can see it in action and find out about the people whose lives you've changed.
Your feedback report contains:
Information on the village where your well is located

Information about the community who have benefited

A message from the grateful community

Pictures of the construction and the finished well in use

A framed picture to share with friends and family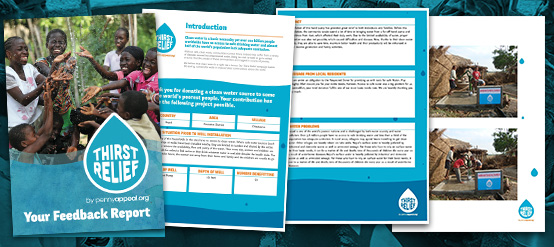 See How Your Water Donation Changes Lives
What Happens When You Donate a Well
When you build a well in a community which has never had access to clean water before, you will literally save lives.
But not only that – when you build a well, you provide a pathway out of poverty.
Reliable access to safe, clean water means that drinking, cooking, washing, watering crops and animals and making wudu no longer pose a risk of illness.
It also means that women and children don't have to walk for miles to collect – often dirty – water. The average distance that women and children walk to collect water in Africa and Asia is 3.7 miles, carrying around 20 litres of water.
Now – just think of what your water well charity can do.
Your water well charity, which you give by donating a well, can help people stay healthy, grow their own food, have time for children to go to school or for women to start their own businesses.
Clean water charity is so important to us as Muslims. The Prophet Muhammad (saw) once said;
"The best charity is giving water to drink." (Ahmad)
A simple well allows those less fortunate a chance to break free from poverty and transform their lives for years to come.
Build a Solar Water & Power Centre
Transform a community with the power of a group
If we're going to break the poverty cycle, we need smart, sustainable solutions.
Our Solar Panel Water and Power Centre is a specially designeproject that provides water and electricity to entire communities, transforming the lives of hundreds of people for decades to come.
Donate £140 a month to Thirst Relief, and we'll team you up with other supporters doing the same. Together you will build an amazing Solar Water & Power Centre, to give sustainable, clean water charity to a whole community.
Once it's been built, we will send you a full feedback report and show you how your Solar Water and Power Centre is helping a whole community with the use of sustainable energy.

Solar Water & Power Centre in The Gambia
Thirst Relief Around the World