Pakistan Floods Emergency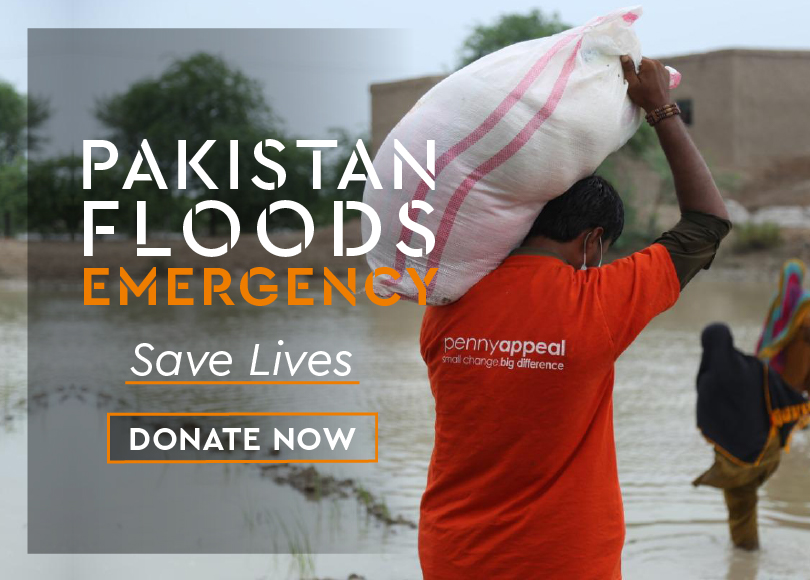 Over 500 people killed in deadly monsoon floods across Pakistan!
The extreme monsoon downpours across Pakistan have resulted in over 500 tragic deaths so far, with the government issuing warnings of further life-threatening downpours. Families are mourning their loved ones while trying to survive these horrific conditions – we must act now!
The southern city of Karachi, home to 16 million people, has suffered the immense impact of these extreme conditions, with homes, and entire neighbourhoods submerged in water. Buildings have been destroyed, crops have been swept away and the road and infrastructure damage has been catastrophic.
Pakistan ranks among the most vulnerable countries on the Global Climate Risk Index when it comes to extreme weather conditions, and this situation is sadly only getting worse.
Penny Appeal Pakistan have been providing essentials to help families survive these circumstances. From food packs, clean water, jerry cans and hot meals, we are working to support those most in need. But we must do more!
 Our brothers and sisters in Pakistan need us now!
Flood Relief for Pakistan 




The downpours in Pakistan have been record breaking, leaving a wave of devastation in their wake. Families are living in dread knowing the likelihood of further rainfall. In Pakistan, the monsoon season runs from July through to September, so it is vital that we get support out to those in need to avoid the death toll rising.
Penny Appeal Pakistan is working to organise relief support for the victims of these deadly floods and provide essential aid to those who need it most with the help of our partners on the ground.
Please help us support with food, water, and shelter – families are in desperate need, you could help save a life today. Please donate now, this is an emergency.
How we responded last year
Send your support to Pakistan
Many families who have been caught in this flooding have lost everything they own, and with the impact of COVID-19 across Pakistan, they urgently need our support to get back on their feet and begin rebuilding their lives. Right now, Penny Appeal are providing people with all the essentials they need to get them through this disaster, this includes nutritious food packs, clean water, and permanent shelters.
Along with our partners, we are on the ground and working tirelessly to ensure that help is on hand for the people of Pakistan, and with your support we can assure that their health and wellbeing are cared for throughout this crisis.