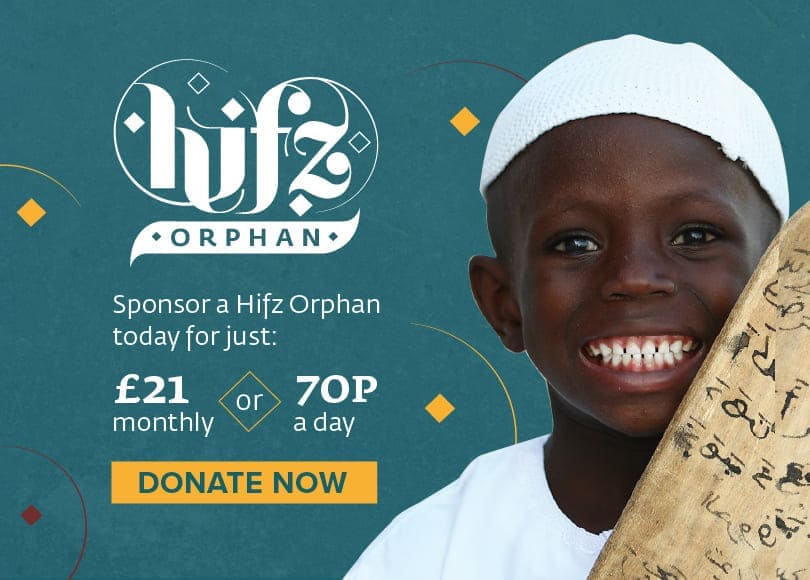 Reap the immeasurable rewards of sponsoring a Hifz Orphan!


Filled with timeless wisdom, there are immeasurable rewards for any Muslim who recites the Qur'an, particularly during this blessed month of Ramadan. So, what better way to connect deeper with Allah (سبحانه وتعالى) than to take under your care a vulnerable child and help them learn the Qur'an?
The Prophet (ﷺ) said, "The best among you are those who learn the Qur'an and teach it.'' [Bukhari]
What does the sponsorship include?
Penny Appeal's pioneering three-six-year Hifz Orphan programme offers vulnerable children a loving and nurturing environment, a comprehensive education scheme that facilitates the reading, learning, and memorising of the Holy Qur'an, nutritious food, and health care.
Our programme also ensures the wider education children need to succeed in the outside world. This way, we strive to enable our Hifz orphans to become model citizens and inspiring leaders, allowing them to grow closer to Allah (سبحانه وتعالى).
.
Did you know?
There are an estimated 153 million orphans around the world! And as we fall asleep each night in the comfort of our homes, millions of children worldwide struggle for survival and live their days trapped in a cycle of extreme hunger, exploitation, and deadly diseases.
You can help change this in the most incredible way for as little as £21 a month.
This is Shaheen From Afghanistan
13-year-old Shaheen is from Afghanistan and is the eldest child of a family of seven. Shaheen's father, who was a medical doctor, sadly died at the hands of the ongoing conflict across Afghanistan, leaving Shaheen and his family in a very difficult position.
Shaheen and his family then moved in with his uncle in Kabul, where Shaheen started work as s a cleaner in a grocery store for half a day after school to help his uncle with supporting the family.
Shaheen was then enrolled into Penny Appeal's Hifz Orphan programme which has given him and his family hope for a brighter future. During an interview Shaheen said: "Before this, I used to be very busy and tired and I did not have much time to study my lessons properly, now I have time to focus on them."

Shaheen's hopes and ambitions have revived once again with the help of our Hifz programme as he aims to follow in the footsteps of his father. He said "I am memorising the holy Qur'an, I have memorised the 30th Juz, now I am memorizing the 29th and I will memorize the whole Qur'an Insha'Allah to be a complete Hafiz. When I grow up, I want to be a doctor like my father to serve needy people".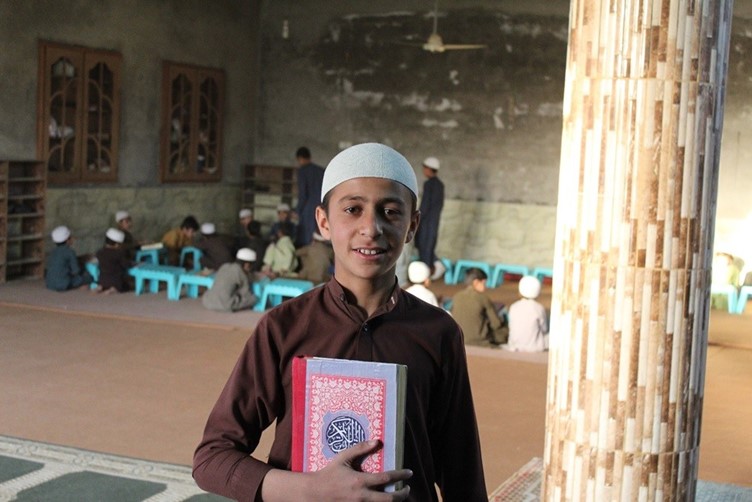 Restore their dignity with faith


Through this beautiful form of Sadaqah Jariyah, you will be shaping and changing young lives forever! Your kindness will break generational poverty and give our Hifz orphans the childhood they deserve, to know a life beyond poverty, hunger and struggle.
Our number one priority is always protecting the dignity of vulnerable children across the globe, by ensuring they have a safe and healthy environment to thrive in. All Penny Appeal programmes are created and continually reviewed to be in conformity with the highest standards of safeguarding and child protection.
This is a real chance for you to make a BIG difference. £21 a month becomes a lifeline for children who grow up without the love and care every child needs - that's only 70p a day! You can be the reason they live to see a better tomorrow - sponsor a Hifz Orphan today!
How do our Hifz Orphans learn the Qur'an?
Our child-centred programme focuses on each Hifz orphan's specific needs and adheres to their unique way of learning! Within each of our small classes, we have experienced educators who teach the children in a caring and enriching environment, using advanced techniques and resources.
PHASE 1:
Each Hifz orphan is able to demonstrate a clear recitation of the Qur'an confidently and with beautiful tajweed. They are also tutored individually, in accordance with their skillset, in both Mathematics and English.
PHASE 2:
During this phase, we focus on maintaining the quality of care and support provided to our Hifz orphans. We encourage retention and mastery of Islamic knowledge, allow them to participate in character-building activities, make nurturing friendships and develop their love of faith, enabling them to become future leaders within their communities.
Receive your Welcome Pack now!
Once you have completed the first step of sponsoring a Hifz orphan, you will receive a welcome pack introducing you to the child you're sponsoring and everything you need to know about them.
A feedback report will be attached and sent to you in due course, so you can see exactly the lasting impact you have had on your Hifz orphan's life!
This is Reyad from Palestine
''Dear kind sponsor, I am happy to write you these words as a token of my appreciation and gratitude. Being an orphan student is difficult as I miss the support others take for granted. I find peace in the holy Qur'an as I feel it takes away my pain and gives me hope. Thanks to you, I memorize and understand the holy Qur'an, I am so thankful.''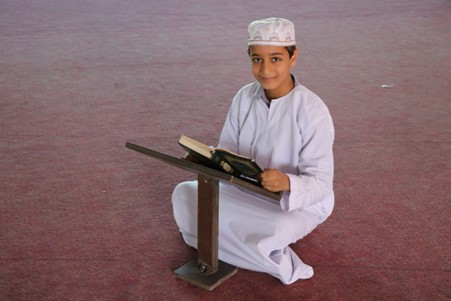 100% Zakat - Hifz Orphan Sponsorship
Hifz Orphan sponsorships are a part of our 100% donation policy. 100% of your Zakat reaches 100% of those in need, 100% of the time.
Penny Appeal will endeavour to use your gift as requested, wherever possible. If for any reason we cannot use your donation as you have indicated, we will use it to fund similar projects in other countries or other projects in the relevant country. Penny Appeal's strategic overview and on the ground experience means it is in the best position to decide how to meet need as it arises.