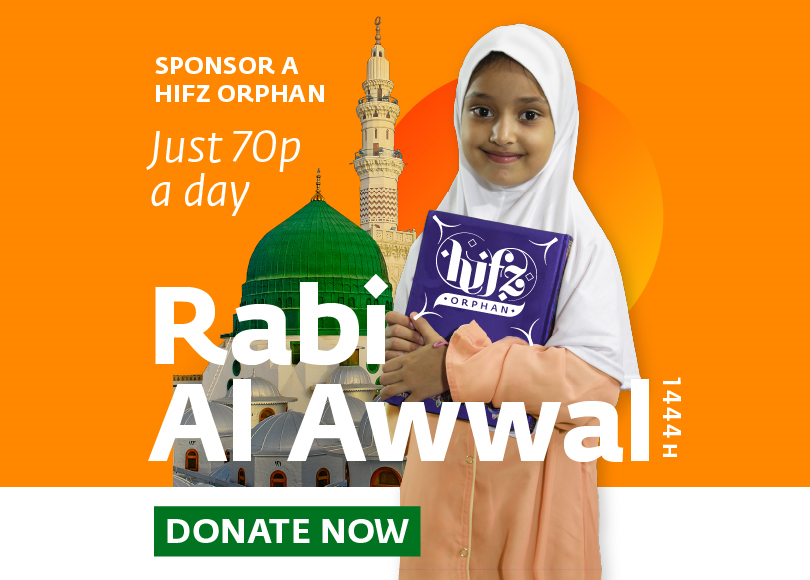 The blessed month of Rabi Al Awwal has arrived, and with it brings a renewed sense of dedication to Allah (SWT).
Amongst the many blessings of this month is the fact that our beloved Prophet (ﷺ) was born in it. Not only that, but he was also the first Hifz orphan in history!
"The best of you are the ones who learn the Qur'an and teach it to others" (Bukhari).


Why Penny Appeal?
In 2021 alone, your incredible support resulted in 3,624 sponsorships for Hifz orphans in countries such as Afghanistan and Senegal! Thanks to YOU, our Hifz Orphan
project has enabled us to bring love and dignity to the lives of orphaned children, sending them to school, whilst also helping them memorise the Holy Qur'an in a
nurturing environment.
Every day, an estimated 10,000 vulnerable children are made orphans, without a loving home to shelter them or an education to determine their future. As we fall asleep each night in the comfort of our homes, millions of children worldwide struggle for survival and live their days trapped in a cycle of extreme hunger, exploitation and deadly diseases.
For as little as £21 a month, we will provide your sponsored Hifz orphan with exceptional care and support, ensuring they have the happy childhood they deserve, including:
A loving learning environment.
Nutritious daily meals.
Uniforms and clothing.
Medical care.
Qur'anic studies.
All for just 70p a day!
It was narrated that the Prophet (ﷺ) said: "None of you [truly] believes until they love for others what they love for themselves." (Bukhari and Muslim).
Every one of us would leave everything we could to our children, but what if you have nothing to give them? Through this sponsorship, you will have the chance to provide a Hifz Orphan with a new beginning, and the chance to feel cared for, educated and protected for the rest of their lives.
Restore their dignity with faith
Our pioneering three-to-six-year Hifz Orphan sponsorship programme supports orphaned children in reading, learning and memorising the Holy Qur'an, as well as ensuring
the wider education they need to succeed in the outside world. This way, we strive to enable our Hifz orphans to become model citizens and inspiring leaders, allowing them
to grow closer to Allah (SWT) and build a brighter future for not just themselves but their families and community too
Through this beautiful form of Sadaqah Jariyah, you will be shaping and changing young lives forever! Your kindness will break generational poverty and give our Hifz orphans the childhood they deserve, to know a life beyond poverty, hunger and struggle.
Our number one priority is always protecting the dignity of vulnerable children across the globe, by ensuring they have a safe and healthy environment to thrive in. All Penny Appeal programmes are created and continually reviewed to be in conformity with the highest standards of safeguarding and child protection.
This is a real chance for you to make a BIG difference. £21 a month becomes a lifeline for children who grow up without the love and care every child needs - that's only 70p a day! You can be the reason they live to see a better tomorrow - sponsor a Hifz Orphan today!
You can support an orphan to become a Hafiz of the Holy Qur'an for just 70p a day.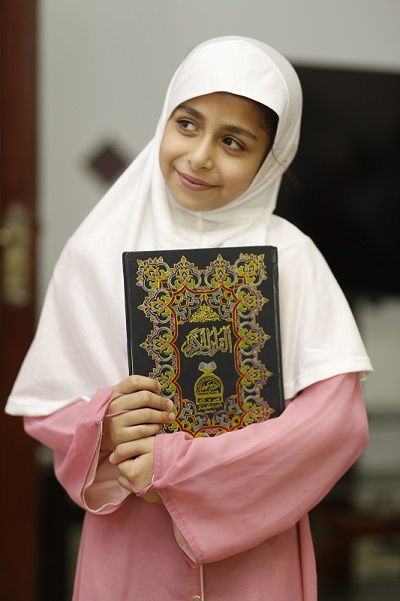 A Hifz Orphan sponsorship is a beautiful opportunity for a child to turn their life around, creating a lasting relationship that brings faith, hope, and a profound appreciation of life.

Hifz Orphan is our unique three to six year sponsorship programme that supports orphans in reading, learning and memorising the Holy Qur'an and gives them the quality care they need to build brighter futures
100% Zakat - Hifz Orphan Sponsorship
Hifz Orphan sponsorships are a part of our 100% donation policy. 100% of your Zakat reaches 100% of those in need, 100% of the time.
How do our Hifz Orphans learn the Qur'an?
Our child-centred programme focuses on each Hifz orphan's specific needs and adheres to their unique way of learning! Within each of our small classes, we have experienced educators who teach the children in a caring and enriching environment, using advanced techniques and resources.
PHASE 1: Each Hifz orphan is able to demonstrate a clear recitation of the Qur'an confidently and with beautiful tajweed. They are also tutored individually, in accordance with their skillset, in both Mathematics and English.
PHASE 2: During this phase, we focus on maintaining the quality of care and support provided to our Hifz orphans. We encourage retention and mastery of Islamic knowledge, allow them to participate in character-building activities, make nurturing friendships and develop their love of faith, enabling them to become future leaders within their communities.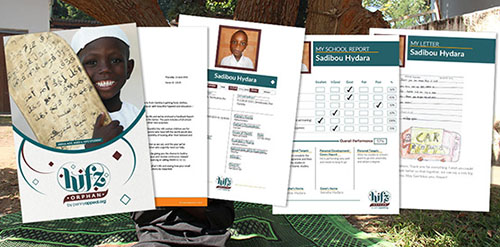 Receive your Welcome Pack now
Once you have completed the first step of sponsoring a Hifz orphan, you will receive a welcome pack introducing you to the child you're sponsoring and everything you need to know about them.
A feedback report will be attached and sent to you in due course, so you can see exactly the lasting impact you have had on your Hifz orphan's life!