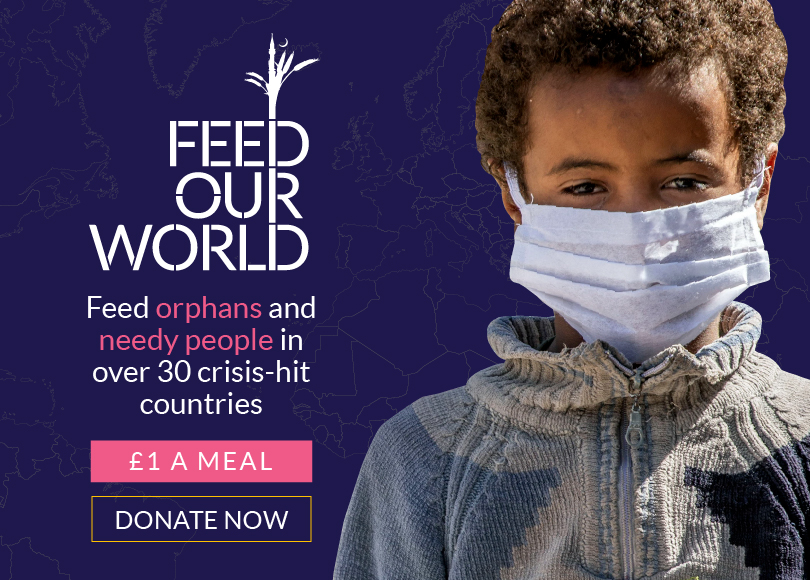 Donate to the Feed Our World Appeal
Feed the hungry and poor in up to 30 crisis-hit countries.
Worldwide, there are more than 690 million people who suffer from chronic hunger. Extreme food insecurity brought on by severe poverty will mean these people might go days without eating.
Penny Appeal's hunger relief programmes are reaching out to millions of people throughout 30 crisis-hit countries to put food on the table and put an end to food insecurity. Our Feed Our World appeal is 100% Zakat applicable and provides healthy, nutrient-rich meals to impoverished families throughout Asia, Africa and the Middle East.
Donate now and help us feed those most in need!
The Impact on Hunger by Covid-19

Covid-19 is worsening the hunger crisis in many countries all over globe, pushing already food insecure families to the brink of starvation. According to the UN, the effects of coronavirus could double world hunger.
Conflict, climate change, poverty and other factors have all put strain on world hunger, but Covid-19 could possibly bring on another global pandemic, a hunger pandemic. Our hunger relief programmes are now more important than ever to help people fight the effects of hunger and malnutrition as they try and protect themselves from the coronavirus. Due to Covid-19, we're taking precautions to make sure that social distancing and protective measures are in place when distributing our life-saving meals to feed the hungry.
All Penny Appeal staff and partners will be using a contactless method to deliver food to people's doorsteps or using methods like scheduled distribution points and time-spacing to make sure that people are kept safe.
We're also working hard to tailor our existing programmes, so that we can protect even more lives from Covid-19 - that's why over 50% of our food distributions will also contain hygiene essentials.

100% Zakat - Feed Our World - Palestine
Hunger Relief Programmes

The aim of the Feed Our World programme is to alleviate hunger and food insecurity using both short-term and long-term interventions.
We feed the hungry by providing meals and food packs in order to help relieve the immediate hunger crises in the world but ultimately, Penny Appeal's objective is to establish long-term, sustainable food projects that reduce the dependency of hunger struck countries on immediate food aid.
The reward of feeding the poor is immense, and the Qur'an tells us that the righteous "give food, out of love for Him, to the poor and the orphan and the captive, [saying] "We feed you, for Allah's pleasure only — We desire from you neither reward nor thanks." [76:5-12]. Providing immediate hunger relief or supporting one of our hunger relief programmes that allow people to feed themselves are both beautiful ways to gain Allah's (SWT) satisfaction and the reward of feeding the poor. When we feed the hungry, we are serving Allah (SWT) and that is a reward of feeding the poor in itself.
You can provide 30 nutritious meals to hungry people for just £30 – that's £1 a meal – or donate monthly to help support one of our sustainable Feed Our World hunger relief programmes.
Give a Gift that Grows
Change the lives of entire communities for generations to come by providing a sustainable Vegetable Garden or even creating a whole Climate Smart Village.
Our Vegetable Garden Project includes training sessions on growing a variety of crops, allocating responsibilities for growing and procuring vegetables, and selling the produce in local markets; all part of the means to improve the long-term health and economic security of thousands of families.
Our Climate Smart Villages provide rural villagers with a way to sustain themselves and their families for years to come. Climate Smart Villages are established by procuring farmland for hundreds of landless families and training them in diversified agricultural farming methods. From land preparation to harvesting, we train beneficiaries in a range of skills and provide them with all the essentials tools, seeds, fertilizers and support they need to flourish with their Climate Smart Villages.

Penny Appeal's

Feed Our World
We are active in up to 30 crisis-hit countries