Donate Food to Afghanistan
Afghanistan is one of the poorest countries in the world. Donate and help Penny Appeal feed the hungry with just one pound a meal.
Your Donation Can Save Lives
Hunger in Afghanistan
Almost 40% of the population live in extreme poverty. The country has some of the world's highest infant, child and maternal mortality rates, and many thousands of children die needlessly each year because they lack access to good food and nutrition.
30% of Afghans lack food security, and don't know where their next meal is coming from. Living in such extreme conditions, Penny Appeal asks you to help. By simply donating £1 you will provide a meal to those who need it most.
Donate food to Afghanistan for just £1
With just £1, you can feed the hungry in Afghanistan. Your small change will provide food to those who would otherwise go without, and provide a desperately needy person with a nutritious meal.
For just £30, you can help the poor in Afghanistan by providing someone with one meal every single day for a month.
This Ramadan, Penny Appeal aim to distribute almost 25,000 meals to individuals and families crippled by poverty in Afghanistan.
Beyond providing daily meals, we will be distributing food hampers, organising community iftar and suhoor programmes, gifting essential household items and clothing and providing healthcare and medicine. We will work closely with families to support them to become financially independent.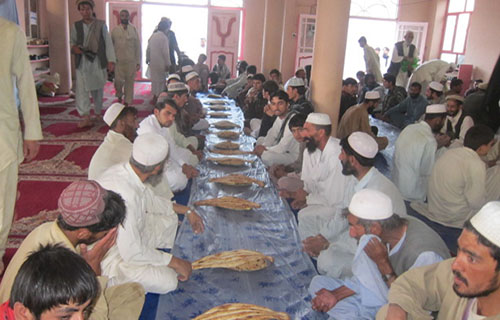 Donate today, and help save the lives of the people of Afghanistan


Penny Appeal will endeavour to use your gift as requested, wherever possible. If for any reason we cannot use your donation as you have indicated, we will use it to fund similar projects in other countries or other projects in the relevant country. Penny Appeal's strategic overview and on the ground experience means it is in the best position to decide how to meet need as it arises.