UK Qurbani
Qurbani in the UK is now SOLD OUT for 2020!

Thanks to all your generosity, disadvantaged people here at home in the UK will now have nutritious lamb to enjoy on Eid!

Qurbani in the UK is now sold out for 2020, but donations are now open for 2021.

This year, your Qurbani at Home donations have given poor families, refugees and the homeless a delicious meal during this festive time. Once again, with our UK Qurbani, you were able to give to the poor, with the option of getting a third of your Qurbani delivered right to your door. So now, we can all celebrating together.

Charity begins at home and all your generous sacrifices mean that this Eid will be a wonderful one, Alhamdulillah.

We've sold out for Eid 2020, but Qurbani donations are still open for 2021.
Offer your Qurbani to People in the UK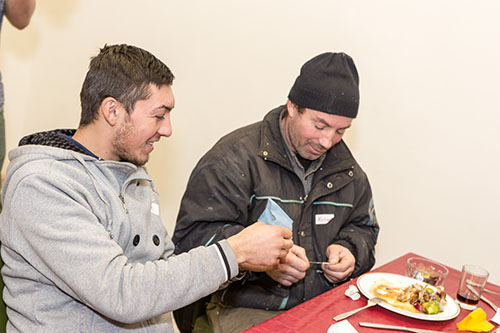 Neighbourly Qurbani
Last year, you helped hundreds of people here in the United Kingdom have a delicious halal meal and wonderful Eid ul-Adha celebrations, Alhamdulillah!
By donating your Qurbani at Home again this year, you'll be reminding poor families, the homeless community and refugees that they are not alone.
Penny Appeal's Qurbani At Home programme provides high-quality fresh lamb to disadvantaged people in the United Kingdom, so that they know they are not forgotten at the joyful time of Eid.
At Penny Appeal, our life-saving work here at home makes us one of the wonderful charities that help the homeless in the UK.
For us, charity begins at home, and now your Qurbani can too.
Charities that Help Immigrants in the UK: A Qurbani Promise
Here at Penny Appeal, we have a 100% Qurbani Policy.
As one of the many charities that help immigrants in the UK, we know how important your Qurbani is to those in need – and for yourselves!
Our Qurbani promise means that every penny of your Qurbani donation will go directly to the less fortunate here in the UK, providing halal meals for homeless people, impoverished immigrants and refugees, and other disadvantaged people throughout the United Kingdom.
Traditionally you would give a third of your Qurbani meat to the poor, another third to your neighbours and the final third would be kept for your own family. Now you can honour this tradition when you donate with Penny Appeal.
Give two thirds of your Qurbani to your poor neighbours in the UK, and keep a third for your family!
We'll deliver your Qurbani meat right to your house, so you can enjoy delicious lamb over Eid and celebrate this blessed time with the less fortunate.
Following the Sunnah with Qurbani in the United Kingdom
As one of the charities that help poverty in the UK, Penny Appeal handles your right of Qurbani with care. We always source and sacrifice the healthiest animals for your Qurbani, upholding your obligation of Qurbani and making sure that your sacrifice goes straight to the people who need it the most.
Our Qurbani at Home is done according to Islamic law, and it is HMC certified - the strictest form of Halal. Before sacrificing your lamb, we say 'Bismillahi Allahu Akbar' and you can even have your name prayed over your sacrifice.
9 Years of Global Qurbani Experience Right on Your Doorstep!