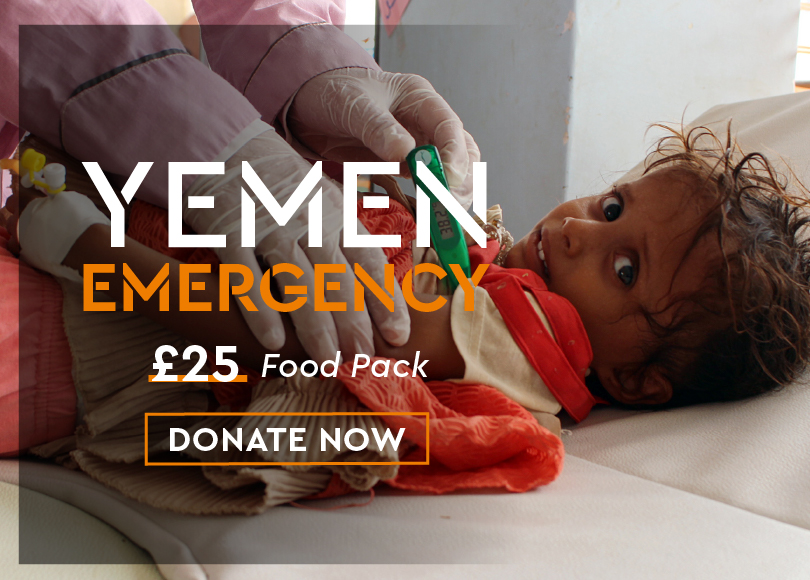 Yemen Appeal
Yemen has been facing the world's worst humanitarian crisis for five years, battling crippling war, famine and cholera. Millions of people are starving, and there is virtually no healthcare system.
According to some reports, Yemen only has 10 health workers per 10,000 people and nearly a quarter of districts throughout the country have no doctors.
The UN warns that the coronavirus pandemic could "delete Yemen from maps all over the world". We cannot let that happen.
Penny Appeal are on the ground in Yemen, delivering food, water and hygiene kits, as well as PPE and COVID-19 Testing kits for hospitals and emergency centres.
Donate to help Yemen: we need urgent support from everyone reading this, right now.

Yemen Emergency - Donate Now!
Yemen: The Crisis Explained
80% of the Yemeni population are in urgent need of humanitarian aid.
With the Yemen conflict well into its fifth year with no end in sight, the Yemeni people have been struggling to survive a terrible famine, armed conflict and outbreaks of disease like cholera for years, and now the coronavirus pandemic could decimate an already weakened population.
An estimated 85,000 children under the age of 5 have died from hunger and disease in Yemen, and sadly this could have been entirely preventable. This was before the added misery of COVID-19; how many more malnourished children will lose their lives to the deadly combination of starvation, thirst and coronavirus now?
Officially, Yemen has experienced 2,060 cases of coronavirus, with 599 deaths, but with limited testing and a healthcare system where over 50% of hospitals are closed, the real figure is likely to be much higher. With Yemen's devastated healthcare system, the ongoing famine and a lack of humanitarian support, the coronavirus pandemic is likely to push millions of Yemeni people to their breaking point.
The best way to help Yemen right now is to be there for people in need by making a life-saving donation today.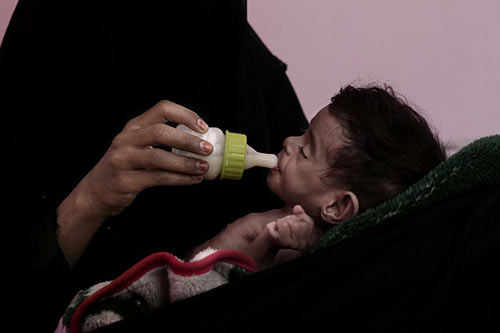 The Best Way to Help Yemen: Our Emergency Response

Penny Appeal are working hand in hand with Islamic Help, the Humanitarian Forum and the International Blue Crescent to reach vulnerable Yemenis with life-saving food, water and hygiene essentials and to strengthen healthcare systems by providing PPE and Testing Kits to hospitals.
Our work is focused in Aden and Taiz, where millions of internally displaced Yemeni people are struggling to survive, having fled from conflict in other parts of the country.
Food and Water
Penny Appeal has reached over 4,400 Yemeni people in recent months with Food Packs containing essentials such as rice, lentils, sugar and wheat. We plan to expand our programmes to provide life-saving food to even more people.
We have provided 13 communities in Taiz with 3,000 litre water tanks that will be filled three times a week, providing clean water to over 13,000 people.
We have also provided 600 extremely vulnerable people in Taiz with daily nutritious cooked meals from local restaurants.
Hygiene Kits
We've provided Hygiene Kits to 2,100 displaced people in Aden and Taiz, including soap, towels, detergent and antiseptic soap. We are planning to expand our distributions to protect more lives from COVID-19.
PPE and Hospital Equipment
We have distributed PPE and Coronavirus Testing Kits to Aden State Hospital and 26 Emergency Operation Centres, to help protect lives and prevent the spread of the deadly coronavirus.
With your support, we have helped over 100,000 people in Yemen over the last five years. However, in a country where 24 million people needed humanitarian aid even before the coronavirus pandemic hit, we urgently need your help to reach more extremely vulnerable Yemeni people.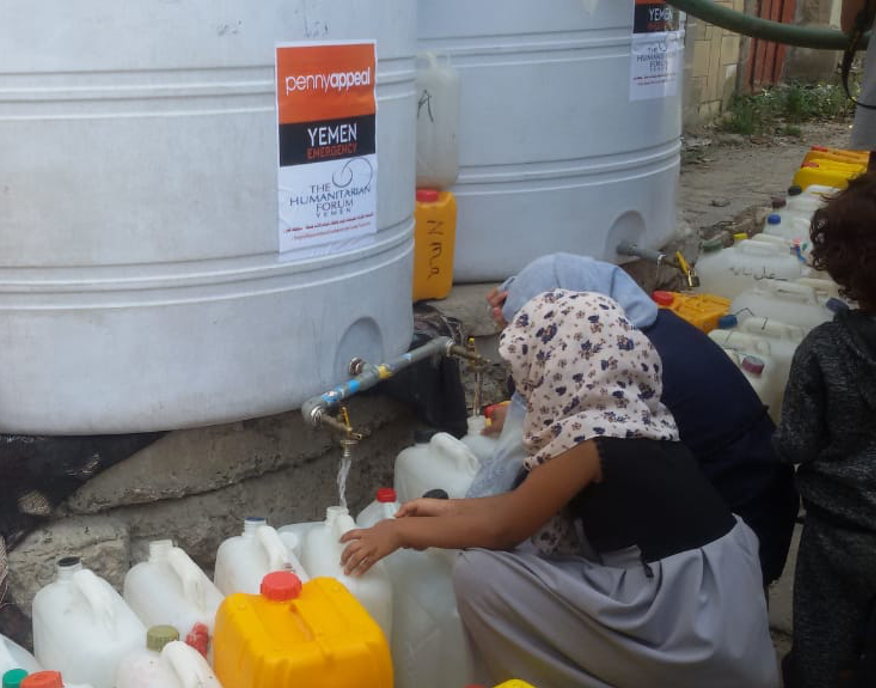 Your Donations in Action | Shain's Story
Shain Mohammed is only 6-years-old, but he is now the man of his house. Shain was a new-born when the conflict first began in Yemen, so a life of hardship is unfortunately all this little boy has ever known.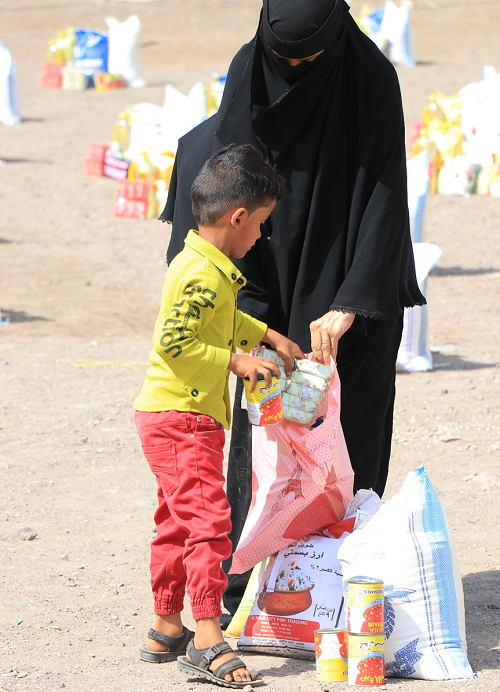 We met with Shain and his mother at one of our food pack and hygiene kit distributions, where they received a food pack that would keep their family fed for an entire month and a hygiene kit filled with antibacterial liquid disinfectant, soap and hand gel to help protect them against COVID-19.
Shain's mother shared the story of her family's suffering, saying, "My husband died during an attack two years ago in Hudeyda. When the war started, Shain was a little baby. Now he is the man of the house. When my husband died, we came here with my relatives. We try to survive with the aid you deliver. In the meantime, I was cleaning the houses and gathering some money. However now, I have no chance to do anything because of coronavirus."
Shain's family and others just like them make up the 3.6 million displaced Yemeni people who are fleeing from war, struggling to survive under harsh conditions daily. These displaced families, the victims of war, now find themselves in a near impossible sitution with the the threat of the coronavirus now impacting their lives.
"Prices of cleaning and hygiene materials have nearly doubled," Shain's mother shared, "How can we afford this? We were earning some money by cleaning houses to provide daily food to our home, now we cannot find anywhere to work. How can we buy cleaning materials when we cannot buy food?"
The UN estimates that 130 children under the age of 5 die every day from hunger and disease in Yemen – and the situation is becoming more dire every day, due to COVID-19.
Help us save lives by supporting children like Shain and their families to become healthy and happy.

Help Yemen

We are so proud of the work we are doing in Yemen, to help people survive and live with dignity in the midst of this terrible humanitarian crisis.
But with 24 million people in need of aid, and the threat of COVID-19 decimating this vulnerable population, there is still a lot of work to do. We urgently need your help; every penny counts.
Donate to help Yemen today, and you could save a life.
Please note: due to the complex nature of disasters, our provisions may be changed so that we can adapt to people's most urgent needs. You can rest assured that your donations will go towards helping vulnerable Yemeni people in the best, most efficient, ways possible. Thank you!