The UN estimates that 130 children under the age of 5 die each day from hunger and disease in Yemen.
Donate to Yemen. Help save lives
80% of the Yemeni population are in urgent need of humanitarian aid.
With the Yemen conflict entering its fourth year with no end in sight, the Yemeni people are struggling to survive a terrible famine, armed conflict and outbreaks of disease like cholera.
The United Nations describes the Yemen crisis as "the worst famine the world has seen in 100 years".
Penny Appeal's emergency teams are on the ground in Yemen, giving those in need vital food packs, hygiene and dignity kits and medical support and training.
By the end of Ramadan 2019 we will have helped over 80,000 people, Alhamdulillah!
Help us reach thousands more Yemeni people with life-saving food, medicine and support.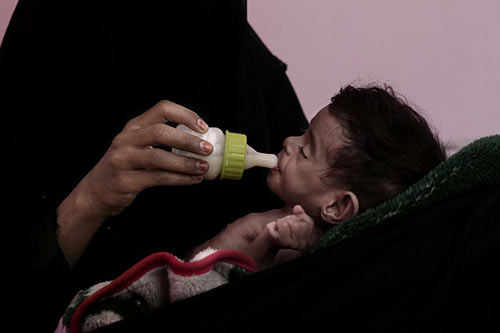 Donate to our Yemen Appeal


Yemen Crisis
The United Nations describes the Yemen crisis as "the worst famine the world has seen in 100 years".


Hunger
Due to years of ongoing war, at least 10,000 people have been killed in the conflict and millions more are displaced and facing starvation. 85,000 children under the age of 5 have died of starvation in the last 3 years.
With a severe lack of medical provisions and food, parents are facing the horrifying decision of which child to feed.


Cholera
The people of Yemen have also been battling a deadly outbreak of cholera since 2016. There have been over 600,000 confirmed deaths due to cholera, but the suspected number is much higher.
Cholera is a highly contagious bacterial infection spread through contaminated food or water - and with a lack of clean water supplies, thousands of more cases can be expected. Affecting both adults and children, it can kill within hours if untreated.


Civil War
This humanitarian catastrophe extends beyond food and illness; the internal conflict has led to a freeze of salaries, soaring of fuel prices, and doctors who can't afford to go to the hospital to treat the citizens.
With all this alongside continued attacks, outbreaks of cholera and severe malnutrition, the people of Yemen are in urgent need of healthcare and medicine.
Scroll down to read more about the work we're doing to help Yemen through our Yemen Appeal.

Our Response
Since 2014, Penny Appeal have been able to reach over 80,000 people in Yemen with your support!
Here's how we've been turning your donations into action, and helping the people of Yemen:
EMERGENCY RESPONSE
We have many life-saving projects addressing the urgent needs of our Yemeni brothers and sisters, from food baskets containing enough food to last a family for one month, to basic hygiene kits which specifically prevent the spread of the deadly diseases like cholera. Our Yemen Emergency Response is also tailored to help those most vulnerable, like elderly people who would have otherwise been neglected by humanitarian aid.
During Yemen's harsh winters, we have also been able to support vulnerable Yemeni people with nourishing food baskets, full winter kits with blankets, winter clothes, cooked meals, and gas cylinders. These winter projects have reached more than 20,000 individuals over the past three years, Alhamdulillah!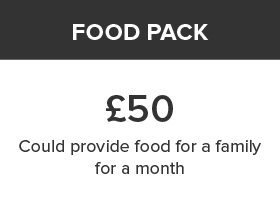 FIGHTING CHOLERA AND DIPHTHERIA


Poor immunisation coverage in Yemen recently triggered an outbreak of diphtheria, with the disease spreading rapidly due to the lack of resources available to diagnose and treat the condition.
Penny Appeal addressed this issue by providing a public health facility in the Al Saddah district with enough medicine to treat 250 cases of the illness, which reached the most vulnerable people within the community.
Penny Appeal is also responding to the constant threat of cholera by providing health centres with sustainable support with medical supplies and training local staff.
With the outbreak of cholera and other life threatening diseases posing a huge risk in Yemen, our well-stocked kits can save lives through promoting good hygiene. We have supported hundreds of Yemenis in multiple cities with our hygiene kits, which include items such as washing powder, soap, sponges, and toothbrushes.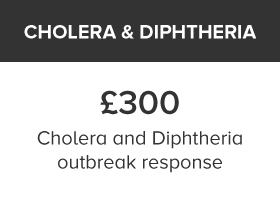 BUILDING BETTER FUTURES


We are offering free primary health care services to hundreds of people affected by the crisis!
By helping local communities to identify health problems, promoting community awareness of health issues, delivering medicine and training to local healthcare staff and offering free health care services to those in need, together we can fight the Yemen crisis.
15 health facilities will be supported, giving access to vulnerable groups like children and the elderly.
As well as emergency healthcare, there will also be more specialist care available to people, such as mental health care, counselling and listening services, support for victims of gender based violence and rapid response systems for common diseases.
Your Donations in Action | Zakaria's Story
Zakaria Ahmed was just 8 months old when he was referred to the Outpatient Department of a medical facility which Penny Appeal funds in Amanat Alasimah.
This adorable little boy was suffering with Severe Acute Malnutrition and diarrhoea. The medical centre gave Zakaria antibiotics and put him on our Plumpy Nuts feeding programme. When he got healthy enough, he was discharged and got to go home with his mummy.
The centre's community visitors went to see Zakaria 8 more times for follow-up visits, to make sure that he was getting better. Every part of this process, from the medicine to the community health workers, has been funded by us here at Penny Appeal.
Zakaria's mother, Rowaida, said: "I was very worried about the health of my child Zakaria; but thanks to Penny Appeal's team, starting from the community health workers to the medical staff, and their dedicated work and continuously following up, my dream came true and Zakaria is finally healthy."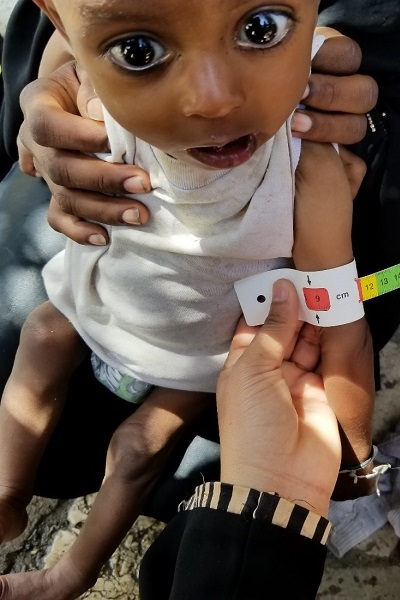 Zakaria at the beginning of his treatment, when he was severely malnourished.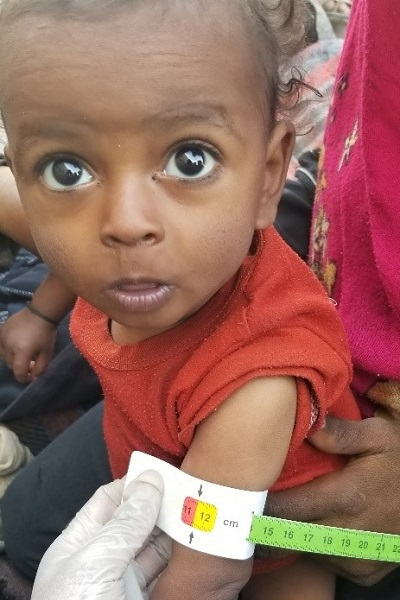 Zakaria is now at a healthy weight and recieving ongoing treatment.
The UN estimates that 130 children under the age of 5 die every day from hunger and disease in Yemen. Help us stop this from happening, by supporting malnourished babies and children like Zakaria to become healthy and happy.
Donate £200 for Medical Supplies today, and help save lives in Yemen.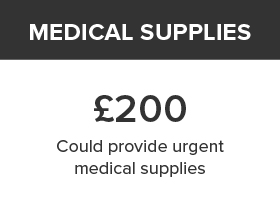 Yemen Emergency - Distributing Food
Help Yemen

We are so proud of the work we are doing in Yemen, to help people survive and live with dignity in the midst of this terrible humanitarian crisis.
But with 24 million people in need of humanitarian aid, there is still a lot of work to do.
Donate to our Yemen Appeal today, and you could help save a life.