The United Nations warn that 14 million people are facing starvation, and those worst hit are children.
As many as 85,000 Yemeni children under the age of 5 have starved to death in the last three years.
This winter, the people of Yemen are in critical danger of starving and freezing to death.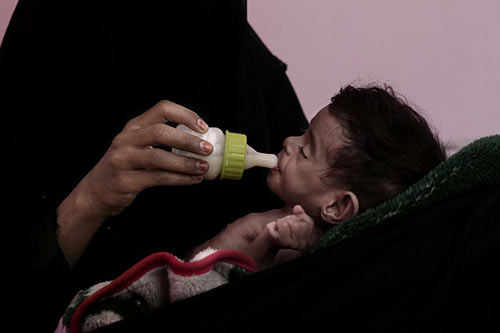 Starvation and death in Yemen
The United Nations warn that 14 million people are facing starvation, and those worst hit are children. The situation is being described as "the worst famine in the world in 100 years".
Due to years of ongoing war, at least 10,000 people have been killed in the conflict and millions more are displaced. With continued attacks and outbreaks of cholera alongside severe malnutrition, the people of Yemen are in urgent need of healthcare and medicine.
This winter, Yemeni people are even more at risk of starvation, as the freezing cold costs them calories they just don't have. Donate now to provide warm food and winter essentials to Yemeni people in desperate need.
Penny Appeal has been working inside Yemen to provide life-saving food and critical medical support.


Penny Appeal is supporting medical centres in the area, providing medical care and relief to the over-burdened hospitals, who lack the trained staff and supplies to treat this recent influx of wounded and sick.
This medical aid is vital saving the lives of these displaced peoples, who through no fault of their own have become casualties of a war they did not start.


Yemen's Cholera Outbreak
Save the lives of those affected by the world's worst cholera outbreak

According to the UN, Yemen is facing the world's worst cholera outbreak in recent years. The World Health Organisation (WHO) estimated as many as 300,000 people have been infected since August 2017 and over 1,300 people have already died since the onset of the epidemic.
Penny Appeal have been working in Yemen since 2014 providing emergency food, water and medical aid, following a severe famine in the area and a lack of resources due to the ongoing armed conflict.
Now we need your help to provide the much needed medical treatment and essential aid for those in need

Yemen and Cholera
Since 2014, Penny Appeal have been delivering aid to hundreds of families affected by famine and conflict; this includes life-saving food packs, hot food provisions and further essential aid.
Children are dying from malnutrition due to food and water shortages, and with a severe lack of medical provisions, parent's are facing the horrifying decision of which child to feed. The youngest are being hit the hardest; there are claims that a child under the age of five is dying every five minutes.
With the rapidly increasing outbreak of Cholera - a highly contagious bacterial infection spread through contaminated food or water - and a lack of clean water supplies, thousands of more cases can be expected. Affecting both adults and children, it can kill within hours if untreated.
The need for medical treatment is overwhelming; Cholera medicines are available locally, but the Ministry of Health (MOH) doesn't have the resources to purchase these from private companies, so are unable to make them widely available or free of cost for those in need.
This humanitarian catastrophe extends beyond just food and illness; the internal conflict has led to a freeze of salaries, soaring of fuel prices, and doctors who can't afford to go to the hospital to treat the citizens.
Penny Appeal are supplying the much needed medical treatment for those affected thanks to your donations, but as more and more people are infected, the need for hospitalisation & hospital beds is increasing and the current capacity of hospitals beds and trained medical professionals just isn't enough.
These people cannot wait any longer - they need your support, right now.
Penny Appeal are able to provide emergency food, medicines, and hygiene kits in aid of the Yemeni civilians.
According to the UN, £1.7 billion is needed to prevent the famine in Yemen.
Please donate to Yemen what you can today to help make a difference and save a life.