Qurbani at Home
With Penny Appeal, not only can you give your Qurbani around the world, you can now give to those in need right here in the UK. Your sacrifice will help to ensure that families and individuals here at home, who are struggling to make ends meet, are not forgotten.
Give your Qurbani to the UK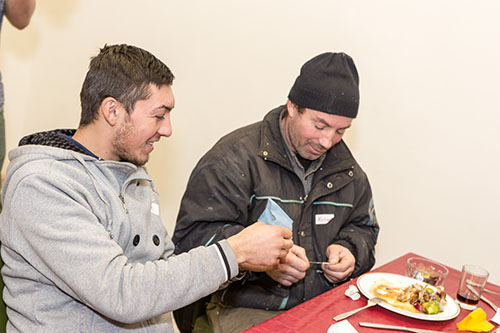 Qurbani in the UK
Your Qurbani at Home contribution will be distributed to poor families, the homeless community and refugees.
Penny Appeal's Qurbani At Home programme provides high-quality fresh lamb to families and individuals in the United Kingdom, who are facing difficulties and strife, so that they know they are not forgotten at the joyful time of Eid.
At Penny Appeal, we provide life-saving support to people living in poverty across the globe – and we never forget those in need right on our doorsteps, either. For us, charity begins at home.
100% Qurbani Policy
Here at Penny Appeal, we have a 100% Qurbani Policy.
That means that 100% of your Qurbani donation will go directly to those in need, providing nutritious meals for the homeless, refugees and disadvantaged people across the UK.
You can give 100% of your Qurbani to those in need – or, for the first time, you can even give two thirds to the poor, and keep a third for your family!
We will deliver your Qurbani meat to your house, so that you can enjoy this delicious lamb over Eid, and celebrate knowing that those less fortunate can break bread alongside you, too.
Following the Sunnah with Qurbani at Home
We at Penny Appeal take your right of Qurbani seriously. That's why we source and sacrifice the healthiest animals with your donation, maintaining your duty as a Muslim and guaranteeing your Qurbani reaches those who need it the most.
Our Qurbani at Home is carried out according to Islamic law, and it is HMC certified, which is the strictest form of Halal. Before sacrificing your Qurbani animal, we will say 'Bismillahi Allahu Akbar' – you can even have your name prayed as the sacrifice is done.
For the first time, you can follow the scripture by donating your Qurbani right here in the UK to give meals to the homeless and the destitute, as well as receiving a third of the meat for you and your family this Eid!


We are bringing home 8 years of experience delivering Qurbani around the world