A Win for all Women!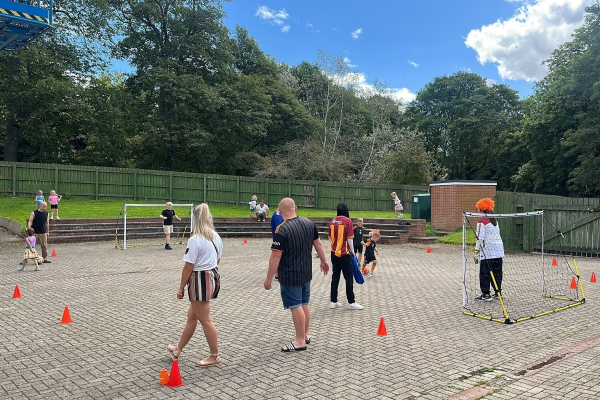 Our Thornes Park home buzzed with energy yesterday morning as football enthusiasts and members of our local community gathered to watch the final of the FIFA Women's World Cup, England v Spain. As it was the first time the England men's or women's team reached a World Cup final since 1966, we extended an invitation to our friends, neighbours, and staff to join us for a live screening, so we could enjoy the match in true Lioness style.
We enjoyed some football drills with an experienced coach, refreshments, and some quality football conversation as we crossed our fingers for that all important win. Giving back to the community is an important part of our work here at Penny Appeal, so it was great to welcome families, colleagues, and over fifty locals to our home here in Thornes Park.
Both sides showed passion, skill and endurance, and the atmosphere in the stadium was definitely mirrored at our Thornes Park football event. A couple of attempts from Lauren Hemp and Alissia Russo saw us all excited, but our efforts weren't enough for Spain's defence. A goal from Spain's star striker Olga Carmona was just out of reach for the England keeper. The match continued with Spain having almost double England's possession of the ball. However, a penalty save from Earps had fans up and down the country hopeful of an equaliser. Spain were victorious as England struggled to break through their solid defence.
Despite not seeing an England victory, it was still a huge win for all women! This Women's World Cup has empowered women beyond the pitch. There are now record numbers of girls showing interest in football following the Lionesses' win at the Euros in 2022 and their performance in this tournament. The Women's World Cup also underscored the importance of providing opportunities and support for women to participate in sports from a young age. I think we can all agree that the Lionesses are a true inspiration, from Alex's Greenwood's mighty return to the pitch after her eyebrow was split open, to our very own Mary Earps winning Adidas' Golden Glove Award for being goalkeeper of the whole tournament. The Lionesses' resilience and determination has been felt by all. What they have done for football is what we aim to do for charity. We're passionate about what we do, and we take advantage of every opportunity to bring our community together.
We're proud of the lionesses and so pleased to have been able to share this moment with our neighbours in Thornes Park. We'd like to extend a big thank you to our volunteers, and to everyone who came to watch the match. Maybe 2027 will be the year the Lionesses bring it home (again!)