"You got WHAT in Maths!?"
How Students and Parents Can Deal With Exam Results Better
Across the nation, millions of young people are anxiously anticipating their GCSE and A Level results. It's a scary time; you've worked your socks off, and now it's a waiting game.
With all the waiting and the worrying, it can feel like bad exam results are the end of the world. But a quick google search will show you that there are countless successful people who got bad exam results, or didn't finish school at all... Lord Alan Sugar only got one GCSE, and he's worth £1.2 billion now!
Whatever your exam results might be, you have options and you can still go on to have a future which is fulfilling and enriching. Now it's just a case of telling the parents…
As part of Penny Appeal's Love Will Beat Hate campaign, we've teamed up with The Halalians to show you that having an open conversation with your parents about your exam results is easier than you think!
Tips for Parents on Exam Results' Day

If you're a parent reading this, you might be thinking… "This all sounds great, but I'm not sure if my Aisha is about to become the next Alan Sugar with her results."
That may well be true (although we're rooting for you Aisha!), but that doesn't mean that your children's exam results won't still be significant in their lives. Here are some of our tips for parents on exam results' day:
Support your children no matter what. It's likely that your children are already putting a lot of pressure on themselves about these results, and they'll need your help and support.
Recognise that this might be a lesson for them. Don't think your child has worked hard enough? Maybe they haven't; but this could be the life lesson which pushes them to change their work ethic in the months and years to come.
Celebrate the good stuff. They got an A in Geography or Drama? That's amazing! Be sure to congratulate them on their achievements, as well as encouraging them in the subjects where there's room for improvement.
Help them make a new plan. If they haven't got the grades for their first choice of University, for example, they may need your help with applying for clearing or thinking of new options like apprenticeships.
Your children have plenty of time to figure out what they want to do with the rest of their lives. It's your job to support and encourage them, and help them preserve their mental health today, whilst planning for a fulfilling tomorrow.
Tips for Students on Exam Results' Day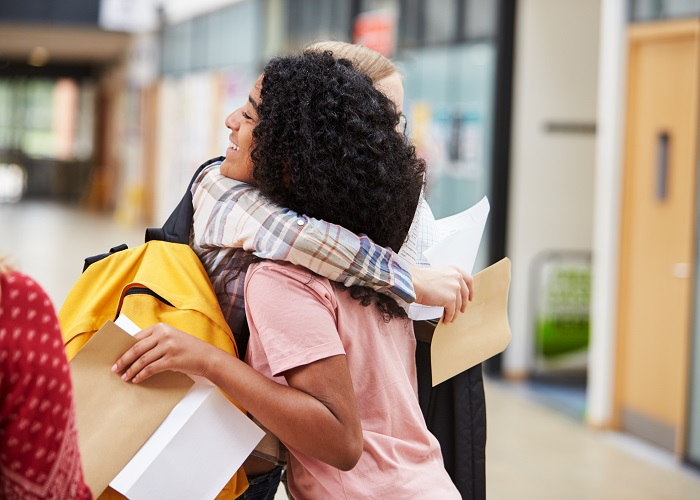 If you didn't get the exam results you were hoping for, it can be incredibly disappointing. But we want to reassure you that these results do not define you, and they won't define your future, either.
Here are our tips for picking yourself up after disappointing exam results:
Keep a sense of perspective. This might feel like the end of the world, but in reality, this is just one day of your life. You can always try again, do something different or find a new opportunity. This might change the course of your life for good, or it might make no difference at all. The choice is yours.
Weigh up your options. So what now? Not achieving the results you wanted might mean that you have to pick yourself up and try again - or perhaps it's a sign that the subjects you've chosen aren't truly where your interests and abilities lie, and that you need a change of direction. Give yourself time to weigh up your options, talk to people and decide what's best for you.
Talk to someone! If you're struggling to make a decision, or feeling low after bad exam results, you need to talk to someone about how you're feeling. If you feel that you can't talk to family or friends, you can get in touch with SupportLine for confidential support. Your mental health is more important than any grade.
Don't compare yourself to others. Comparison is the thief of joy. Everyone is on their own journey; your friend with perfect results may discover years later that their dream job is actually a nightmare. Perhaps the person with terrible grades in science and maths may discover a passion for graphic design. Everyone has a different journey, with different highs and lows. You have greatness within you, so pick yourself up and keep going.
Remember; there's far more to you than a list of grades on a piece of paper. Those numbers and letters can never tell of your kindness, your humour, your potential or your character.
Now breathe in, breathe out, thank Allah (swt) for the opportunity to build a future you can be proud of, and keep going with this complicated, confusing and beautiful business of living.