7 Simple Tips for Working from Home
7 ways to stay productive and keep motivated during the coronavirus outbreak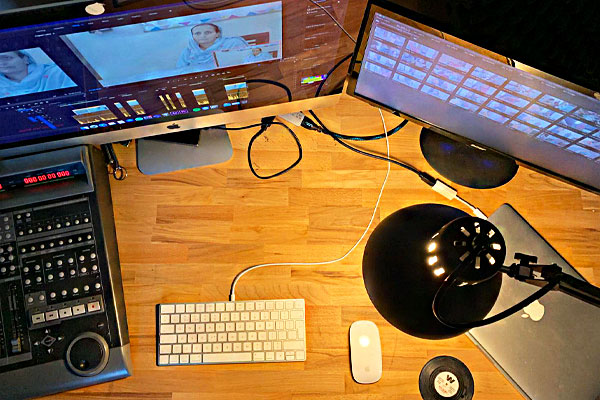 The British Prime Minister, Boris Johnson, has advised the nation to work from home wherever possible in order to stay healthy during the current COVID-19 outbreak and stop the spread of this vicious virus. With more people than ever working from home now, the coronavirus pandemic has drastically changed the way we work. While it is extremely tempting to stay in our pyjamas all day and type away on our laptops in bed, we need to find ways to stay productive and motivate ourselves to get our jobs done, all while maintaining a healthy work-life balance!
If you're struggling with the recent change of workplace scenery, here are a few top tips on how to work from home that could help you get on with the daily grind.
1 - Establish a morning routine
So you've thrown your morning commute out the window. No more trains, buses, cars or walks to work for you! This is one of the many benefits of working from home for a lot of people and it might be tempting to just roll out of bed at 8:55 and jump straight on the computer, but that's not exactly the most productive start to the morning…
Instead, trade your morning commute in for a morning routine! Wake up, make your bed and set the tone of the day with some morning yoga or a nice breakfast. Having a proper start to your day will set you up for success for the rest of it. So whether it's a quick workout, a warm cup of tea, reading a few pages of that book you've been working on or picking out your outfit for the day – get up, get moving and greet the morning!
2 - Ditch the PJs
Ahh one of the best benefits of working from home is getting to work in your pyjamas all day, right? Wrong.
While staying in your PJs all day is very tempting for many of us, the benefits of grabbing a refreshing morning shower and getting dressed for the day are far better! When you're working from home, you don't need to dress formally, but putting in a little bit of effort goes a long way for your self-esteem and productivity.
Getting dressed for work will also help you distinguish a difference between your down time and when it's time to work. The days can quite easily blur together if you're in pyjamas and sweats all the time, so acknowledge your working week by picking out an outfit and dressing for what you want to accomplish.
3 - Set up a work space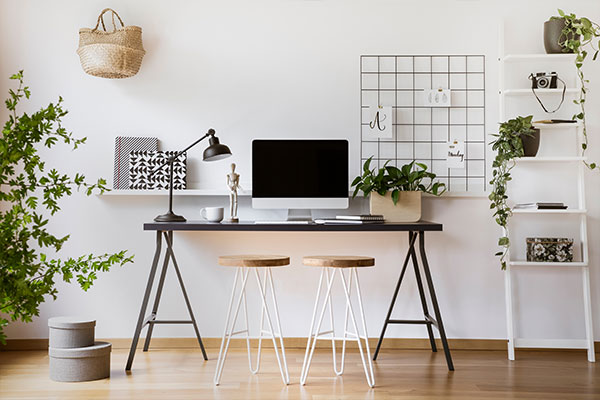 Another one of those tempting benefits of working from home is being able work from bed or lounging on the couch with your laptop at the ready, but these are places you use to relax and unwind after a long day of work… Will they still be relaxing spaces if you've been working in them all day?
One of the most useful tips for working from home effectively is setting up a dedicated workspace for your 9 to 5! This is a great way to stay productive and distinguish your relaxation spaces from your workspaces. Whether it's a desk in your home office or simply organising a space at your kitchen table, having a dedicated area for working each day will do wonders for your motivation!
4 - Set your boundaries
It can sometimes seem like the workday never ends when you're working from home. You always have your computer handy, you can be reached with a simple message and with everyone self-isolating for the coronavirus, your company knows just where to find you! But it's important to strike up a healthy work-life balance when working from home.
Set your workday boundaries; you should be ready to start working when you normally would at the office and be ready to clock out and finish your day as normal. Working from home doesn't mean you need to extend your hours and it doesn't mean you can slack off! When you're getting used to how to work from home, finding a productive balance and setting your boundaries with your working hours is very important.
5 - Give yourself a break
Many people working from home might be hesitant to take breaks because it might seem like their slacking off with their work, but we're not machines! We're only human, and as such we need to get up, move around, have a snack or a drink and re-energise ourselves.
Just because you're at home, doesn't mean you don't deserve a break! Another one of our top tips for working from home effectively is to make sure that you take time for lunch, take a tea break or even go for a walk. Keeping yourself properly fed, watered and energised is the best way to keep your day productive!
6 - Pause for prayer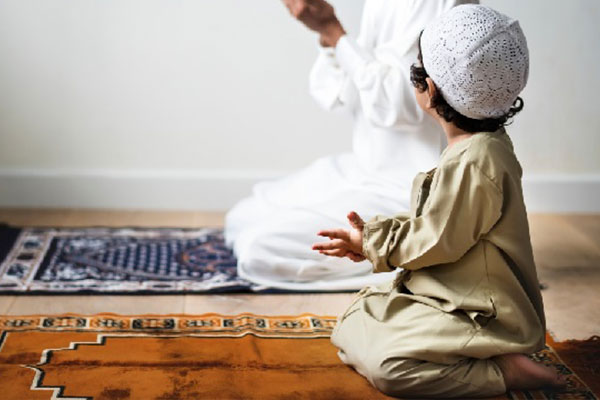 Sometimes when we think about how to work from home, we get caught up in all our tasks and to-do's but no matter the time of day, while working from home (or even back in the office) there is always time for prayer. Recitation can help you focus for the rest of the workday and even encourage you to put your very best foot forward! Here are a few workday duas to recite while working from home.
If you find yourself with a difficult workload or just struggling to work at home in general, try this dua:
اللَّهُمَّ لَا سَهْلَ إِلَّا مَا جَعَلْتَهُ سَهْلًا ، وَأَنْتَ تَجْعَلُ الْحَزْنَ إِذَا شِئْتَ سَهْلًا
O Allah, there is no ease except in than which You have made easy, and You make the difficulty, if You wish, easy.
If you find yourself taking a bit of a backseat to your work or lacking motivation, try this dua:
اللّهُمَّإنِّيأعُوذُبِكَمِنالعَجزِوَالكَسلٍ
O Allah, I seek refuge in you from incapability and laziness.
If you find yourself needing a little more encouragement to strive for success, try this dua:
وَمَا تَوْفِيقِي إِلَّا بِاللَّهِ ۚ عَلَيْهِ تَوَكَّلْتُ وَإِلَيْهِ أُنِيبُ
My success is not but through Allah. Upon Him I have relied, and to Him I return.
7 - Gather round the virtual water cooler
One aspect about working from home - that many of us are bound to struggle with - is not being as sociable! Every day at the office, you chat with your co-workers and friends about daily happenings, your interests and anything else that comes to mind, so it can be hard to trade that in for working on your own. The last of our working from home tips is that if you find yourself missing interactions with you colleagues then make the time to chat with them online!
Just because you're out of the office doesn't mean you have to be out of the loop! Gather round the virtual water cooler for a chat or have a cyber-coffee break with your favourite work friends. It takes teamwork to make the dream work, so be sure to chat with your colleagues online throughout the day!
So there you have it, our 7 working from home tips! These are all a few sure-fire ways to help you through the workweek now that we all find ourselves working from home! But if these working from home tips aren't enough to get you through and you find yourself needing some extra support with self-isolation or just someone to speak to about how your coping with COVID-19, you can reach out to Penny Appeal's helpline practitioners at our Listening Line on 0300 303 1360.
Our Listening Line is a free, confidential support service for adults aged 18 and over who find themselves worried about COVID-19 or struggling with isolation. Our Listening Line is just one of the many actions that Penny Appeal is taking to alleviate hardships caused by the coronavirus outbreak.
We are also supporting those who need it most here in the UK by providing food packs and hygiene kits and delivering hardships funds to vulnerable people through our Coronavirus Emergency appeal. As well as our neighbours in Britain, we're helping families globally! Our global appeal is collecting donations to send food packs, hygiene kits and coronavirus testing kits to people in Syria and Gaza, where an outbreak of COVID-19 could be utterly devastating.
We hope you can put these working from home tips to good use and if you've got a spare minute while you work from home - on one of your breaks perhaps - spare a donation to those in our global community affected by this deadly disease and help us heal the world!