Will you help feed the poor and needy?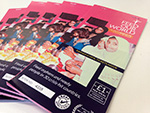 You can be part of something amazing this year – helping to provide 5 million life-saving meals to the poor and needy.
Become a Feed Our World Ambassadoand you'll share the collective reward of helping combat hunger poverty in 30 crisis-hit countries worldwide.
You'll receive a Meal Ticket Book containing 30 tickets – each one is £10 and provides 10 nutritious meals. Encourage friends, family and colleagues to sponsor all the tickets and you'll have helped provide 300 life-saving meals!
Sign up now by calling 03000 11 11 11 or emailing info@pennyappeal.org.