What is Fidya and how to pay it 2021
Fidya is a religious injunction in the Qur'an given to those who miss fasts in Ramadan
Solely for the sake of Allah (SWT), as prescribed in the Qur'an:
"Fasting is for a fixed number of days, and if one of you be sick, or if one of you be on a journey, you will fast the same number of other days later on. For those who are capable of fasting (but still do not fast) there is a redemption: feeding a needy person for each day missed."
(The Holy Qur'an, 2:184)
For each day that a fast is missed you are required to provide one person with two meals to redeem yourself in the eyes of Allah (SWT).

With Penny Appeal, it costs £2 per meal, so the Fidya amount payable for each fast missed is £4. If fasting is not possible for the whole month of Ramadan, the total would be £120.
What is Fidya?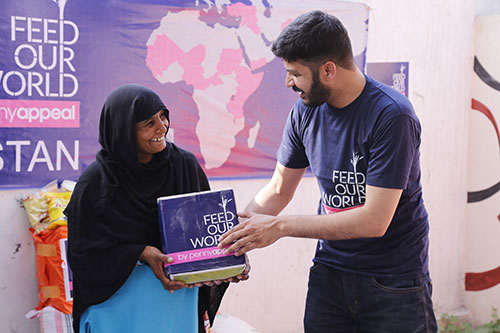 Fidya is a religious donation to the poor and the needy which must be made when a fast is missed through necessity (such as when one is ill, on a journey, pregnant, or of extreme age, young or old) and it cannot be made up after Ramadan.
Fidya must be paid for each fast missed during Ramadan. It is a religious obligation for every Muslim who has reached puberty and is unable to fast for the required number of days and who is also unable to make up for the missed fast.
How will Penny Appeal use my Fidya and Kaffara?
The donations received through Fidya and Kaffara have always traditionally been used to feed the hungry and the poor, and at Penny Appeal we honour this Muslim custom.
All Fidya and Kaffara donations are channelled exclusively to our food aid programme, Feed Our World, and also to our Rapid Response Emergency appeal to feed homeless refugees, particularly those displaced by the conflicts in Syria and Myanmar, as well as those affected by poverty and COVID-19 in countries across Africa, Asia and the Middle East.
Working with experienced delivery partners and major UK Muslim charities, we use your Fidya and Kaffara to deliver nutritious, life-saving meals to poor and needy Muslims living in the most desperate conditions.By atoning for missed fasts with Penny Appeal, you can benefit the world's poorest people and satisfy your religious obligations at the same time.
Wishing you a blessed Ramadan
Whether you are fasting or not this Ramadan, we wish you a blessed month of deep connection, spirituality and togetherness with loved ones.
We can guarantee that your donations will be used in the best way, to provide nutritious meals to those affected by poverty, conflict and COVID-19.
If you have any further questions on how to pay your Fidya, do get in touch and pass on how much Fidya is due this Ramadan 202to friends and family.
We would encourage you to pay your Fidya amount as soon as possible once you know the number of days you'll be missing - it will be one less thing on your mind!