The Return of the Super Muslims
The funniest Muslim comedy tour is back and better than ever!
In the darkest times, the Super Muslim Comedy Tour assemble to fight the evil forces of boredom and blandness. This year it's bigger, better and spicier than your aunty's chutney! We're Assembling the best Muslim comedians from across the Atlantic, serving up halal hilarity!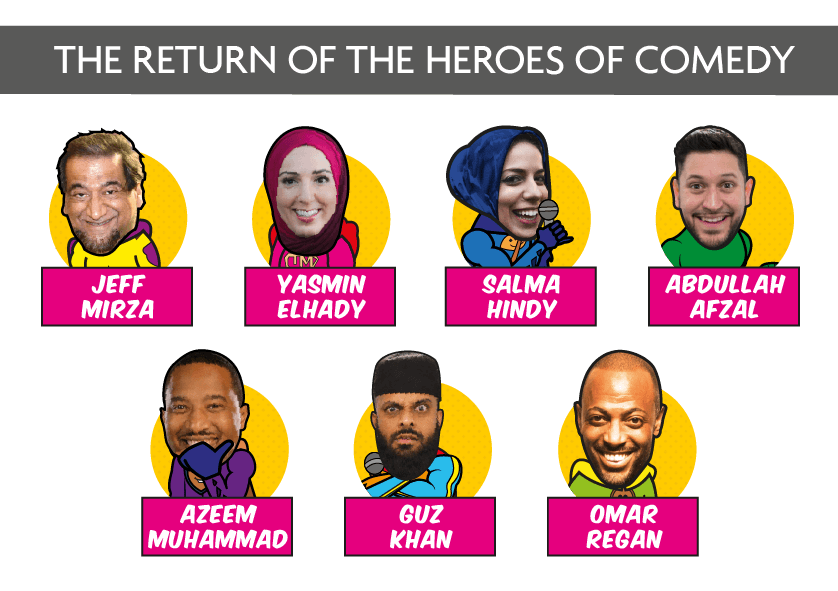 NEW FOR 2018: Introducing the superwomen flying in from across the pond and the land of Trump, Yasmin El-Hady & Salma, as well as American comic Omar Regan. Spinning back into action, the ever-green and swag-dripping Guz Khais joining us.
We're also welcoming back to the stage, Muslim comedy veteran and everyone's favourite uncle, Jeff Mirza. The show will be hosted by our very own Spicy Saj, and BBC sensation Abdullah Afzal.
Be sure to check out this year's show with brand new superpowers and jokes to get your cheeks chuckling and your sides splitting, and in the words of Omar Regan, laughing so much 'your wudhu might break!'

The rip-roaring, lip-smacking line-up is coming to 12 cities across the country from 24th October to 4th November. Be sure to book your tickets as they are flying out faster than a plate of samosas at Iftar!

Education First


The tour is all in aid of our Education First programme, which provides life-changing education to thousands of children living in poverty across the globe.
At Penny Appeal we know that a good education for children is essential to their development and can help them achieve their goals and dreams. With Education First, we aim to ensure that no child misses out on school, and has the chance to make their dreams a reality.