Medjoul Dates are BACK!
Don't miss out on our three holy mosques tins!
Penny Appeal's best loved dates are finally back on the shelves and available to you once more. Our Medjoul dates are sweet, juicy and delicious, grown with love by hard-working Palestinian farmers in the pastures of Jericho along the West Bank of Palestine.
Medjoul dates are often called the 'King of Dates' because of their large size and plump texture. The Prophet (ﷺ) said, "Indeed in dates there is a cure" (Muslim) and these Medjoul dates are chock-full of health benefits. Dates are packed with all kinds of vitamins like vitamin A, folate, Vitamin C, Vitamin E, thiamine and Vitamin K, as well as minerals such as magnesium, manganese, calcium, iron and more. High in protein and fibre, these super foods are the perfect treat for yourself or a loved one. Our dates are packaged with great care in 3 different collectors' tins that depict the 3 holiest Mosques in all of Islam.
Our burgundy tin is designed with Al-Kabah. This tin has a beautiful image of the Sacred Mosque which is located in Makkah, the birthplace of the Prophet (ﷺ) and the site where the Qur'an was first revealed. Our orange tin is designed with Masjid Al-Nabawi. This tin displays the mosque of the Prophet in the city of Medina in Saudi Arabia, which is one of the holiest sites in all of Islam. Finally, our blue tin is designed with a beautiful image of Masjid Al-Aqsa. This tin shows the silver-domed mosque in Palestine where the Prophet (ﷺ) was transported during the Night Journey.
Our date tins won't be around for long as stock is limited, so be sure to purchase yours before it's too late. Each individual tin is just £10, or you could get a set of all 3 for £30. Whether you're ordering a tin for yourself or getting them as a gift for a loved one, these delicious little dates truly are the gift that keeps giving as 100% of the profits will be going towards our Love Palestine appeal.
Dates for you, hope for Palestine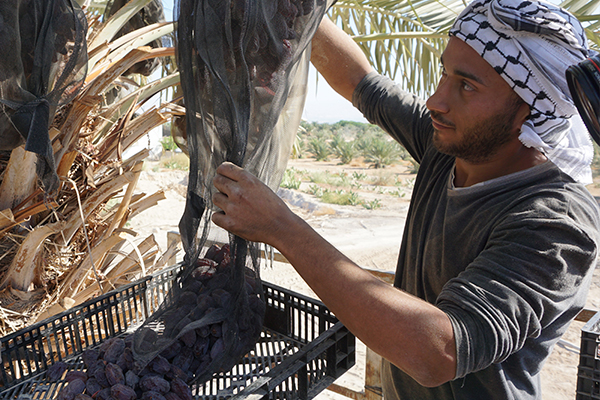 When you order a tin our Medjoul dates, every penny you spend will be going straight to our Love Palestine appeal and helping our vulnerable brothers and sisters in Palestine. Your purchase could help support Palestinian date farmers and their families, help fund our mobile water tanker in Gaza, go towards orphan care or be used to help rebuild the holy land's vital infrastructures like schools, water facilities and medical centres. Our Medjoul date collections truly are the gift that keeps giving!
As if the wonderful feeling of sadaqah along with a juicy date wasn't sweet enough, this year Penny Appeal are making your purchase even sweeter with the chance to win a FREE trip to Palestine, as well as other fantastic prizes. If you are lucky enough to open up a tin of dates and find a golden ticket waiting for you, then you are a winner!
We can't wait to see who the mystery winners – yes more than one - of our Medjoul date golden tickets will be, but we know whoever wins will have some exciting treats in store for them. We also can't wait to help the less fortunate in Palestine thanks to all your generous purchases.
You can pre-order early or purchase your tin of Medjoul dates from Penny Appeal's online shop from January 1st. Please note we will dispatching all orders in March, to ensure you have only the freshest product. With limited stock available, please make sure to get your date orders in as soon as possible to assure you don't miss out on these Palestinian delights and a chance to win a trip to the holy land!