A meal can be life-saving: Help us Feed Our World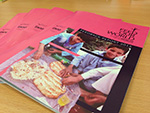 We love to share good news, so here's our latest: over 3 million nutritious meals were provided last year through our Feed Our World campaign.

This is truly amazing, and our thanks go out to EVERYONE who donated. Download our Feed Our World Feedback Report to find out more about the food provided and the beneficiaries in each of the 30 crisis-hit countries.

This year, we aim to provide over 5 million life-saving meals to the poor and needy, so please join us to Feed Our World for just £1 per meal.

Together, we can combat hunger poverty worldwide.