How to Perform Eid Prayer
This year, learn how to perform Eid prayer at home with your loved ones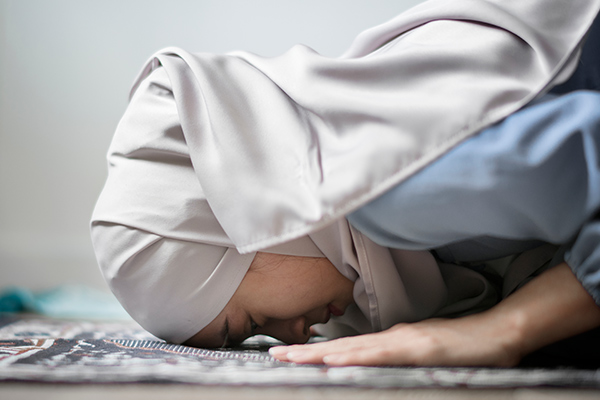 Each year as Ramadan comes to a close, Muslims all over the globe come together to ring in Eid ul-Fitr with family and friends. Eid is a time for celebration and after a rigorous month of fasting in Ramadan, every Muslim deserves to share in this joyous time and give their thanks to Allah (SWT) almighty. There's prayer and parties and of course a whole lot of food but unfortunately, this Eid is going to be very different for many of us.
The coronavirus has put countries all over the world into lockdown, and many Muslims will be self-isolating and social distancing this Eid. Mosques are closed so we can't perform Eid prayer as a community, public gatherings aren't allowed so we can't celebrate together and we most certainly can't exchange Eid Mubaraks while enveloping our friends in big hugs this year. This Eid is without doubt going to be different thanks to COVID-19, but Eid is still a wonderful time of celebration no matter how we go about it.
One of the most special aspects of Eid is the Eid prayer. We only have the opportunity to perform this special prayer once a year, so it's important that we put our all into it and give Allah (SWT) the thanks and praise He truly deserves. Since it is only performed once a year, you might be wondering how to perform Eid prayer and because of COVID-19, you might also be wondering how to perform Eid prayer at home this year. Not to worry, we've made an easy guide on how to perform Eid prayer at home for everyone who wants to make sure they are performing their best Eid prayer!
How to perform Eid prayer at home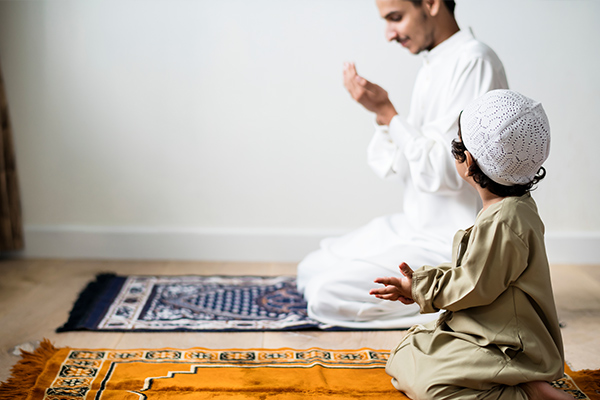 Eid prayer is made up of two rakats, or units of prayer, and should be performed fifteen minutes after sunrise until zawal, when the sun is at its highest peak. While this prayer is usually done in congregation under the guidance of an Imam, Muslim scholars have deemed it permissible to perform Eid prayer at home due to the coronavirus pandemic. Here are some clear and easy instructions on how to perform Eid prayer at home this year!
To start your Eid prayer, you first need to set out your intentions for both rakats and all of your takbirs, the recitation of "Allahu Akbar", that comprise the Eid Prayer. Following that, you can go into the first raka.
For the first raka, you should open it by reciting takbir with raised hands and then continue to recite your takbir six more times, raising your hands each time you say "Allahu Akbar". The next part of the first raka is to recite Surah al-Fatiha loudly and passionately, followed by another surah of your choosing. To finish this raka you should say takbir once more while getting into ruku and completing your prayer as you normally would.
For the second raka, you will once again start by reciting takbir and then continue to recite tabir five more times after this. Once you have completed your takbirs you can then go into reciting Surah al-Fatiha and follow that up with another surah, a nice one to carry on with is Surah al-Qaf or al-Qamar! To bring the second raka to a close say takbir in ruku and complete your Eid prayer.
And there you have it – your Eid prayer! You can now go into Eid confidently knowing how to perform Eid prayer at home, showing your appreciation for Allah (SWT) by performing this prayer meticulously while keeping yourself and your family safe during this pandemic.
Since Eid celebrations will be a little different this year because of the coronavirus, why not make it an extra special celebration by giving a little extra to our sisters and brothers in need around the world? A simple donation of £50 to our Coronavirus Emergency appeal could provide a food pack and hygiene kit to a family that has been affected by the coronavirus.
Now that you know how to perform Eid Prayer at home, you're all set to make this Eid a wonderful one from the comfort of your home – for your family and those in need! We also have many special Charity Gifts, so you can give a truly meaningful gift to your loved ones this Eid.
We hope you and your family have a safe and happy Eid this year, and that your prayers are received with the pleasure of Allah (SWT). May He bring you all the joys and blessings you deserve on this happy occasion and keep us all under His protection in the coming year, Insha'Allah.