YOUR donations handed out to refugees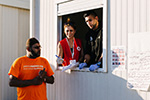 Our special aid convoy, in partnership with Amir Khan Foundation, reached Greece at the weekend, where teams handed out thousands of items direct to refugees.

World champion boxer Amir Khan helped deliver the aid, which included food and water, clothes, hygiene essentials and sleeping bags, to those stepping off boats on the island of Lesbos. Our teams also distributed your donations to refugees in Athens who are already making their journeys through Europe by foot.

Amir said: "The donated items for the aid convoy made a massively positive difference to refugees and we were so happy to have helped the people we could, but deeply saddened by the number of refugees we couldn't help."

Penny Appeal still has teams on the ground in Greece, so please donate now to provide essential items to refugees who have left everything behind to escape conflict.

You can give to provide food and water, hygiene products, shelter and hot meals by calling 03000 11 11 11.