Our CEO at The Women in the Charity Sector Report Launch Event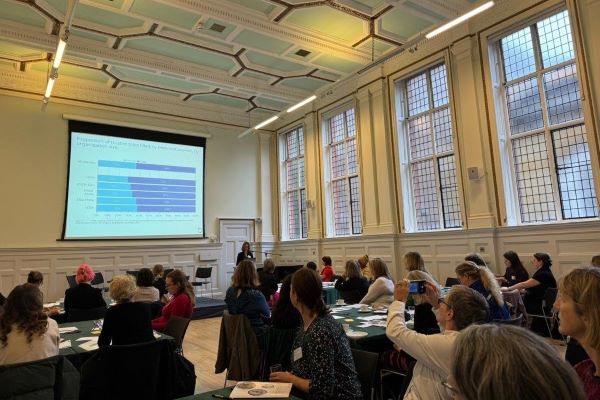 In a bid to foster a more inclusive and empowering environment for women here at Penny Appeal and across the wider charity sector, our CEO, Ridwana Wallace-Laher, attended a Women in the Charity Sector Report launch event organised by Pro Bono Economics. This gathering of female charity pioneers brought together influential figures, key stakeholders, and experts in the field. With a core focus on exploring the key findings of the report, the event was also an opportunity to network and discuss how the charity sector can be transformed into a space where women can not only work but thrive!
The event was centred around a panel discussion addressing the critical aspects necessary for developing a social sector that better serves the needs of women. This encompassed exploring the pivotal role that charities play in supporting women, identifying avenues for enhancing routes to leadership, examining gender disparities, and delving into why diversity in philanthropy is pivotal for a thriving and equitable society.
The afternoon consisted of a round table talk where participants were encouraged to join a discussion that resonated with them the most. The themes explored throughout these discussions included:
Creating Space for Women Leaders: Exploring strategies and initiatives to provide more opportunities and support for women to step into leadership roles within the charity sector.
Understanding the Value of Women's Networks, Mentoring and Coaching: Highlighting the significance of networks in empowering women, fostering collaboration, and creating platforms for knowledge sharing and support.
Getting More Women on Boards and Maximising their Impact: Assessing ways to increase women's representation on boards and ensuring their substantial influence in decision making.
Fostering a More Inclusive Workplace: Exploring strategies to create diverse and inclusive workplace cultures that celebrate and leverage the strengths of women.
Women in Philanthropy: Recognising the importance of women's roles in the industry and discussing how their increased participation can bring about more positive, impactful change.
Here at Penny Appeal, we're constantly adapting the way we work to ensure everyone's voices are heard and that opportunities are up for grabs no matter your gender, race or faith. Ridwana's attendance and contribution to this event shows her passion as the first female CEO of a UK major Muslim charity towards equality and progress. We're forever proud of Ridwana's achievements and dedication to making a BIG difference to oucharity internally and to our beneficiaries across the world.