Husband and wife team prepare for Everest Base Camp Challenge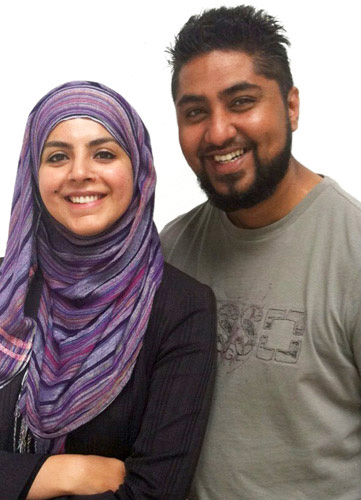 An intrepid husband and wife team from Batley are preparing for Mount Everest.

Irfan Iqbal and Zakia Younis Iqbal have signed up for a trek to Base Camp on the world's highest mountain, Mount Everest, in aid of Penny Appeal's Rebuilding Pakistan Appeal, which aims to rebuild the village of Kamar Mashani in the Punjab region of Pakistan.

Countless villages in the region were swept away by the devastating floods that followed the heavy monsoon rains in July 2010, and which killed at least 1,700 people and displaced over six million others.

Irfan, owner of Batley-based company Carpet Innovations, commented: "I am taking part in this trek in order to support the Pakistan flood victims and to increase awareness of the amazing work carried out by Penny Appeal. I've begun my preparations – I am walking more regularly and changing my staple fast food diet to healthier one! I am really looking forward to achieving my fundraising target and seeing the contributions being put to good use."

Zakia, a dispensing optician, said: "One year on from the floods, there is still so much more that needs to be done and the trek is a great opportunity to raise awareness of this. We are planning to visit the areas affected by the floods next month, to witness the devastation firsthand and to get a sense of the difficulties that the victims face on a day to day basis. Knowing that we are doing what we can to help will make finally reaching Base Camp so worthwhile!"

At 5,36metres, the Everest South Base Camp in Nepal offers a serious challenge for even experienced walkers, but the breathtaking panoramic views that take in eight of the world's highest mountains will make the trek a once-in-a-lifetime opportunity.

Adeem Younis, Chairman of UK-based Penny Appeal, said: "The Everest Base Camp trek is all about remembering the plight of the forgotten victims of the Pakistan floods. We're aiming to raise over £40,000 - enough money to build a small village of two-bedroom houses, as well as to construct wells and distribute much-needed aid packages."

The charity trek takes place from 2nd to 18th December 2011. The couple each have a sponsorship target of £3,500. Donations are welcomed and can be made at: www.justgiving.com/Irfan-Iqbal and www.justgiving.com/ZakiaYounis.

"It's a challenge that will leave the group with a lifetime of memories," said Adeem Younis, "and everyone who takes part in the trek will be making a very real difference to the lives of disadvantaged people in Pakistan."