Amir Khan visits Penny Appeal to discuss orphan village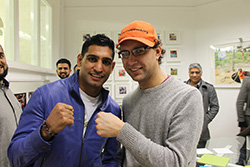 There was a very special visitor at Penny Appeal Head Office this week – two-time world champion boxer Amir Khan.
His charity, the Amir Khan Foundation, is joining forces with Penny Appeal to build a new orphan village in The Gambia.
Phase one will be home to 100 children, providing them with loving foster mothers, nutritious meals each and every day, clothing, healthcare and an education.
This all adds up to the chance to create a brighter future away from poverty.
Penny Appeal Chair of Trustees, Adeem Younis, gave Amir a tour and updated him on how our work is progressing.
"There was a lot of excitement about Amir's visit and it was fantastic to be able to sit down and discuss our plans," said Adeem.
"Amir is really dedicated to helping the poor and needy – he has already been out with our teams on Penny Appeal projects – and we're all looking forward to working together to transform the lives of orphans in The Gambia."

You can help right now by making a donation towards the Penny Appeal and Amir Khan Foundation orphan village fund. Call 03000 11 11 11 to give your support to desperate orphans.