Qurbani Pakistan
Give your Qurbani to the needy in Pakistan. For £159 you can give a joyous Eid-ul-Adha to people forced to live in hunger.
Donate your Qurbani to Pakistan for £159
One Qurbani provides 57 meals to those in need in Pakistan

Qurbani in Pakistan 2020


60% of the Pakistani population faces food insecurity, which means they struggle to feed themselves every single day. Almost half of children under the age have stunted growth due to malnourishment.
When you donate your Qurbani in Pakistan, you relieve some of the burden these families face, and give them the joyous Eid celebration they deserve
Penny Appeal's Qurbani in Pakistan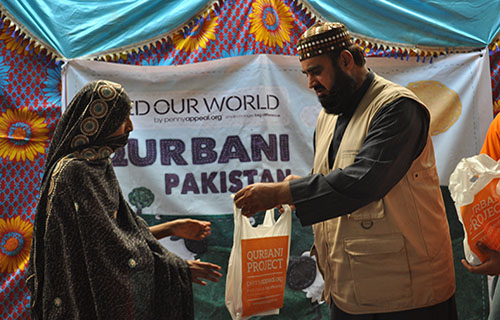 Last year, Penny Appeal delivered your Qurbani meat across remote and impoverished districts of Pakistan.
Your Qurbani in Pakistan provided 39,992 people with meat to enjoy, in celebration of the holy days of Eid-ul-Adha.
Your Qurbani Pakistan reaches those most in need, including orphans, the elderly, widows and those with disabilities.
Thanks to your donation, many people living in desperate poverty across Pakistan were able to enjoy meat for the first time that year.
8 Years Delivering your Qurbani