Qurbani Asia
Donate your Qurbani for £29 to a family living in poverty in Asia this Eid
Dhul Hijjah is a blessed time but because of COVID-19, many poor families will find themselves struggling during this sacred month.
With your support, thousands of families throughout Asia can enjoy Eid-ul-Adha together and share a delicious meal prepared with your Qurbani meat.
This year, donate your Qurbani in Asia for only £29!
The Prophet (ﷺ) said: "It is the Sunnah of your father Ibrahim (as). For every hair of the Qurbani you receive a reward from Allah (SWT)."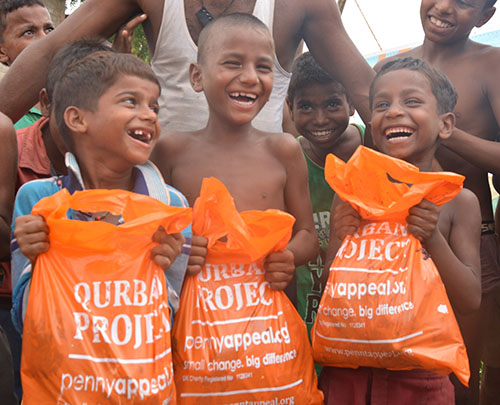 Donate Your Qurbani in Asia
Food insecurity throughout the poorest countries in Asia has left many families struggling with hunger on a daily basis. They simply can not maintain a balanced diet, and many go without aceess to nutritious foods because of this. Around 64% of all malnourished children in the world live in Asia and without support this number could grow.
This year, Penny Appeal are working throughout Asia to provide Qurbani meat to even more people than ever before. Over 519 million people are undernourished all over Asia; your sacrifice will help provide impoverished families with nutritious meals, while celebrating the joyous time of Eid-ul-Adha together.
Your Qurbani will be going to those most in need, such as orphans, the elderly, the disabled, families living in poverty and people affected by COVID-19.
Give your Qurbani in Asia this year for £29, and help spread the joy of Eid to thousands of families!
Offer Your Qurbani to Families in Need
Donate your Qurbani Sacrifice to poor families in Asia this year!
When you donate your Qurbani in Asia, you're making sure that families living in poverty are able to celebrate Eid with delicious meat that has been sacrificed in the proper Islamic way.
There are millions of starving and hungry people in Asia, and for many of them your Qurbani will be the only meat they get to eat all year. This year, you can sacrifice your Qurbani throughout Asia and help these poor people have a nutritious meal with their families on Eid-ul-Adha.

Offer your Qurbani in Asia this year and give your precious sacrifice to families who are suffering in poverty!