Donate your Qurbani to Africa
COVID-19 has swept through Africa, pushing already struggling families into extreme poverty.
You can help ease their struggle by donating your Qurbani in Africa, providing them with fresh, nutritious meat for Eid.
Donate your Qurbani in Africa this year for just £29 and give your sisters and brothers the Eid they deserve!
The Prophet (ﷺ) said: "It is the Sunnah of your father Ibrahim (as). For every hair of the Qurbani you receive a reward from Allah (SWT)."
Donate your Qurbani in Africa
Today, around 422 million Africans live in abject poverty. That's one in three people throughout the whole of Africa that have to survive while living below the global poverty line.
With so many African families living in poverty, many households have extremely limited access to nutritious foods. Africa is home to the highest number of malnourished people worldwide, and over a quarter of those struggling with hunger.
Your Qurbani donation could provide families in Africa with fresh, delicious meat to have over Eid, making their 2020 celebrations extra special. Embrace the devotion of Ibrahim (as) and help spread the joy of the season by providing impoverished families with a protein-packed meal deserving of Eid-ul-Adha.
Donate your Qurbani in Africa for only £29, providing 57 meals to the poor and disadvantaged!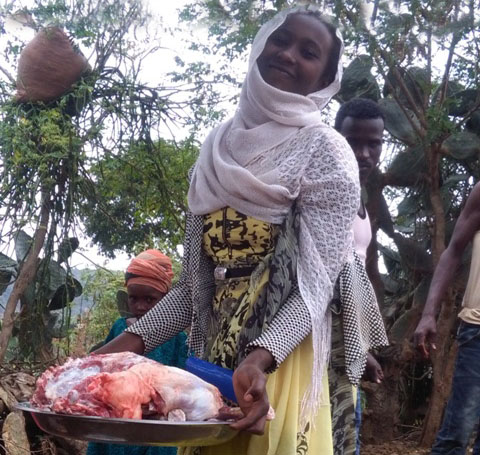 Offer your Qurbani to African Families in Need
Donate your Qurbani throughout Africa and provide those in need with a nutritious meal this Eid!
Impoverished families all throughout Africa are facing a hunger crisis. With more than 30% of African children suffering from stunted growth due to their chronic malnutrition, access to nutritious food is in high demand.
Your Qurbani donations could provide families in Africa with nutritious meals to enjoy over Eid ul-Adha, and help alleviate their hunger. By offering your sacrifice in Africa, you could help poor African families prepare a delicious meal for their children with Qurbani meat that could support their growth and development.
Help us spread the joy of Eid this year by putting food on the table for families in Africa for just £29 with your Qurbani.