Reaching New Heights with Highfield School!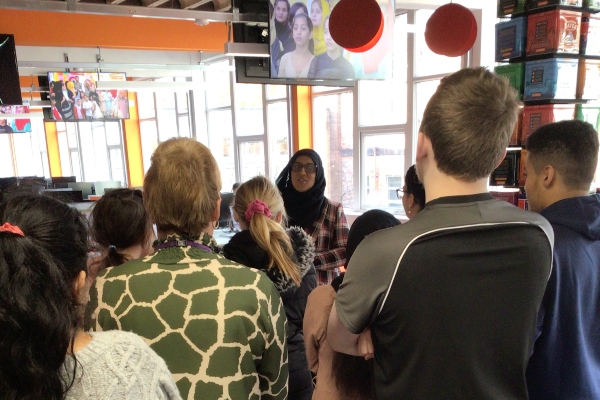 This week, in true Penny Appeal style, we were thrilled to welcome the post-16 students from Highfield School to our orange home as part of their Inter Faith Week learning. Having just moved into our campus, Highfield School are an exceptional addition to our community here in Thornes Park. The school is an educational facility based in the heart of Wakefield, aiming to empower youngsters with special educational needs and prepare them for their next stage of life. Whether the students go on to further education, meaningful employment or simply need support with independent living, Highfield School is with them every step of the way, what a great asset to our community! In the spirit of fostering connections with our fellow Thornes Park neighbours, we gave the students and staff a tour of our orange headquarters.
Highfield School's dedication to making a difference in the lives of people with disabilities, an underrepresented group, resonates with our values here at Penny Appeal, we admire them and are proud to have their post-16 facility on our campus. We have a number of appeals and initiatives which also aim to empower those with disabilities around the globe, like our 'Open Your Eyes' initiative which provides live-changing eye care to needy people in developing countries across the globe. We share their passion for changing people's lives!
This week, the students at Highfield School have been learning about different faiths as this week is national Inter Faith Week. So, what better way to give them insight into our Muslim charity than to let them see firsthand what happens behind the scenes. Inter Faith Week aims to strengthen relations between faiths, spread awareness about different faiths' contributions to local communities, and increase understanding between people of religious and non-religious beliefs. Here at Penny Appeal, we celebrate diversity in many ways including faith and religion. We have a diverse workforce, consisting of incredible individuals from all walks of life and we believe that teamwork makes the dream work. Our commitment to using small change to make a BIG difference in our local community demonstrates that this is a shared goal between us, Highfield School and Inter Faith Week. Diversity is all around us in Wakefield which makes us very proud that our now global charity was born and raised in the heart of this great city.
We were eager to give an exciting insight into the daily operations of different departments here at our Thornes Park home, and to learn more about Highfield School and their vision, which is to maximise potential for confident and independent futures. We definitely saw this potential in action! We hope each and every student enjoyed interacting with our team and getting a sneak peek of how we do things the Penny Appeal way. The visit concluded on a high with a presentation from none other than our incredible CEO, Ridwana, who outlined the work of each department and explained how Penny Appeal went from an idea to an international charity operating across five continents!
This visit serves as another great example of the importance of building connections within our community. We believe that these moments of understanding are crucial for inclusivity in our schools, workplaces, and social spaces. We'd like to extend a BIG, orange thank you to the students and staff of Highfield School who came to visit us on Monday. We thoroughly enjoyed having you and look forward to the next time you visit your new neighbours here at Penny Appeal.