Mental Health Matters
Mental health and psychosocial support in times of crisis

Life can be challenging at times; the world can feel like its crumbling around you, and sometimes it actually might be, but in times like these it's important to know that you are not alone. When you're feeling anxious, stressed out, frightened or depressed, talking to someone about how you're feeling and finding support when times are tough can help you stay mentally healthy.
In the UK, 1 in every 4 adults and 1 in every 10 children experience some kind of mental health issue. Getting support with your mental health isn't something to be ashamed of, in fact thousands of people all over the nation look after their mental health with the support of therapy, counselling and medication. Taking care of your mental and emotional wellbeing is just as important as taking care of yourself physically – you should never be afraid to ask for help!
When our brothers and sisters ask for help in times of crisis, Penny Appeal are always there for them but it's not just emergency relief like food, medical aid and shelter that we provide – it's psychosocial support as well! We appreciate how crucial good mental health is to the healing and recovery process after a traumatizing event, so many of our Emergency Response projects incorporate psychosocial support and counselling services for those who need them.
Psychosocial support is aid that concentrates on the psychological and social needs of communities, individuals and families. Psychosocial support offers people ways of constructively processing their thoughts and feelings, helps strengthen their resilience and supports their relationships with their family and the community. In the aftermath of a disaster, mental health support is essential because just as people need help rebuilding their communities, they also need help in healing from the psychosocial impact of the crisis.
Psychosocial Support in Emergencies

Syria
As part of our Syria Emergency appeal, we have set up mobile clinic for women and children to help provide health care services in remote areas of the country, where they are struggling to receive specialized care. In addition to catering to the physical ailments of internally displaced Syrians, our mobile clinic also provides psychosocial support and specialised psychological care for the victims of war-related trauma.
One of the children we've been able to support with psychosocial care in Syria is 7-year-old Jamela. Jamela and her family were caught in an air raid of their town and had bombs dropped on their home. She was pulled from the rubble of their destroyed home, and now lives in a refugee camp nearby. Jamela suffers from acute phobia and anxiety; her crippling fear has made her nonverbal. She no longer enjoys playing with other children as she once did and her parents feared that she would never be the happy child she was before the bombs dropped.
Jamela started having one-to-one counselling sessions at our mobile clinic with a psychologist, and eventually started to open up about her trauma and her fears. She has even starting to slowly pick up verbal communication again. There is still a long road of recovery ahead of Jamela but with the support of her family and the mobile clinic, she can continue her healing process and grow her confidence back.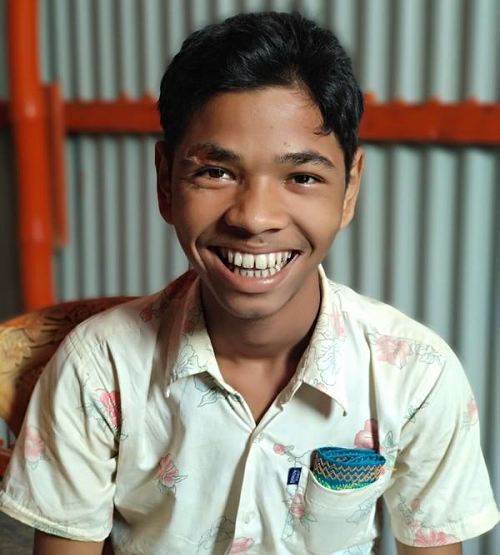 In times of emergency, we tend to focus on the physical dangers, the homes and livelihoods being destroyed, the damages done to infrastructure, and the loss of loved ones. But we don't speak enough about the trauma and mental illnesses that can be triggered in times of crisis. Mental health is just as important as physical health, which is why Penny Appeal is working to bring psychosocial support to the victims of disaster like traumatised Rohingya refugees.
In 2017, the Rohingya people fled from their home in Myanmar due to a widespread violent genocide of their people. Now in Bangladesh, around 1.1 million Rohingyas are living in overcrowded refugee camps. Every single one of these people have experienced horrific violence, abuse and years of instability. With the help of our partners, Action Aid, we've been able to offer counselling to hundreds of men, women and children to help them cope with the traumatic experiences they faced in Myanmar. Our Rohingya Emergency appeal has supported one-to-one and group counselling sessions for 396 men and boys and we have also been able to give 394 Rohingya women and girls one-to-one psychological counselling and follow-up support, as well as running group therapy for 503 women!
One of the young people we've reached out to support is 12-year-old Nur, who is now a resident of Cox's Bazar. Nur fled to Bangladesh in 2017 with his uncle to escape the violence and oppression they faced in Myanmar, but it wasn't easy. Tragically, Nur witnessed his own father die right before him. He now struggles with depression and often has nightmares of his time in Myanmar as a young boy.
Nur is receiving support for his depression at our Men and Boys Centre in his camp, where he goes to both private and group counselling sessions. He has also been encouraged to participate in various activities around the camp, and has started to learn a trade as well. Nur is slowly getting better every day thanks to these mental health services, and told us, "I cannot think about what will happen tomorrow. Now my plan is to continue coming to the centre and learn new skills as long as possible."


Lebanon
The explosion in Beirut on August 4th, 2020 left the whole city devastated. More than 300,000 people have been made homeless and countless others are trying to rebuild their lives from the rubble. Penny Appeal has been steadfast in our support of the Lebanese people, providing medical aid, food, water and shelter but we are also providing them with psychosocial support.
We're provided much needed mental health support in Karantina, one of the main communities affected by the blast, with our psychosocial support bus! The bus provides detailed needs assessments and counselling services for the community, as well as play therapy for children. The people we're providing psychosocial support to are those who lost their homes in the blast and have been residing in community housing such as churches and recreation centres. These services are provided by highly qualified practitioners, assuring that the people of Beirut are getting the help they need to heal.


Turkey
Around 67,000 Uyghur Muslims have fled to Turkey to escape the cultural genocide happening in the Xinjiang region of China. Faced with imprisonment, abuse and oppression in their homeland, many Uyghur Muslims sought to escape the violence but even in their new home, they still worry for their future and fear being deported back to China. Many refugees have had to flee without their family members, have witnessed their loved ones being locked away in "re-education" camps and been forced to deny Islam.
While in Turkey, the Uyghur people can once more openly practice Islam but the scars from what they experienced in China are still fresh. A lot of these poor refugees have been through very traumatic experiences and many of them are still suffering in the midst of uncertainty over family member that are not in Turkey with them. Penny Appeal are working to set up a local clinic in Istanbul to help the Uyghur with medical aid and psychosocial support.
Psychosocial aid is so very important to people who have experienced disaster because it allows them the space and support they need to begin healing. The emotional and mental impact of a crisis can be severe and because of this, psychosocial support is a very integral aspect of humanitarian aid.