Rohingya Emergency Appeal
One Year of Helping Rohingya Refugees
One year ago, violent attacks on the Rohingya community in Myanmar left thousands dead, and hundreds of thousands fleeing to Bangladesh in search of safety.
There are now almost 1 million Rohingya refugees living in the extremely densely populated area of Cox's Bazaar on the coast of Bangladesh.
This is the fastest growing refugee crisis in the world. One year on, there are still Rohingya refugee families arriving into Bangladesh every single day, fleeing persecution.
Thanks to your ongoing support, Penny Appeal has been working on the ground since the crisis began, to meet some of the most pressing needs of thousands of families.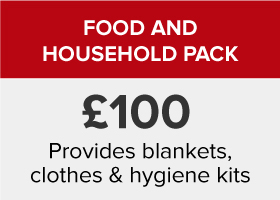 We have opened two child-friendly space centres in the camps. These are being used for activities such as psychological support, counselling, and lessons on hygiene awareness. 160 children are currently enrolled, split evenly between the two centres. Each centre has two shifts daily, with 40 children each. There is so much demand for these services that each centre is now looking to hold an extra session throughout the day for another similar-sized group of children.
These child friendly spaces are so important in helping children find normality and happiness among the devastation they have witnessed. The children are unable to attend formal school at the moment, and many children are most concerned with supporting their family through their current difficulties
Help Penny Appeal Build Child Friendly Spaces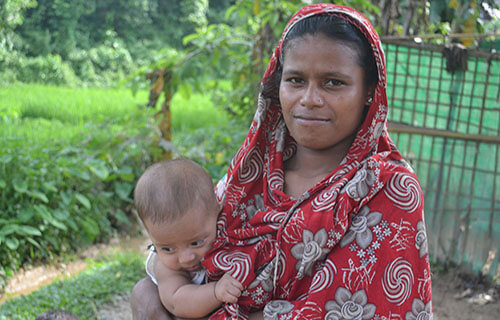 Hundreds of thousands of Rohingya fled their homes in Burma last year following deadly violence, and many women were victims of sexual violence and abuse.
Now, Penny Appeal is working to champion the mental, physical and economic wellbeing of Rohingya women. We have worked to establish a plethora of women friendly spaces inside the camps to give women and adolescent girls the access they need to health information, protection services, and psychosocial support. Furthermore, some spaces provide life skills training to support the women's livelihood and create financial independence. This is central to the empowerment of Rohingya women, helping them to improve their circumstances, and where necessary, leave abusive partners.
These camps give women the opportunity to talk about their experiences, fears and hopes with trained counsellors and medical practitioners, in a safe and private space.
Help Penny Appeal build Women Friendly Spaces
One
Year
Providing Shelters to Rohingya Refugees
When Rohingya families first arrived in the camps in Cox's Bazar, they had almost no shelter, and were using tents or simple cotton sheets for covering. In one single temporary shelter, there would be 4 or 5 families living together, with no designated toilet or water source.
We have been working to upgrade the current temporary shelters, as well as building more permanent bamboo structures to better withstand environmental changes and conditions. We have provided shelter for 2,000 families.
New Shelter Models
The new temporary shelter model is made with good quality bamboo and tarpaulin. The upgraded shelter packs have been designed to be more sustainable by using stronger and more resilient tarpaulin and ropes. Moreover, they will be better able to withstand the monsoon season and the potential resulting landslides than the previous temporary shelters.
Help Rohingya families save their homes from the Monsoon with a Shelter Upgrade Kit
"And whoever saves one life, it is as if they had saved mankind entirely."
[Surah Al-Ma'idah 5:32]
Donate now to help the Rohingya refugees.
£50 FOOD PACK
Our food packs contain nutritional items like pasta, rice, sugar and chick peas; they can support families for an entire month.
£100 FAMILY ESSENTIALS KIT
Simple things such as hygiene and sanitation items, clothes and blankets can make a big difference to the health of refugees.
£200 WATER SUPPLY
Reliable access to a safe source of clean water is vital for survival.
£2,800 SHELTER
Each shelter can house eight families, providing warmth, security and protection for around 64 people.
Rohingya Emergency with Abdullah Afzal
Treated worse than animals, the rabid dehumanisation of the Rohingyan people has become an ethnic cleansing of Myanmar. Human rights violations and destruction are rife, with women raped, children abused and villages burned to the ground.
Homes, shops and entire villages are being systematically destroyed. The refugees fleeing the violence are crossing the border injured and ill and need urgent medical attention. The camps in Bangladesh don't have sufficient resources to treat the injured or feed those who haven't eaten in days.
The situation is constantly escalating.
We need your urgent help now!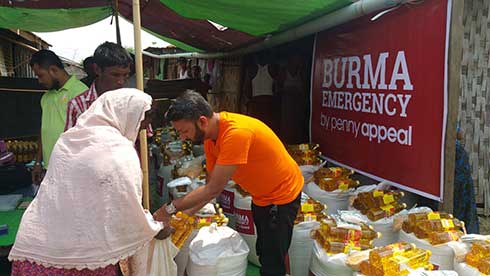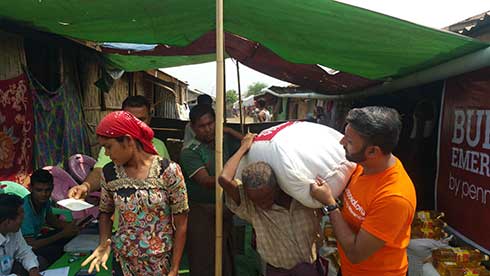 How does Penny Appeal help the Rohingyan refugees?
Forced to flee for their lives, these vulnerable people face a perilous journey towards safety. Countless refugees, including children, are missing and presumed dead, as they're being forced to risk everything to escape the brutal persecution.
Far from home and afraid for their lives, most are now dependent on aid for all their basic needs – food, water, shelter and medical care.
Thanks to your support, we have provided food for almost 3,000 families through distributions of food packages and food bundles. These contain wholesome and nutritious foods to meet the needs of all the family members, such as rice, sugar, salt, potatoes, onions, soya-bean oil and powdered milk.
We have provided 4,200 Rohingya people, including over 1,500 children, with health services and free medicine through an innovative medical camp, which operates six days a week. The camp serves about 150-200 patients daily for skin diseases, diarrhoea, dysentery, as well as minor injuries. There are services available for pregnant women to have ante-natal and post-natal check-ups.
To address the need for water security, Penny Appeal supplied over 120,000 litres of safe water to in two camps, using trucks and water jars. 12,000 people received 10 litres of fresh water, each.
We have provided shelter for over 2,000 families and installed 28 latrines and hygiene facilities, which are surrounded by corrugated sheets for privacy, ensuring a greater level of safety for women.
One year on from one of the worst humanitarian crises of our time, we ask you not to forget the Rohingya people.
Please donate today to help the Rohingyan refugees who now need your help more than ever.