Rohingya Emergency Appeal
2 years of rebuilding lives and strengthening community


It's been 2 years since the violent attacks on the Rohingya community in Myanmar in August 2017. They left thousands dead, and hundreds of thousands traumatised and fleeing to Bangladesh in search of safety.
There are now almost 1 million Rohingya refugees living in the extremely densely populated area of Cox's Bazar on the coast of Bangladesh, making it the world's largest refugee camp. These people are struggling to survive day by day without access to proper healthcare, sanitation, education or nutrition.
Thanks to all your support, Penny Appeal has provided emergency aid to over 391,178 Rohingya refugees!
We've provided free medical care to 60,000 Rohingya refugees, nutritional support to 20,000 people who were battling malnutrition, essentials like cooking stoves and baby clothes to 3,000 families, over 112,000 litres of clean water, and sanitary blocks and latrines for hundreds of families.
With your help, we've also been able to offer emergency shelter to 250 families, as well as establishing many Women, Adolescent and Child Friendly Spaces, so that people can come together in a safe space to overcome their trauma as a supported community.
None of this amazing work would have been possible without your generosity. Help us continue to support our Rohingya brothers and sisters; donate today.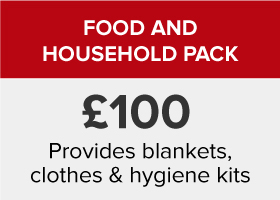 The crisis is vast, but thanks to your Rohingya charity, we are making a BIG difference to those in need.
Alhamdulillah, we have provided free medical care to ,000 people, nutritional support to 20,000 Rohingya who were battling malnutrition, essentials like cooking stoves and baby clothes to 3,000 families, 112,000 litres of clean water, sanitary blocks and latrines for hundreds of families, emergency shelter for 250 families and many Women, and Child Friendly Spaces, so that people can come together to learn and overcome their trauma as a supported community.
Your Rohingya charity is transforming lives, shining a light in the darkest circumstances – thank you!
Read more about how you can donate to refugees and help Rohingya people.

Health and Nutrition Centres
The World Health Organisation estimates that 1.3 million Rohingya people are in need of health services, many of whom live in Cox's Bazar.
We've set up Health and Nutrition Centres, to help people like four-year-old Haresa (pictured here with her mother, Amena) to get the treatment they need to be healthy and happy.
Haresa lives in Cox's Bazar, after having escaped violence in Myanmar with her family. Traumatised and afraid, Haresa stopped eating altogether in the refugee camp. Through our Health and Nutrition Centre, we were able to treat Haresa for severe malnourishment, and train her mother Amena in Infant and Young Child Feeding Services.
"I feel relieved to see that Haresa likes to eat. She is healthy, happy and active," Amena told us.
Through our Health and Nutrition Centres, we have provided free medical care to over 18,000 Rohingya people, including 10,800 families. We've also provided nutritional support to over 20,000 people, Alhamdulillah!
Donate to our Rohingya appeal now, and help children like Haresa to stay healthy.
Emergency Flooring Protects Families from Floods
Monsoon rains have hit refugee camp Cox's Bazar this month, with devastating results.
Over 4,000 families have been affected by the extreme weather, with hundreds of makeshift homes collapsing as they take on floodwater.
Penny Appeal have installed safe, lightweight and hardy Emergency Flooring in 250 refugee homes, helping insulate them and offering protection from the floods. We also installed the flooring in our Child Friendly Spaces, helping keep 160 children safe.
Help protect a refugee family from losing their homes all over again; donate now so that we can provide Emergency Flooring to more Rohingyan families.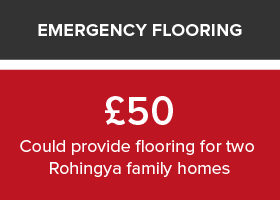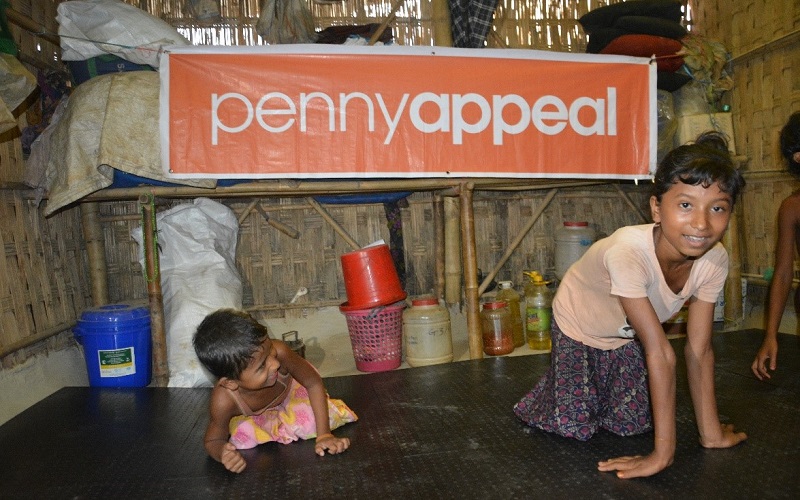 We have opened child-friendly centres in the camps, which are a life-line for families!
Our Child Friendly Spaces offer activities such as psychological support, counselling, and lessons on hygiene awareness. 500 children are currently enrolled, receiving the help they need.
These child friendly spaces are so important in helping children find normality and happiness among the devastation they have witnessed. The children are unable to attend formal school at the moment, and many children are most concerned with supporting their family through their current difficulties.
You can read Saifullah's story below to find out how your Rohingya donation can help children enjoy a happier childhood in the camps.
Saifullah's Story




"It is magical that Saifullah wants to go to your Child Friendly Space regularly. Usually, he doesn't feel comfortable with everyone, and he has been very tetchy after the displacement. You really played an enchanted role." - Rozina, Saifullah's mother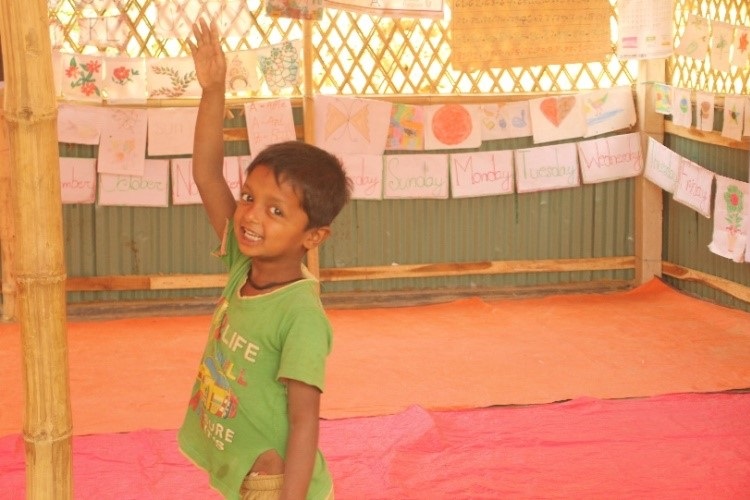 Thousands of children have been left with emotional scars after fleeing Myanmar, including five-year-old Saifullah, who had been running away from the tent his family calls home, and wandering the dangerous areas of the camp – but luckily, he has now found a supportive family in his local Child Friendly Space.
"I heard that he was roaming around several dangerous places - the forest, hilly areas which was very unsafe for him. I motivated him to come here and for the first few days, I went to his house regularly to bring him to our Child Friendly Space. After a few days, he started chasing after me to come, and he always call me 'apu'. Now he has many friends here. His mental health is far better than before." - Nigar, Child Friendly Facilitator
Help Penny Appeal Build Child Friendly Spaces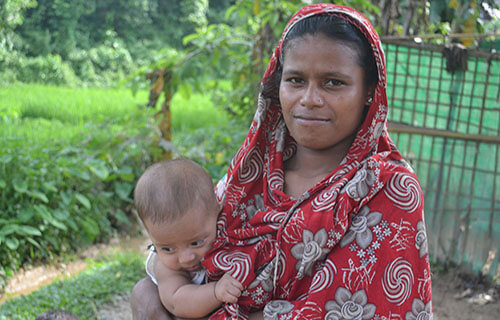 Hundreds of thousands of Rohingya fled their homes in Burma last year following deadly violence, and many women were victims of sexual violence and abuse.
Now, Penny Appeal is working to champion the mental, physical and economic wellbeing of Rohingya women. We have worked to support 13 Women Friendly Spaces inside the camps to give thousands of women and adolescent girls the access they need to health information, protection services, and psychosocial support.
Furthermore, some spaces provide life skills training to support the women's livelihood and create financial independence. This is central to the empowerment of Rohingya women, helping them to improve their circumstances, and where necessary, leave abusive partners.
239 women have received counselling, to help them overcome the trauma they have faced.
We have also supported 2310 women and girls with Dignity Kits, including sanitary towels, underwear, a dress and a thami, a traditional skirt worn by Rohingya women.
These camps give women the opportunity to talk about their experiences, fears and hopes with trained counsellors and medical practitioners, in a safe and private space.
Help Rohingya women to find support and community by donating to our Women Friendly Spaces today.
Help Penny Appeal build Women Friendly Spaces
One
Year
Providing Shelters to Rohingya Refugees
Safe Shelters for Rohingya Refugees
When Rohingya families first arrived in the camps in Cox's Bazar, they had almost no shelter, and were using tents or simple cotton sheets for covering. In one single temporary shelter, there would be 4 or 5 families living together, with no designated toilet or water source.
We have been working to upgrade the current temporary shelters, as well as building more permanent bamboo structures to better withstand environmental changes and conditions. We have provided shelter for families, as well as latrines, safe drinking water and wash rooms.


New Shelter Models


The new temporary shelter model is made with good quality bamboo and tarpaulin. The upgraded shelter packs have been designed to be more sustainable by using stronger and more resilient tarpaulin and ropes. Moreover, they will be better able to withstand the monsoon season and the potential resulting landslides than the previous temporary shelters.
Your Rohingya donation could provide a family with a safe shelter that can withstand the monsoon, and give them the security they lost when they fled Myanmar.
Help Rohingya families save their homes from the Monsoon with a Shelter Upgrade Kit
Donate now to help the Rohingya refugees.
There are so many ways that you can give a Rohingya donation, and help support our brothers and sisters as they face unimaginably difficult conditions in Cox's Bazar.
£20 MONTHLY – SUPPORT A WOMEN FRIENDLY SPACE
Support a Women Friendly Space, so that women and girls can come together in a safe space to heal, grow and learn new skills.
£50 FOOD PACK
Our food packs contain nutritional items like pasta, rice, sugar andchick peas; they can support families for an entire month.
£50 MONTHLY – SUPPORT A CHILD FRIENDLY SPACE
Support a Child Friendly Space, so that children can find care, learning and normality.
£100 FAMILY ESSENTIALS KIT
Simple things such as hygiene and sanitation items, clothes and blankets can make a big difference to the health of refugees.
£200 WATER SUPPLY
Reliable access to a safe source of clean water is vital for survival.
Each shelter can house eight families, providing warmth, security and protection for around 64 people.
Rohingya Appeal




Two years on from one of the worst humanitarian crises of our time, we ask you not to forget the Rohingya people.
Our teams in Cox's Bazar are doing amazing work, helping Rohingya refugees to survive as well as empowering them to thrive. Your Rohingya charity has the power to keep our life-changing work going, and help us start even more compassionate, effective and innovative projects in the Rohingya refugee camps.
Please donate today to help Rohingya refugees who need your help, now more than ever.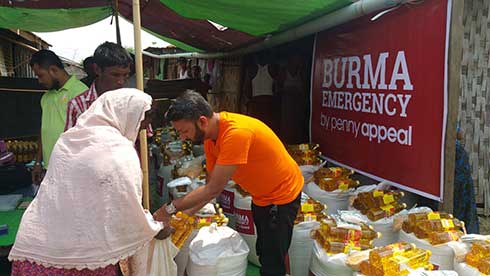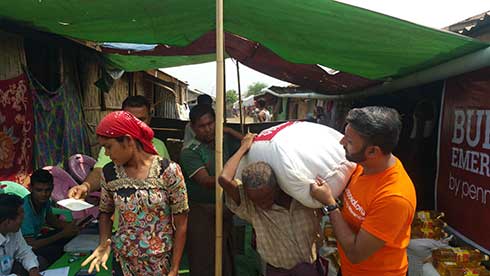 How does Penny Appeal help the Rohingyan refugees?
Forced to flee for their lives, these vulnerable people face a perilous journey towards safety. Countless refugees, including children, are missing and presumed dead, as they're being forced to risk everything to escape the brutal persecution.
Far from home and afraid for their lives, most are now dependent on aid for all their basic needs – food, water, shelter and medical care.
Thanks to your support, we have provided food for almost 3,000 families through distributions of food packages and food bundles. These contain wholesome and nutritious foods to meet the needs of all the family members, such as rice, sugar, salt, potatoes, onions, soya-bean oil and powdered milk.
We have provided 4,200 Rohingya people, including over 1,500 children, with health services and free medicine through an innovative medical camp, which operates six days a week. The camp serves about 150-200 patients daily for skin diseases, diarrhoea, dysentery, as well as minor injuries. There are services available for pregnant women to have ante-natal and post-natal check-ups.
To address the need for water security, Penny Appeal supplied over 120,000 litres of safe water to in two camps, using trucks and water jars. 12,000 people received 10 litres of fresh water, each.
We have provided shelter for over 2,000 families and installed 28 latrines and hygiene facilities, which are surrounded by corrugated sheets for privacy, ensuring a greater level of safety for women.
One year on from one of the worst humanitarian crises of our time, we ask you not to forget the Rohingya people.
Please donate today to help the Rohingyan refugees who now need your help more than ever.