Rohingya Emergency Appeal
Protect
Rohingyan
Refugee Families This Monsoon Season
Help Rohingya families save their homes with a Shelter Upgrade Kit
Monsoon season has started in Bangladesh bringing with it almost 80% of the entire annual rainfall, initial rains of 230mm in 24 hourshave been reported in some areas. Right now, nearly a million Rohingya families are having to deal with the deadly threat of heavy rain, landslides, disease and dirty water. They could lose everything, especially their homes.
Penny Appeal needs your help to support families to protect themselves against the devastating effects of the Monsoon.
This Monsoon season, Penny Appeal will be distributing Shelter Upgrade kits to Rohingya families to help them save their homes. Each kit will be full of material and equipment for the family to strengthen their homes and shelter themselves from the deadly rains.
Women Friendly Spaces
9 months on from the start of the Rohingya crisis, over 25,000 babies are expected to be born in refugee camps in Bangladesh. Hundreds of thousands of Rohingya fled their homes in Burma last year following deadly violence, and many women were victims of sexual violence and abuse.
Fearing being ostracized, many women, the UN says, are now hiding their pregnancies or seeking out dangerous makeshift abortions, apart from suffering from a lack of clean drinking water and cholera outbreaks. Bangladesh's monsoon season is expected to bring even more hardship to the long-suffering refugees.
HELP PENNY APPEAL BUILD WOMEN FRIENDLY SPACES
Rohingya Shelter Response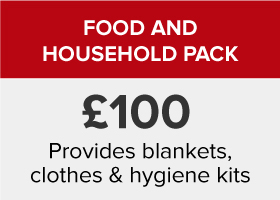 Child and women friendly spaces
For four long years, hundreds of thousands of Rohingyan people have been internally displaced within Burma. Living in makeshift camps, they are dependent on aid for all their basic needs – food, water, shelter and medical care.
"And whoever saves one life, it is as if they had saved mankind entirely."
[Surah Al-Ma'idah 5:32]
Donate now to help the Rohingya refugees.
£50 FOOD PACK
Our food packs contain nutritional items like pasta, rice, sugar and chick peas; they can support families for an entire month.
£100 FAMILY ESSENTIALS KIT
Simple things such as hygiene and sanitation items, clothes and blankets can make a big difference to the health of refugees.
£200 WATER SUPPLY
Reliable access to a safe source of clean water is vital for survival.
£2,800 SHELTER
Each shelter can house eight families, providing warmth, security and protection for around 64 people.



Treated worse than animals, the rabid dehumanisation of the Rohingyan people has become an ethnic cleansing of Myanmar. Human rights violations and destruction are rife, with women raped, children abused and villages burned to the ground.
Homes, shops and entire villages are being systematically destroyed. The refugees fleeing the violence are crossing the border injured and ill and need urgent medical attention. The camps in Bangladesh don't have sufficient resources to treat the injured or feed those who haven't eaten in days.

The situation is constantly escalating.
We need your urgent help now!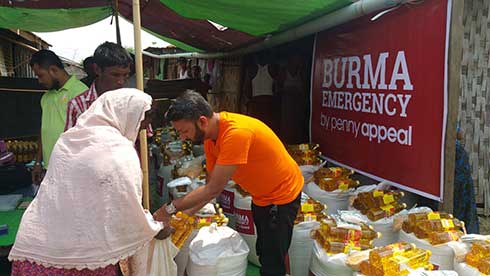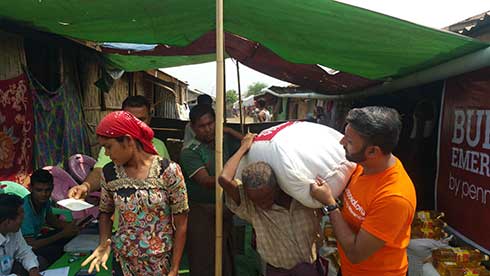 How does Penny Appeal help the Rohingyan refugees?
Forced to flee for their lives, these vulnerable people face a perilous journey towards safety. Countless refugees, including children, are missing and presumed dead, as they're being forced to risk everything to escape the brutal persecution.
Far from home and afraid for their lives, most are now dependent on aid for all their basic needs – food, water, shelter and medical care.
We've been working in Burma constructing barracks and shelters for internally displaced people in Say Tha Mar Gyi Camp near Sittwe Township particularly. This area is unfortunately the epicentre of community violence in Arakan - where more than 250,000 civilians have seen food supplies cut off in the latest round of violence.
Over 680 Rohingyans thus far have benefited from the construction of these provisions, and our partners are working on the development and construction of further household shelters for families in Pauk Taw Township as part of our resettlement project.

We are also responding to the crisis by way of providing essential food and non perishable items in Myanmar.
The situation is constantly changing, and whilst we have been delivering long-term aid within Myanmar, we are currently being forced to stand by as the Government is refusing to allow aid through for the Rohingyan community. We have teams in neighbouring Bangladesh where we are distributing as much aid as possible to those fleeing the violence.
Please donate today to help the Rohingyan refugees who now need your help more than ever.