Rohingya Child-Friendly Spaces
The violence and terror experienced by Rohingya refugees has left lasting trauma for the surviving women and children.
That's why Penny Appeal is working with people on the ground from Bangladesh and Rohingya to provide safe spaces for both women and children.
For the children of Rohingya, Penny Appeal's Child Friendly Spaces in Cox's Bazar refugee camp are a place to learn Burmese, Arabic and Maths in a positive school environment.
It's a way of counteracting recent events, of providing dignity and humanity, and of restoring the normality and structure that is so important for young children.
Young children learn to play again, with games, equipment and activities designed to aid early learning and development in a safe and nurturing classroom.
To contribute to restoring the lives of Rohingya refugee children, you can create a Child-Friendly Space for up to 80 children for just £50 a month, or £600 a year.
You can read Saifullah's story below to find out how your Rohingya donation can help children enjoy a happier childhood in the camps.
"It is magical that Saifullah wants to go to your Child Friendly Space regularly. Usually, he doesn't feel comfortable with everyone, and he has been very tetchy after the displacement. You really played an amazing role." - Rozina, Saifullah's mother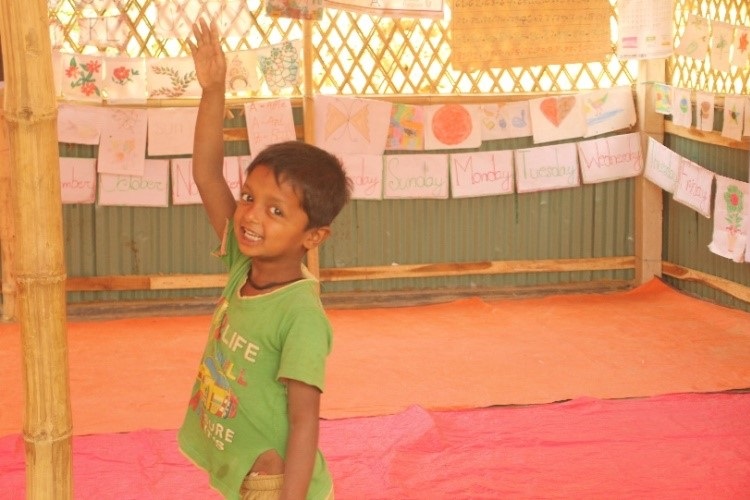 Thousands of children have been left with emotional scars after fleeing Myanmar, including five-year-old Saifullah, who had been running away from the tent his family calls home, and wandering the dangerous areas of the camp – but luckily, he has now found a supportive family in his local Child Friendly Space.
"I heard that he was roaming around several dangerous places - the forest, hilly areas which was very unsafe for him. I motivated him to come here and for the first few days, I went to his house regularly to bring him to our Child Friendly Space. After a few days, he started chasing after me to come, and he always call me 'apu'. Now he has many friends here. His mental health is far better than before." - Nigar, Child Friendly Facilitator
Penny Appeal will endeavour to use your gift as requested, wherever possible. If for any reason we cannot use your donation as you have indicated, we will use it to fund similar projects in other countries or other projects in the relevant country. Penny Appeal's strategic overview and on the ground experience means it is in the best position to decide how to meet need as it arises.