Penny Appeal CEO Ridwana Wallace-Laher visits Downing Street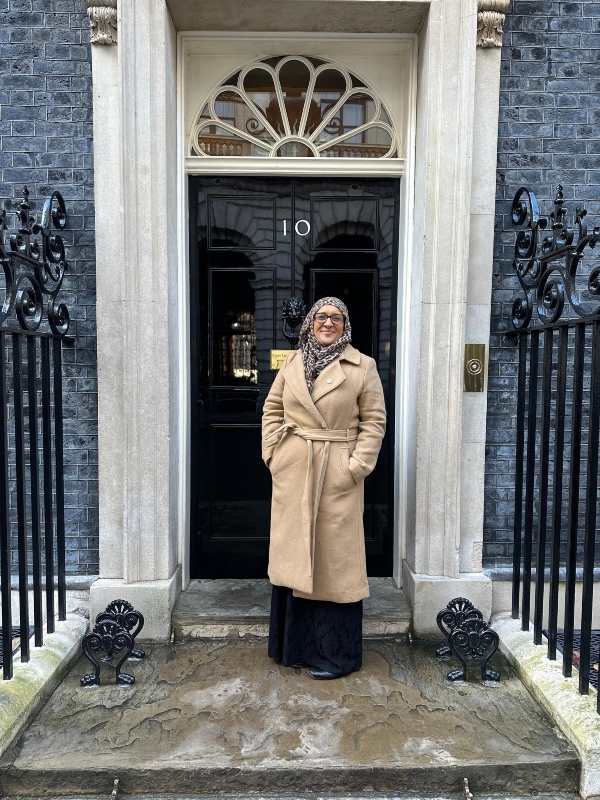 Article by Telegraph & Argus: https://www.thetelegraphandargus.co.uk/news/23404355.penny-appeal-ceo-ridwana-wallace-laher-visits-downing-street/?ref=rs
BRADFORD charity boss joined a roundtable at 10 Downing Street last week to discuss how communities can bounce back from Covid-19 and the cost of living crisis.
Ridwana Wallace-Laher, CEO of Wakefield-based Penny Appeal, was invited to Number 10 for the talks on Friday.
Ms Wallace-Laher – who grew up in Bradford Moor and was formerly a teacher at Co-op Academy Grange – became the first female CEO of a major Muslim-led international charity when she was given the top job at Penny Appeal last month.
The roundtable – chaired by Baroness Scott, Parliamentary Under-Secretary of State for Faith and Communities – brought together leaders from different sectors to discuss the future of charity in the UK.
"It's been a really tough time for people, with the effects of the pandemic and the cost of living crisis," Ms Wallace-Laher told the Telegraph & Argus today.
"It's having a massive impact on people. My advice would be to not suffer in silence, to reach out for help – there are so many amazing organisations offering support.
"A lot of donors are struggling themselves, and the economic crisis has affected the charity sector.
"We've tried to make our service more affordable, people are struggling but they still want to do their little bit."
Addressing the delegates at Downing Street last week, Ms Wallace-Laher mentioned how Ramadan – a month associated with giving – is around the corner.
"British Muslims will donate millions to charities such as Penny Appeal, like they do so every year," she said.
"As a confidently Muslim and comfortably British organisation, I ask how can the Government and organisations like Penny Appeal work closer to harness the full potential of the charitable contributions of British Muslims, for the benefit of all?"
Penny Appeal has also ventured into culture and arts, not just to raise money, but also to build bridges.
It was behind the British Muslim Panto – an effort to fuse elements of western and eastern cultures together.
Hailed as 'the world's first Muslim pantomime', its significance led to its inclusion in the British Cultural Archive at the University of Kent.
"Baroness Scott expressed her admiration for our work in the cultural sphere, particularly the British Muslim Panto," said Ms Wallace-Laher.
"That was heartening. She acknowledged the underrepresentation of ethnic minorities in this space and expressed her eagerness to support our initiatives."
Ms Wallace-Laher added that she has been "crazy busy" since becoming Penny Appeal's CEO, but in the "best way possible" – and is looking forward to continuing her work.