From working above a pizza shop to creating a successful global movement: Adeem Younis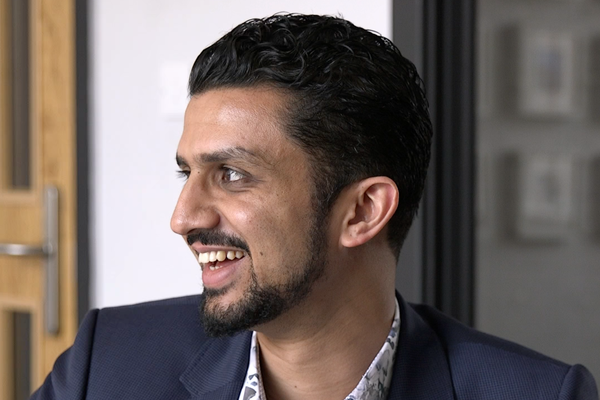 The below interview was written by Zarina Maqsood and originally published by The Invitation Magazine.
Over the last decade, we have seen more Muslims successfully tapping into their entrepreneurial spirit. One such man is Adeem Younis, founder of Penny Appeal and SingleMuslim.com. He has built both his organisations from the ground up and tells his story of how he became a self-made philanthropist, entrepreneur and humanitarian.
What were your motivations behind setting up your first business?
I lost my father when I was 6. While that was deeply tragic and formative for me, my childhood wasn't one of sadness. It was full of love and opportunity and inspiration. My mum took it on herself to work and set up her own business, even just a market stall, and she was able to provide for us.
As soon as I could, I would do my best to help contribute to our family. Even just selling sweets in school! I saw entrepreneurship as a form of empowerment, as a springboard to elevate and empower you from difficult times. This is what drove me as a teenager to set up my first business and, it's what moved me into philanthropy too. I haven't looked back since.
What kinds of difficulties did you come across when setting up your business, and how did you overcome them?
Part of the sweetness is the struggle. Entrepreneurship can be a lonely space. It's like you're a magician, and you're promising everyone around you that you're going to pull a rabbit out of a hat, but you never really know if the rabbit is going to pop its head, maybe there'll be two rabbits, maybe none, maybe you'll pull out a chicken and scratch your head wondering how that happened!
There's learning involved at every part of the journey: starting up, getting your first customers, recruiting, growing, scaling, dealing with competition, maintaining your success, dealing with your failures. The greatest way to overcome these challenges is having a solid team of people who you can rely on and secondly, to never give up. To keep battling through, regardless of the highs and lows.
How did you grow your businesses successfully?
I think for me it was the power of the internet. When I started SingleMuslim.com, we were still in the dial-up age. I mean, our website was the reason some people took out their first ever internet package! Not many people understood the potential the internet offered the world, but that's where I saw my opportunity.
The internet allows you to scale and reach more people than any traditional business could. Just look at the biggest companies in the world; whether it's Facebook or Google, it's the internet that has been responsible for that growth.
Success requires you to be hungry for opportunity. It's always there, you've got to keep your eye open and then jump with both feet when you see your chance.
What was the most humbling thing you learned about entrepreneurialism through your process?
I've learnt more in the hard times than the good times. When things are going well, everyone wants to be your friend. When times are tough, that's when you see who has your back and who was just in it for the fame and fortune. I think I've also learned to value family and quality time, free of distractions.
Being fully present and engaged when you are working is an indicator of success, so we need to be fully present and engaged in our personal and spiritual lives, and that will forever be more important.
What's one piece of advice you'd give to someone thinking of starting their own business?
Stop thinking and start doing!! Just get started. Get moving. Get on the ladder. Don't wait. Don't ask anyone's permission. Just take the first step and then the second, and before long, you'll be running, or even flying. You won't know till you get started.
What's your proudest moment as a successful businessman?
Money in the bank was never the real objective for me as a businessman. I mean, it was one of the objectives for sure, but it's not my primary motivation. Growing up as an orphan, I know first-hand what it means to be at the bottom rung of society, to be forgotten, pitied, even humiliated.
I've experienced it all and so, as soon as I could, I wanted to be able to give back. It started with me visiting my father's village in Pakistan. It was an alien world to me, but I wanted to connect with my roots and share my success.
That intention changed the course of my life. From a businessman, I became a philanthropist as Penny Appeal was born.
A decade or so later, over £100 million has been raised for good causes around the world. From a tiny office above a pizza shop tucked away in the corner of Yorkshire, we started a global movement. I couldn't be more proud.
I'm honoured to share a little of my story, but if you want all the secrets and struggles behind what it took to build a £100 million movement, be sure to check out our book, Small Change, Big Difference: The Penny Appeal Story.