For the

first time ever

, eight cyclists will take on a ground-breaking challenge; riding all the way from London to Medina on the 4,000 mile Tour de Hajj!
Every pedal they cycle will be made with a vision to raise

half a million

pounds to build wells, schools and mosques– transforming whole villages for good.
Be part of something

awesome
Support our Tour de Hajj riders today!


Find out more about our riders and their motivations...
We're making the impossible, possible.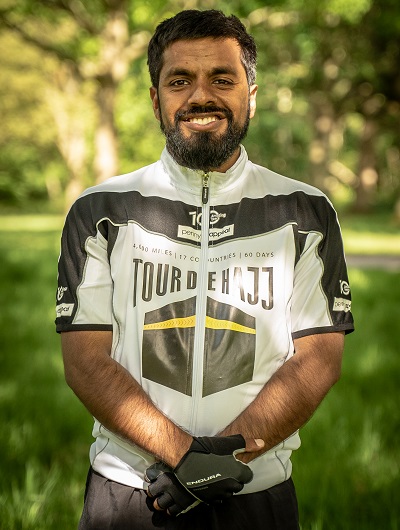 Name: Junaid Afzal AKA: Jaani / Jd / Shauney / Bijilli
Age: 30 City: Slough, born and bred!
Cycling Experience:
At the age of 5, I lost my bike to theft. I felt a terrible loss, a physical loss almost, as if a limb was missing.
I've always been an avid cyclist. If my legs had an attached meter measuring movement through my lifetime, it would register far more revolutions than steps.
Reasons for cycling:
For my Lord. We have to put God first in everything we do, as everything we have is by the grace of God. I haven't always stuck with God but he has always stuck with me.
For Change. We get so lost trying to accumulate in this dunya (life) that we give up on our dreams and what makes us happy. Do I really want to look back at life when I'm lying in a hospital bed waiting for death, and regret the time I spent in-front of screen making someone else wealthier, when I could have done something epic and changed so many lives on the way?
Making the Impossible, Possible. I'm stronger, tougher and more resilient than I ever even knew. My training has made me realise that change doesn't happen over time; it happens in a single moment. The moment when you realise the impossible actually is possible.
If I'm gonna dream then I'm gonna dream big. Ya Allah, the desire you have given me to do this project shows that you have given me everything I need already.
It's a different way to raise money for charity.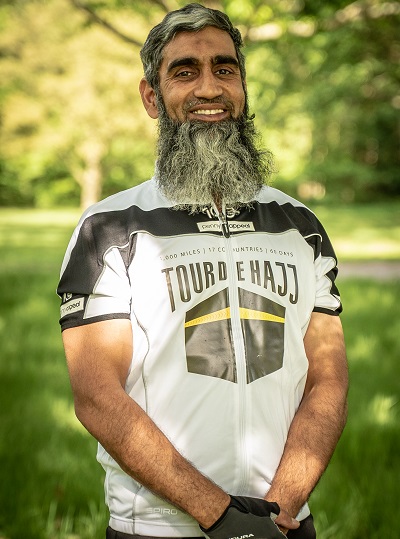 Name: Tahir Hassan Akhtar
Age: 45 City: Maidenhead
Cycling experience:
I started cycling from a very young age – I cycle everywhere now! The highlight of my cycling experience has got to be cycling from London Saudi Arabia with Hajjride, in 2017.
Reasons for cycling:
I am cycling to raise money for projects in Sri Lanka, South Africa, Uganda & Pakistan.
The cycling will be a physical, mental and spiritual challenge. It's a different way to raise money for charity. We hope that, not only will it highlight our goals to help finance important aid, but that it will also raise awareness of the importance of physical exercise.
At our final destination we will be performing Pilgrimage, making the journey all that more rewarding.
We want to make people smile around the world.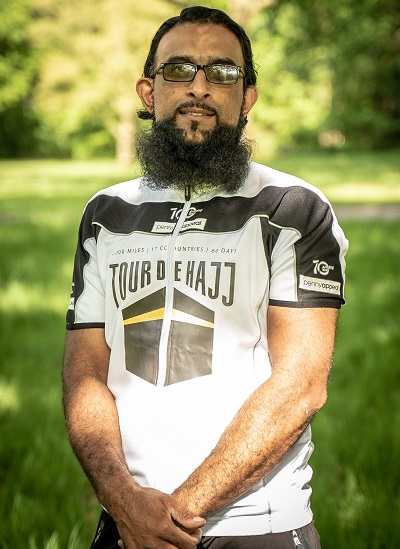 Name: Tahir Mahmood
Age: 43 (and 25 at heart) City: Slough
Reasons for cycling:
Why am I cycling the Tour de Hajj now? It's purely for one cause, and it's because it is one of the 5 pillars of Islam. An opportunity has arisen to do pilgrimage to visit the holy place of Mecca, so the intention is to prepare myself for this amazing mission for the pleasure of Allah.
Charity starts with something as small as a smile. We want to make people smile around the world, by providing much-needed projects around the world. We will face daily challenges as a team, and as an individual, to make this happen. All I ask from you is to make dua inshallah, and support our cause.
I am hoping that this experience will open up the heart, mind and the soul.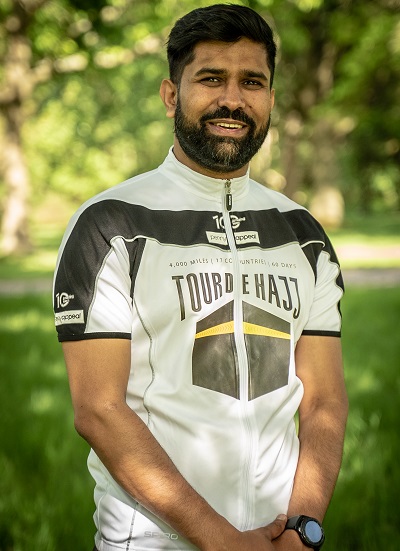 Name: Shafiq Ahmed
Age: 32 City: Maidenhead
Cycling Experience: Novice
Reasons for cycling:
I have been wanting to perform Hajj for some time now. Opportunities like these do not present themselves often, so when the door opened... I walked through it.
This is one of THE biggest annual events in the social calendar and I got an invite! O...M...G!!!
I like to think I am healthy, fit and able to do it. Anyone can jump on a plane and be in Arabia in a matter of hours. The ride gives me an opportunity to raise funds for a worthy cause, challenge myself and at the same time perform one of my obligations - and what better way to do it than with a band of like-minded brothers?
This journey will not only be a spiritual one, but will also challenge us all mentally and physically. With the exception of one or two brothers, I don't think anyone is a regular cyclist. We will all have to step out of our comfort zones.
Now I cycle with a purpose.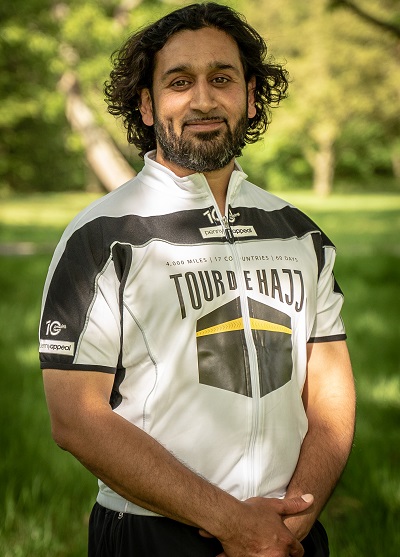 Name: Safdar Mehmood Akhtar
Age: 38 City: Maidenhead
Cycling experience:
My first memory of learning to ride a bike is of sneakily riding my older brother's GT Performer BMX in my parents' back garden, when my older brother was out. After many a fall, I got the hang of it!
As a child I cycled around for fun, as a teenager I cycled for exploration, and as an adult I now cycle with a purpose.
Reasons for cycling:
Before everything I would like to take this opportunity to testify that all praise belongs to Allah SWT the most High who has selected me from 1.8 billion Muslims globally to undertake this truly awe inspiring journey of cycling to Hajj.
When my spirit is low, when the day appears dark, when work becomes monotonous, when hope hardly seems worth having, I can just jump on a bicycle and go out for a blast down the road, without thinking about anything but the end destination, Madina Tul Munawara.
To sum it up, you can't buy happiness, but you can buy a bicycle and that's pretty close.
It was as if my call had been answered.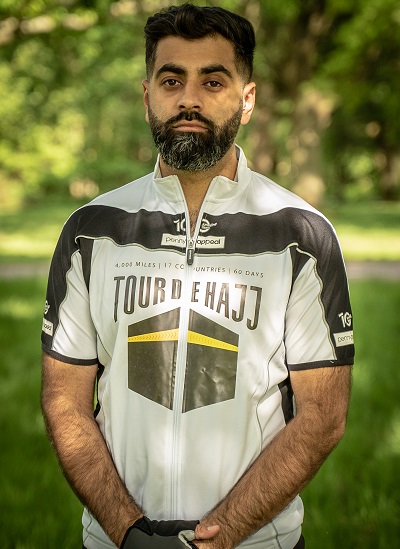 Name: Shahzad Akber
Age: 30 City: Blackburn
Cycling Experience: Can't remember last time I cycled before Tour De Hajj!
Reasons for cycling:
I was inspired by a video I saw on YouTube of a guy who cycled around the world. I sat there and thought, if there was one place I could cycle to, where would it be? And I thought, where could be better than Hajj?
When Junaid mentioned that he was in the process of arranging this with a group of brothers, it was as if my call had been answered. I couldn't turn this down.
We always plan to do Hajj when we get older, but who knows if that day will ever come. So while I have my health, I would like to perform Hajj.
I want to build something in memory of my Grandfather.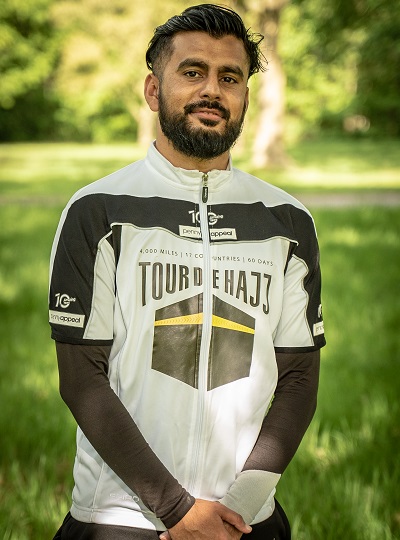 Name: Mohsin Arif
Age: 29 City: Slough
Cycling experience: Novice
Reasons for cycling:
Being one of the five pillars, Hajj is something that every Muslim wishes to perform in their lifetime. I feel that this journey will bring me closer to the deen and make me a better person. As well as this, it will allow me to raise money to build something in memory of my Grandfather.
It was something I intended to do and was on my mind for the past year - this was going to be the year, I just wasn't planning on cycling there. I was hoping to travel in comfort
I am so fortunate that Allah has given me the opportunity to use my hobby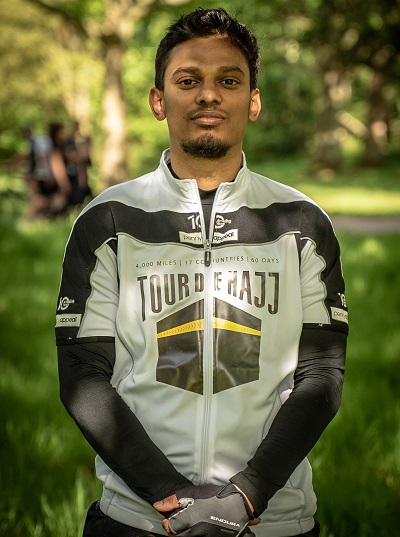 Name: Mohamed Wazeem Siraj
Age: 32 City: Uxbridge
Cycling experience:
Since childhood I have been a very adventurous person, and I grew up cycling BMXs and mountain bikes in my neighbourhood.
Cycling became a real interest after I came to the UK in 2009, which is when I started road cycling. I love scaling high terrains and I have even done a few of UK's top 100 climbs!
Reasons for cycling:
Growing up, I was very close to my grandfather. He was a man who always helped people in need, and he inspired me to follow in his footsteps of caring for the less fortunate. In 2017 when I saw the brother's cycle to Hajj from London, I made the intention to one day do the same. And Alhamdulillah, by the grace of almighty Allah, that day has come sooner than expected.
We live in a constantly busy world, where sometimes, we don't have time to praise Allah and admire his creations. I would like to take this opportunity to take time and reflect, ponder and become closer to Allah whilst traveling and marvelling at the beauties He has created.
As mentioned in Surah Qaf and several other verses in the Quran, Allah has created the world to be observed and appreciated by mankind; "Do they not look at the sky above them? How We have made it and adorned, it and there are no flaws in it? (6) And the earth -- We have spread it out, and set thereon mountains standing firm, and produced therein every kind of beautiful growth (in pairs) (7) To be observed and commemorated by every devotee turning (to Allah)."
I am so fortunate that Allah has given me the opportunity to use my hobby to fulfil my fifth pillar in Islam and at the same time to change the lives of many. Inshallah, I hope Allah gives me the strength and ability to complete this monumental journey.
Follow the journey @TourDeHajj on social media and support the riders by donating or fundraising this Ramadan!