Bangladesh Drought Appeal
Build a Deep or Tube well for a community in Bangladesh and give families reliable access to safe, clean drinking water.
See your donation in action
Importance of building a well in Bangladesh
For millions of people in developing countries getting water is not as simple as turning on the tap. They have to walk for miles to reach the nearest water source. And when they get there the water is dirty and diseased. They drink it knowing it could kill them, but there is simply no other choice.
Help build a Thirst Relief well and you can give families reliable access to safe, clean water. This allows them to drink, wash, make wudu, grow crops, and water their animals safely. It will mean they don't have to spend hours fetching water each day, freeing up time to go to school, work, or look after their families. It will mean children will be able to play and learn and do all the things that a healthy young mind should, rather than the bleak prospects they ultimately face right now.
Clean water means healthier lives, improved livelihoods, and, ultimately, a route out of poverty and on the road to a better, brighter future.
Why are some wells in Bangladesh £1200 and others £300?
Bangladesh is affected by the natural occurrence of arsenic in the water table which often rules out shallow wells. In areas where this is the case, we need to dig deeper. The pumps we use also need to be more robust given the water table level, and the installations are often more remote and difficult to access, which invariably impacts cost.
Build a Deep Well in Bangladesh
Donate £170 per month or £2000 one-off
Build a Tube Well in Bangladesh
Donate £25 per month or £300 one-off

Nazmas Daughter is healthier and happier because of yur donations!
In the Satkhira district of Bangladesh, these poor people were forced to rely on polluted, diseased water from nearby ponds and canals. With no other alternative, they were forced to drink the contaminated water, making them severely ill.
All around the world, a child dies from drinking dirty water like the water in this village every 20 seconds. That's 4,000 children every day whose deaths could have been prevented with access to clean water.
With the amazing support of our donors, we have provided the people in Satkhira a deep tube well, giving them access to clean water for drinking, cooking, hygiene and more. We have thrown these people a lifeline, and the hope of a brighter future.
"When my family used to drink water from lakes and ponds, we used to suffer from many diseases. Now, we are free from those diseases. Safe water is an essential part of life, and we are all very thankful to Penny Appeal.
If there were more organisations like Penny Appeal in Bangladesh, then millions of people would be able to lead a safe and happy life!" – Nazma Begum, Bangladesh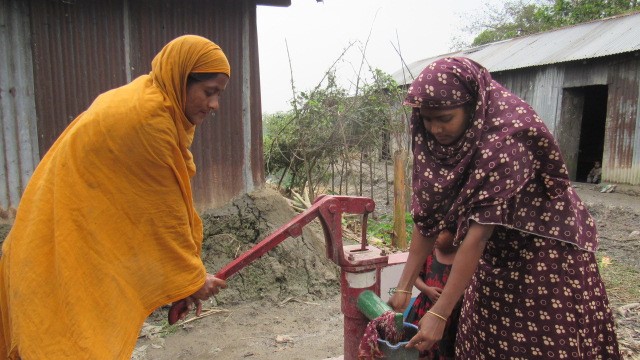 Nazma described their new well as a 'dream come true', and her whole family was overjoyed to have the miracle of water available to them, every day.

You can make dreams come true, by building a well in Bangladesh.