World Refugee Day - Rohingya

Stand with Refugees
According to UN statistics, there are over 20 million refugees in the world, over half of whom are under the age of 18. On World Refugee Day, Penny Appeal asks you to stand with the millions displaced, having fled their homes in search of safety in the face of war, conflict and persecution.
Helping Rohingya Refugees
Penny Appeal has been working with Rohingya refugees, who have been fleeing persecution in Burma. Thousands of men have been brutally murdered, while thousands of women have been abused, raped and tortured. Almost 1 million Rohingya people, mainly women and children, have fled their homes, seeking safety and security and Bangladesh.
Penny Appeal has been able to deliver life-saving aid to thousands of Rohingya refugees living in camps in Bangladesh.
We've been working to provide life-saving food, water provision, medical aid, and shelters for thousands of Rohingya refugees, and are supporting those with disabilities.
Our medical programmes have supported almost 5,000 Rohingya refugees with access to vital health services and medicine. Our medical camps have had almost 200 patients every day since establishment, including over 1,500 children.
Penny Appeal has delivered life-saving food to over 2,700 households, benefiting over 10,000 people, over 50% of whom were vulnerable women. We've focussed on improving the nutrition of over 10,000 children under 5, and almost 1,500 women.
Penny Appeal has also been able to provide 112,000 litres of water to refugee camps, thanks to your generous donations. That's 10 litres of fresh water to 12,000 individuals.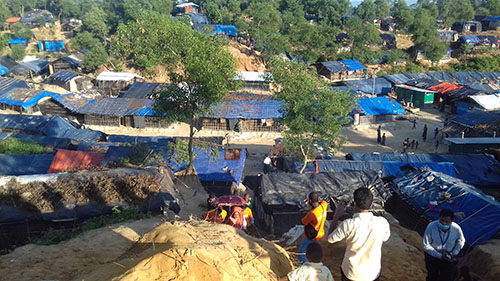 Safe spaces for women and children
We have also been working to create safe spaces for women and children, a large number of whom have experienced severe trauma, beyond anything we could imagine. We're also providing life skills training to women to support their livelihood and help them become financially independent.
Women friendly spaces provide Rohingya women a safe space with privacy and respect where they are able to seek counsel, confide in one another, receive medical attention and be given referrals to further services where required. These spaces are strictly private and confidential. Women and girls are given access to health information, protection services and psycho-social support.