Leicester to Paris Cycle Challenge
Riders of Shaam will ride from Leicester to Paris to raise funds for two Charities
Thirty riders will soon be embarking on a gruelling seven-day, 500-mile cycle ride from Leicester to Paris, to raise much needed funds for two charities.

The team will depart on 4th August from Leicester's historic clock tower for the journey that will take them towards Cambridge then Harwich International Port for an overnight ferry towards the Hook of Holland, from there onward, the tour of Europe will begin through Antwerp, Brussels and Lille before arriving in Paris.
Established in 2012 by a group of De Montfort University Students, Riders of Shaam have hosted cycle rides to different parts of Europe, all for worthy causes and have raised thousands of pounds, notably for Penny Appeal where they raised over £70,000 for their various humanitarian/poverty relief projects.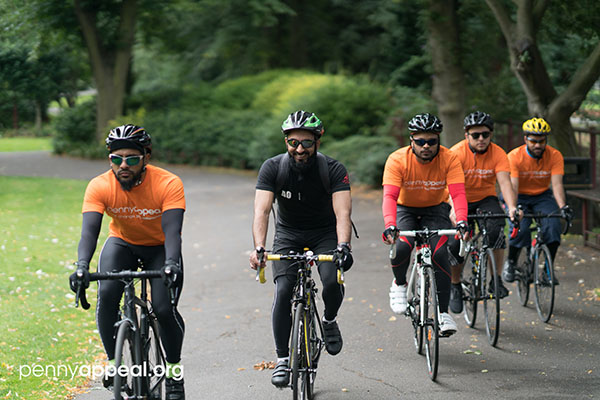 Following this successful trip, the riders wanted to continue their relationship with Penny Appeal and this year their fundraising target is aiming a little higher at £80,000. £30,000 for Emergency Response in Syria and Rohingya, to help provide food parcels, clean water, medical supplies and shelter for those displaced. £10,000 will be raised for Open Your Eyes, for the 285 million people living with visual impairments, that simple eye checks, medicines and operations could restore and £15,000 for Thirst Relief to help build water wells, providing safe clean water to help offer people a route out of poverty. Finally, £20,000 for Love Palestine to provide food packs for families living in refugee camps, some for decades. The riders will visit Palestine during the last third of the holy month of Ramadan to help distribute food packs.
"We're going to be cycling long distances through beautiful countryside, with great company and all for an amazing cause. Penny Appeal are great to work with and provide detailed feedback for the projects we fundraise for, so we're really looking forward to Leicester to Paris 2018," said Amin Omar, lead organiser.
Penny Appeal Midlands Fundraising Manager Haroon Mota added: "we are delighted that Riders of Shaam have chosen to fundraise for us again for a second year. Cycling 500 miles over just 7 days is no easy feat and they're already putting in the miles to prepare for this gruesome ride. We really hope the local community will get behind the team and donate towards their chosen projects."
Funds will also be raised for Rainbows Hospice, the only East Midlands hospice for children and young adults. The team would like to raise funds to finance the running costs for a hydrotherapy pool for 16-months.
Would you like to join the riders on their epic journey? The trip will cost £300 per person which takes place between 4th and 12th August. This fee will cover all meals, two support vehicles, ferry journeys, hotels and return flights.
If you would like to get involved and sign up for the ride or donate towards these wonderful causes visit www.ridersofshaam.com. If you would like to support Penny Appeal in their many other life-saving projects visit www.pennyappeal.org or call 03000 11 11 11
For more information contact: Gill Laidler on 07711 539047 or email: gill.laidler@pennyapeal.org