Confused about Zakat? We can help!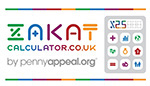 Zakat is used to transform the lives of the poor and needy so it's important to pay the right amount and on time, but it can be difficult to work out what you owe.

If you need to know more about Zakat download Your Essential Guide to Zakat. Or for a quick and easy way to work out how much you owe, visit zakatcalculator.co.uk.

When you know what to pay, send your Zakat to a Penny Appeal project and we'll make sure it goes on to help those in greatest need around the world.

Your Zakat payment this year could build a well, sponsor an orphan, feed the hungry, help an orphan become hafiz, provide eye care or give emergency aid.

Find out how we've used your donations, including Zakat payments, over the last year by downloading the Penny Appeal Annual Review 2015.