Another Victory Lap, Another BIG Difference!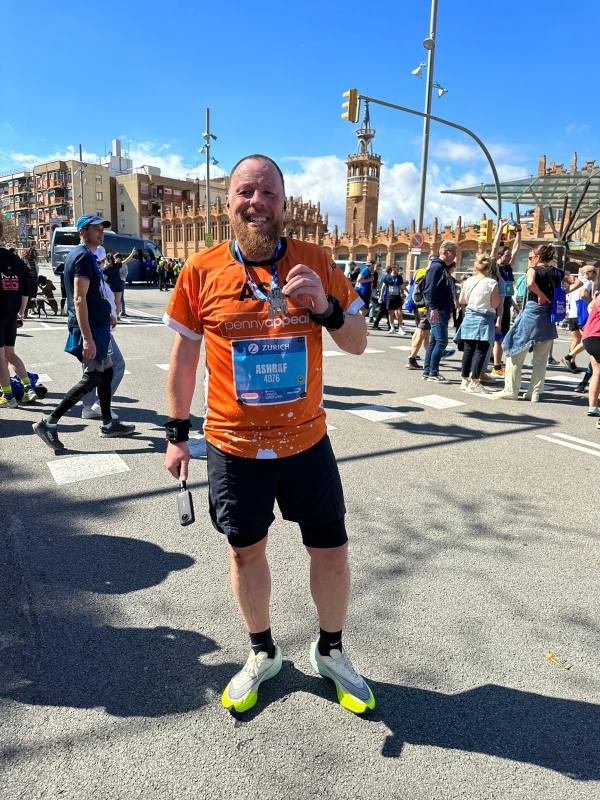 Ash Wallace's determination and passion to help those in need were put into action again earlier today when he took on the 2023 Barcelona Marathon!
His efforts have once again aided Penny Appeal's Pakistan Floods Emergency appeal, alleviating the distress caused by floods across Pakistan late last year. Inspired by his involvement with such a worthwhile cause, Ash shared that it was truly "an honour" to contribute in the way he knows best – by strapping on his running shoes and taking on yet another marathon! With a passion for charity fundraising matched only by his dedication as an athlete, Ash crossed the finish line with pride knowing that all donations collected were helping people who desperately needed it most.
The Bradford native has become one of Penny Appeal's most recognisable #TeamOrange volunteers over the past year, running multiple marathons and other high-profile challenges in support of our global humanitarian projects. He now has his sights set on completing one more major accomplishment – the Boston Marathon – which will qualify him into an exclusive circle known as 'Six Star Finishers'.
The Pakistan Floods Emergency appeal is specifically constructed to provide long-term relief to the thousands of families affected by last year's devastating floods. From providing shelter and food, to restoring access to clean water and medical supplies, these vital funds are essential in helping those who were hardest hit by this natural disaster. Click here to watch some of the life-changing second chances that Penny Appeal donors are creating through building houses for those who have lost everything.
We are proud to have Ash Wallace on our side and we hope to see him secure his place amongst the 'Six Star Finishers' club later this year. Go Team Orange!
For all those who have supported Ash's efforts, the hard work of any of our #TeamOrange challengers, or any of our projects, please know how much it means to those who benefit. Be sure to follow us on social media and keep up with Ash's progress over the coming months as he continues his fundraising journey!
Click here to support Penny Appeal's crucial humanitarian work around the world.