Rainwater Harvesting Systems


With every droplet of rain, there falls a gift from Allah (swt).


Let us make the most of His precious gifts, by building Rainwater Harvesting Systems to collect drinkable water for a family or even an entire community!


What is Rainwater Harvesting?
Rainwater harvesting simply means collecting rainwater from rooftops, purifying it, and then filtering it through a pipe into a safe storage tank.
It's a sustainable, safe and sanitary way to provide clean water.
Rainwater harvesting systems are particularly needed in places with a lot of arsenic or saline in the soil, where building a well could bring up water which is dangerous or even toxic to drink.
Rainwater harvesting is a simple solution, which brings together traditional knowledge and innovative design to bring the gift of water to thousands of people!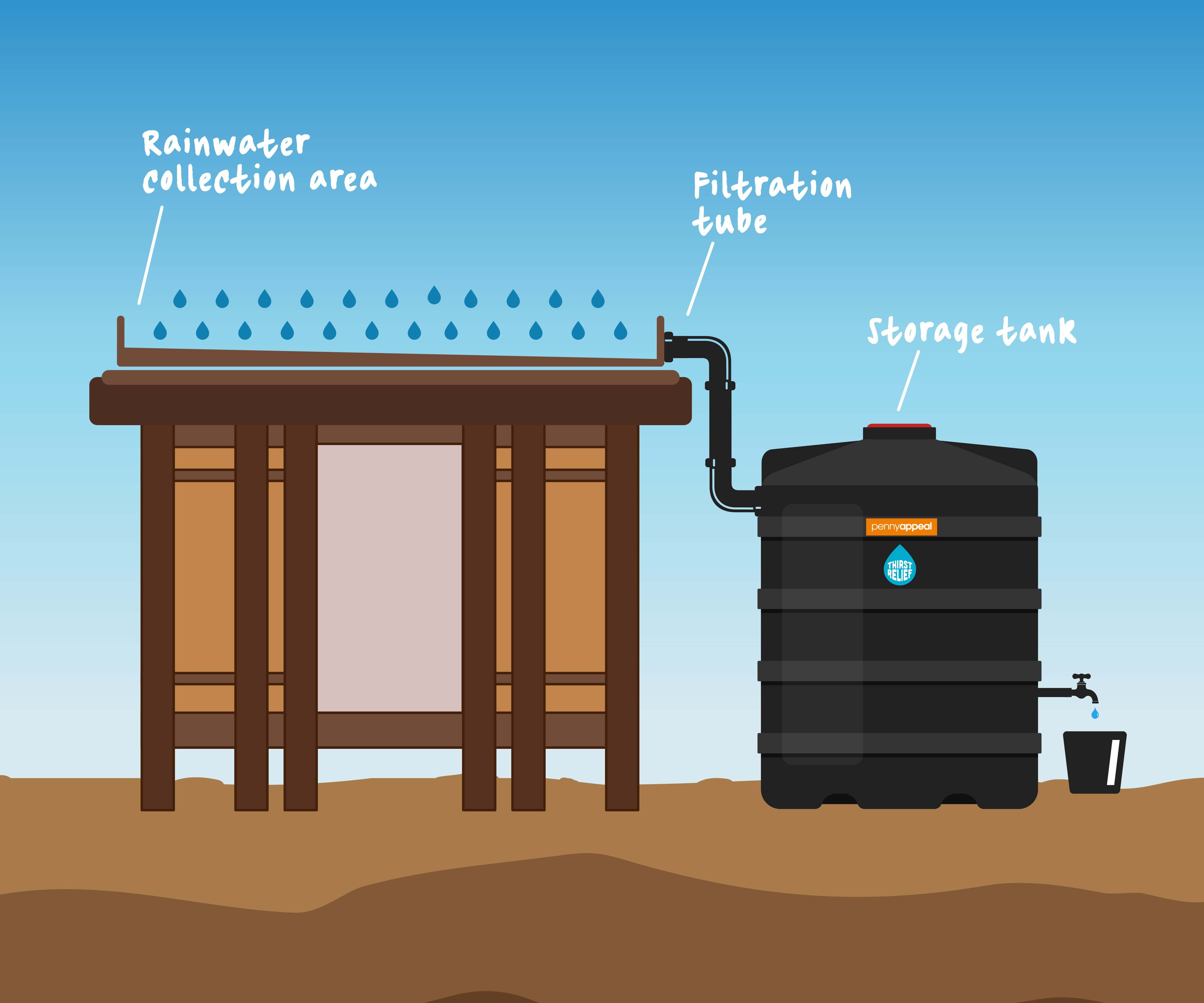 Types of Rainwater Harvesting Systems
There are different sizes of Rainwater Harvesting Systems, which we are currently providing in Pakistan, Nepal and Bangladesh:
A Small system can hold 3,000 litres of clean water, a Medium system can hold 5,000 litres and a large holds 10,000 litres of water. Donate now and build a Rainwater Harvesting System.
Join our Family of Fundraisers
Make a BIG difference as part of a group!
Join a global family of fundraisers, all coming together to provide Rainwater Harvesting Systems for the poor this Muharram. You can now donate £100 and we will collect your donations with other donors, and put it towards a Rainwater Harvesting System.
You'll join with caring individuals from around the world to provide a sustainable, clean source of water, which will save and protect lives for years to come.



Harvesting the Rain in Bangladesh
In the coastal Bangladeshi region of Satkhira, the groundwater is contaminated with dangerous levels of arsenic and saline.
This means that shallow tube wells are useless in Satkhira; the water they pump from the ground causes sickness, red sores and in extreme cases, even cancer.
Therefore, local Bangladeshi communities came up with an ingenious solution; to collect rainwater in large clay pots in the monsoon season, which they keep for survival in the dry season. However, these sitting pots of water would also become contaminated with flies and waste, and they could only collect small amounts of water.
Penny Appeal have worked with a village in Satkhira to improve upon their solution, by providing high quality Rainwater Harvesting Systems, which collect rainwater from roofs, purify it using our filtration device, and store it safely for months in our safe tanks.
Our teams have trained the local community in maintaining the tanks, as well as teaching adults and children alike how to stay healthy and hygienic.
Now, this village in Satkhira has safe, clean, life-giving water on-tap!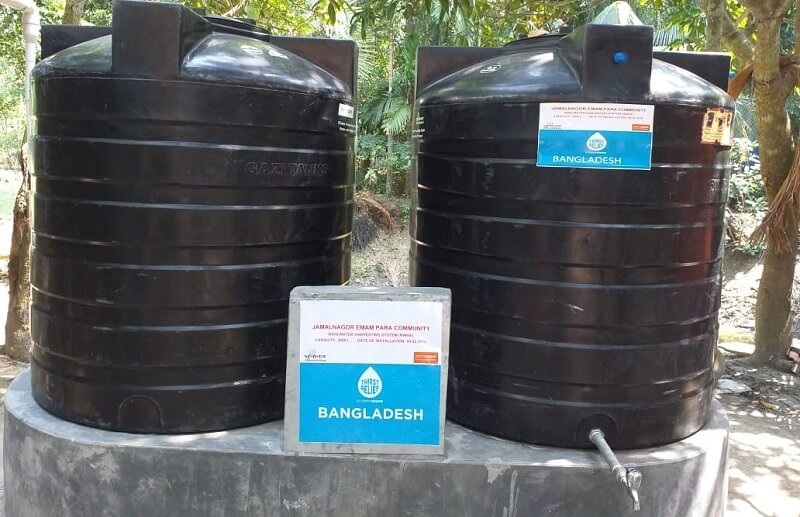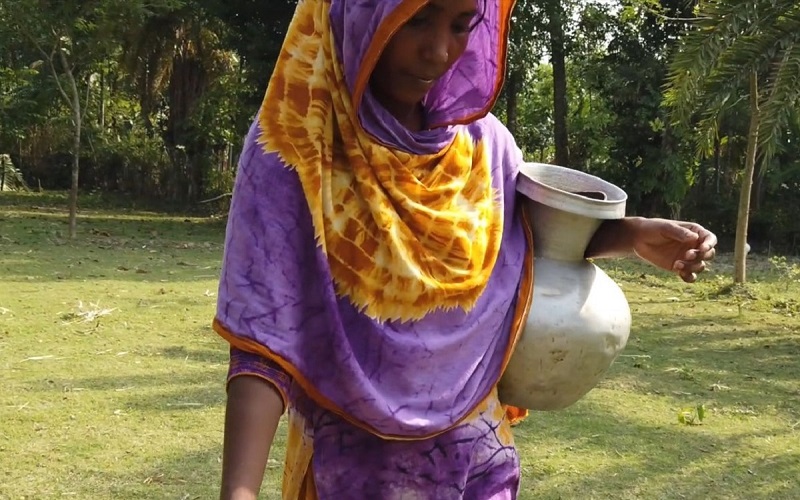 Gulmohor's Story
"People in my village have a difficult life. Poverty is everywhere. People work as day labourers, do fishing, farming and drive rickshaw vans. The greatest hardship we face is the scarcity of water.
We did have access to some safe water from ponds and filters. However, they often become off limits due to maintenance or when the owners of ponds decide to do fish farming. We then end up walking really far to fetch drinking water.
Thankfully, we have received a Rainwater Harvesting Tank from Penny Appeal for joint use with two households. Our family members are now healthier as they have safe drinking water."
Feedback about your Rainwater Harvesting System
You can build a Rainwater Harvesting System in the name of the Prophet (saw), his family such as Imam Hussain (ra), or in your own name or that of a loved one.
Once we've received the full payment for your Rainwater Harvesting System, we can then start to assess the best place for it to be set up where it is needed most, with your chosen plaque details.
We use a stringent third-party selection process to ensure only the most in need benefit, and the whole process from start to finish after payment is an estimated 9 to 12 months.
When your Rainwater Harvesting System has been built and is functional, we'll send you an individual feedback report so you can see it in action and find out about the people whose lives you've changed.
Your feedback report contains:


Information on the village where your system is located

Information about the community who have benefited

A message from the grateful community

Pictures of the finished Rainwater Harvesting System in use

A framed picture to share with friends and family
Transform lives today; give the precious gift of water.
Provide Clean Water
"The contamination of groundwater by arsenic and saline in Bangladesh is the largest poisoning of a population in history, with millions of people exposed." [World Health Organisation]
Millions of people around the world, in countries like Bangladesh and Pakistan live with a daily struggle to find clean water to drink. In Pakistan, the UN estimates that 40% of all deaths are caused by drinking contaminated water.
Rainwater Harvesting Systems collect clean rainwater, every droplet a gift from Allah (swt), to transform the lives of people like Gulmohor and her family.
Help Penny Appeal harvest the rain and give life-changing, clean, safe water to families, schools and entire communities around the world!
Build a Rainwater Harvesting System today.
"The best charity is to provide water."
– The Prophet Muhammad (saw)
[Fiqh-us-Sunnah 4.88]