Ramadan Mubarak!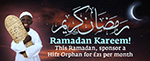 The holy month for so many is here, and there's a lot to look forward to.

This Ramadan we're celebrating the first year of Hifz Orphan, our campaign to help children become hafiz of the Holy Qur'an. We've identified thousands more sponsorships – orphans who desperately need your support – so please become a Hifz Orphan sponsor this Ramadan.

Our events programme is really busy this month. We have a #TeamOrange Iftaar tour with nasheed artists Saif Adam and Ahmad Hussain, a mosque tour with one of the world's top Holy Qur'an reciters, and a speakers tour in association with Al Buruj. Keep an eye on ouFacebook page for full details.

Plus, starting on 2nd July, we aim to set a new World Record by broadcasting live appeals 24 hours a day for over 11 days!

Join us daily on British Muslim TV (Sky 845) and Islam TV Urdu (Sky 849) to see how your donations are being used to transform lives.

If food is often on your mind this month, please remember the millions who never know where their next meal will come from. Provide nutritious meals for just £1 with Feed Our World by calling 03000 11 11 11.