Penny Appeal raises £12,500 for Pakistan flood victims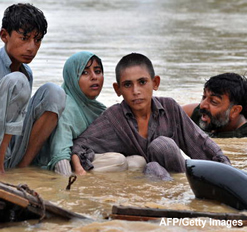 Over 7,000 displaced and homeless victims of the floods that hit Pakistan in July, 2010, have benefitted from the generosity of hundreds of people who responded to Penny Appeal's call for aid.

The UK-based charity launched an appeal in the summer to help the victims of the floods, the country's worst in over eighty years. The floods swept away entire villages and affected over 20 million people, killing at least 1,600 and leaving millions displaced.

Thanks to the support of the many people who answered Penny Appeal's call for aid, over £12,500 was raised, which has been used to purchase and distribute 32 tonnes of emergency food supplies.

The relief aid will feed over 7,000 people for two weeks and has been delivered to a Hospital in Isakhel, in the Punjab region of Pakistan, and to Kamar Mashani a nearby village. The emergency food supplies included staples such as tea, lentils, rice, wheat and oil.

Adeem said: "Everyone at Penny Appeal is hugely grateful for the support we have received to date, and we have been humbled by the scale of the response to our appeal. I would like to thank everyone who has donated to the cause, and to reassure them that their support has unquestionably made a real difference to a great many people."

However, there is an increasingly urgent need for further aid. Food and drinking water are in short supply. There are fears that diarrhoea and cholera could spread rapidly among the homeless, and with homes, livelihoods, and crops destroyed by the floods, it is estimated that more than six million people are in need of food aid, especially with winter fast approaching.

Penny Appeal Chairman, Adeem Younis, said: "While the support we've been able to offer has been invaluable, it's really just a fraction of what is needed. The appeal is still open, and we're still accepting donations, big and small. Even a few pounds can be the difference between life and death.

"The problems facing the flood victims have not gone away, and I urge people to pledge their support to help Penny Appeal save even more lives and prevent further loss to families who have already suffered so much.

"In the new year Penny Appeal will be launching a new appeal to rise funds to help with the re-building of homes and infrastructure within the Punjab region of Pakistan. Our aim is to raise enough founds to re-build an entire village."