Penny Appeal gives Wakefield a Big Orange Hug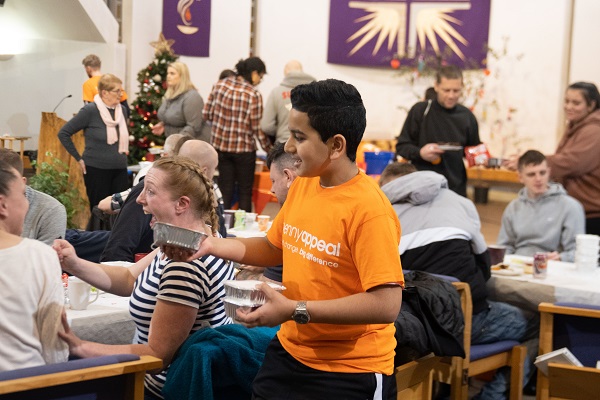 When you walked into Penny Appeal's 'Big Orange Hug' event at St Catherine's Church this Tuesday evening, the first thing you heard was the music. Classics from Elvis Costello and Frank Sinatra were being belted out by our talented entertainer, Paul, to a room full of local volunteers and disadvantaged people.
Penny Appeal's UK team wanted to do something different this winter, which is how they came up with the idea for The Big Orange Hug. "During the festive season, we wanted to do something special," says UK Programmes Coordinator Sarah Ashraf.
"We hope to tackle social isolation and bring people together from all backgrounds and faiths to spend time together. The Big Orange Hug was set up in order to bring local services together, to bring awareness of services people can access, signpost and advise. At each of the events, there are also barbers, entertainment, hot meals, pampering stations. Through these, we hope to create a positive, enriching and safe environment."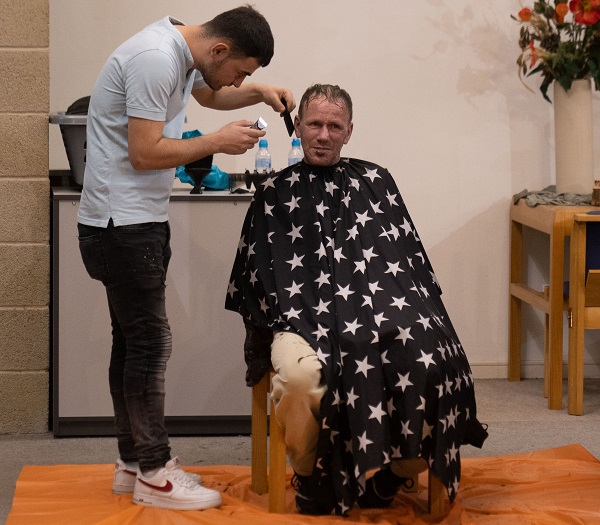 Sarah's team have worked hard to organise four Big Orange Hug events across the UK this winter; one in Wakefield, which has already taken place, and three more planned in Coventry, Peterborough and London.
Although the Wakefield event was the smallest one planned, the sense of joy and community at The Big Orange Hug was huge. There were hot meals and drinks for everyone, free medical check-ups and haircuts, games, a stand offering support through our Domestic Abuse and MY Helpline services, live entertainment, as well as warm clothes and Penny Appeal Winter Kits for people to take away with them.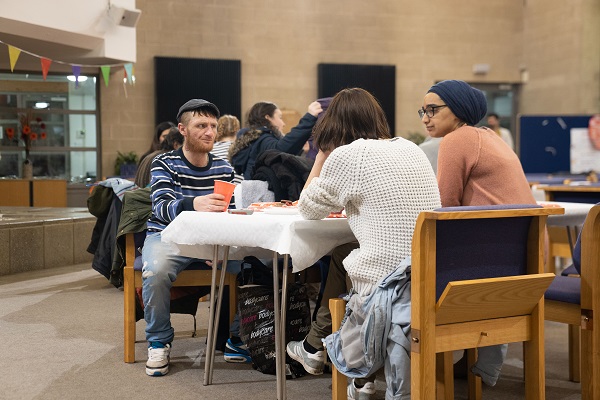 You could see the atmosphere of the room change over the course of the evening. However temporarily, a weight seemed to have been lifted. One woman who we met, Dawn, was having an awful day before she decided to come to The Big Orange Hug.
"I've been depressed all day," Dawn told us, "I didn't want to get out of bed."
Dawn has been through a lot; she had a traumatic childhood and is a domestic abuse survivor. Dawn has also been homeless and is currently living in precarious housing, trying her best to get back on her feet.
As the evening went on, Dawn began to chat more easily with other people. She found a warm jumper that was just her style, with the help of a volunteer. She started to share her poetry and activism, which she's been exploring with another local charity, Spectrum People. She began to smile, warily at first, but then openly and generously.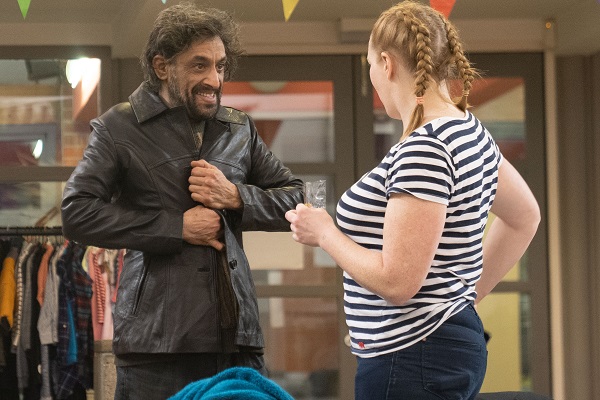 These beautiful moments unfolded throughout the evening, as some of the most vulnerable people in our local area gradually let their carefully constructed guards down. A Team Orange volunteer gave a disadvantaged child an extra dessert with a cheeky wink, leaving the boy smiling shyly. A homeless man got his first haircut in years, and couldn't believe how young he looked. A St Catherine's Church volunteer helped Dawn pick out the perfect winter jumper.
"We had lots of positive feedback on how the event was much needed, especially during this time of year when many of the service users are isolated," Sarah said.
"A member of the Church staff, Max, who usually attends our usual meet and eat provisions, told us that this was the best event they've held in a very long time. Everyone left with smiles."
If you'd like to support The Big Orange Hug in Manchester, Birmingham and London, you can make a donation to our UK Winter Appeal here or sign up volunteer with us here. We think that Dale, a homeless man temporarily living in a hotel, summarised the event best: "It's proper nice, this."