Seeking Laylatul Qadr: Maximise your Efforts on The Night of Power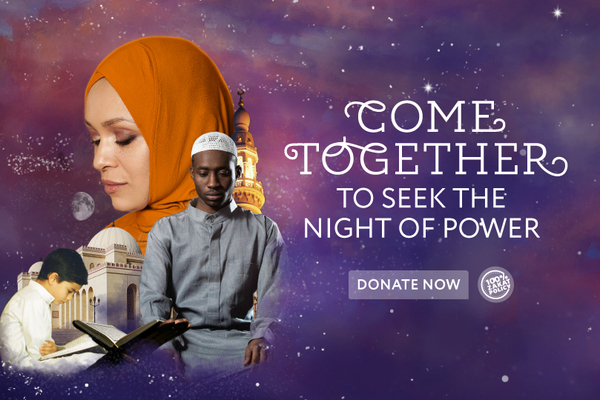 بِّسْمِ اللَّـهِ الرَّحْمَـٰنِ الرَّحِيمِ
إِنَّا أَنزَلْنَاهُ فِي لَيْلَةِ الْقَدْرِ ﴿١﴾ وَمَا أَدْرَاكَ مَا لَيْلَةُ الْقَدْرِ ﴿٢﴾ لَيْلَةُ الْقَدْرِ خَيْرٌ مِّنْ أَلْفِ شَهْرٍ ﴿٣﴾ تَنَزَّلُ الْمَلَائِكَةُ وَالرُّوحُ فِيهَا بِإِذْنِ رَبِّهِم مِّن كُلِّ أَمْرٍ ﴿٤﴾ سَلَامٌ هِيَ حَتَّىٰ مَطْلَعِ الْفَجْرِ
Surely, We revealed it on Laylatul Qadr. And what will make you comprehend what is Laylatul Qadr? Laylatul Qadr is better than a thousand months. The angels and Jibreel descend in it by the permission of their Lord for every affair, Peace! It is until the break of morning.
(Qur'an: Surah Al-Qadr).
A night worth more than 1000 months, the most auspicious night of the year, also known as the Night of Power in the Qur'an. Any act of worship or a good deed performed on this night is better than one thousand months outside of Ramadan.
Remember to make this special Dua tonight:
Aisha, may Allah (SWT) be pleased with her, said: I asked the Messenger of Allah (SWT): 'O Messenger of Allah (SWT), if I know what night is the night of Al-Qadr, what should I say during it?'
He said: اَللَّهُمَّ اِنَّكَ عَفُوٌّ ، تُحِبُّ الْعَفْوَ فَاعْفُ عَنِّي
''Allahumma innaka 'affuwwun tuhibbul 'afwa fa'fu 'anni"
''Say: O Allah, You are Oft-Pardoning and You love to pardon, so pardon me." [Ahmad, Ibn Majah, and at-Tirmidhi].
As the end of Ramadan approaches, the Night of Power gives us the valuable opportunity to redeem ourselves through prayer, reflection and increased worship. On this blessed night, our generosity and compassion should know no bounds. Let us tighten our waist belts as the beloved Prophet (ﷺ) did and collect the infinite blessings that await.
What should I do on Laylatul Qadr?
Focus on your Ibadah – devote as much time as possible to prayer and carrying out good deeds throughout your day, to take advantage of those final blessings.
Eat light meals – this will help increase your productivity levels! After a long day of fasting, it can be easy to overindulge ourselves, however we must try to remain energised and spend the sacred hours after Maghreb growing closer to Allah (SWT) instead.
I'tikaf -

is "to confine oneself in a mosque for prayers, invocations and Ibadah, leaving the worldly activities for a limited number of days" and is a Sunnah of our beloved Prophet (ﷺ), performing various forms of worship, including reciting the Qur'an and making continuous dhikr.

The Messenger of Allah (SWT), peace and blessings upon him, would perform I'tikaf on the last ten days of Ramadan. He continued it till he passed away. (Bukhari).

Giving charity - Many Muslims opt to pay their Zakat on the Night of Power as a way of multiplying their wealth and reaping an abundance of rewards from Allah (SWT).
On this blessed night, one single donation can be an eternal investment into your afterlife! Giving Sadaqah Jariyah, in your name or on behalf of a loved one, will give you the chance to transform vulnerable lives, lifting entire families out of poverty with one act of kindness.
Check out some of our Sadaqah Jariyah projects that you can get involved with to keep your good deeds going in this life and the next. The power is in your hands!
'When a man dies, his deeds come to an end except for three things: Sadaqah Jariyah (continuing charity), knowledge which is beneficial, or a virtuous descendant who prays for him.' [Muslim].