Jesus in Islam
This time of year, when our Christian friends and neighbours celebrate the festival of Christmas, lots of focus is placed on the Christian interpretation of Jesus (AS). From Christmas Carols to nativity plays, it's common to find many Christians and secular people alike discussing Jesus and his life in the context of Christian belief.
But many who do so are unaware of the importance that Jesus (AS) plays in the Islamic faith. Jesus (Prophet 'Isa, son of Maryam) is respected and venerated as one of Allah's (SWT) most important messengers. He is described in the Holy Qur'an as "a sign for the whole world" (Qur'an 21:91) and his life still inspires millions of Muslims today.
Unlike the beliefs about Jesus held by Christians – who typically believe in a triune view of God – Muslims understand that Jesus (AS) was a great Prophet sent to guide humanity to the straight path of monotheism and obedience to Allah (SWT). Unlike Christians, we differentiate between Jesus (AS) and God by recognising that only Allah (SWT) is the Creator and Sustainer of everything in existence.
Additionally, we hold that Jesus (AS) was not crucified - a major point of distinction from Christian belief. This important belief is supported in the Qur'an in which Allah (SWT) states: "They did not kill him, nor did they crucify him; but another was made to resemble him to them" (Qur'an 4:157). As Muslims, we believe that Jesus (AS), like all Prophets, will return at the end of days – and will bring justice to the world.
Jesus' (AS) teachings are seen as a fundamental part of the Islamic faith. His compassion, mercy and wisdom are regarded as exemplary traits in Islam, and his teachings are seen as a continuation of those given by Moses (AS) and other prophets before him.
Over the winter period, when cold weather threatens the lives of millions, we would do well to remember the example of Prophet 'Isa (AS) and of all the Prophets in history, from Adam (AS) through to our beloved Prophet Muhammad (ﷺ), the Seal of the Prophets and God's final Messenger.
Let us follow their example this winter by showing love, mercy, and compassion to all those in need. Let us remember the poor, those living on the margins of society, and those who have been forced to flee their homes in search of a better life.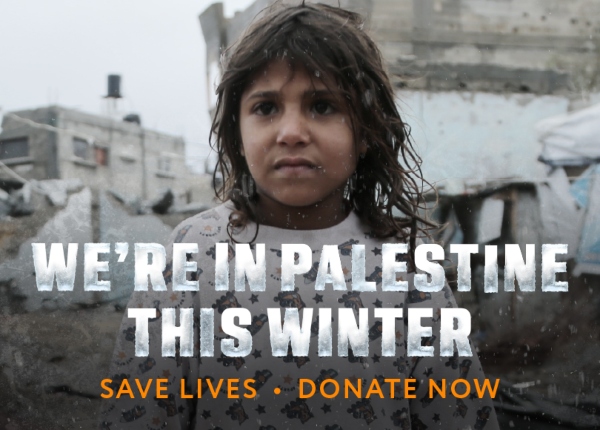 We Are Here for the People of Palestine
Today, in the homeland of Prophet 'Isa (AS), the Palestinian people are subjected to cruel and inhumane conditions, including widespread displacement, home demolitions, arbitrary arrests and detention, and land confiscations. A fragile health system, struggling infrastructure, and an economic crisis with high unemployment have all further contributed to the hardships faced by Palestinians.
Penny Appeal are calling on your support to help us provide winter essentials for those who need them the most. We are providing warm clothes, blankets, fuel, and other important items to help people get through the cold winter months.
Through Penny Appeal's Winter Emergency appeal, you can help provide warmth to struggling families in Gaza and the West Bank. Your donations could help children stay warm during the cold nights or enable families to buy fuel for their stoves. This life-saving aid could mean all the difference to those in need.
Together, we can offer much-needed hope and relief to these struggling people. Please donate whatever you can to our Winter Emergency appeal today. Your donations could help bring warmth, comfort, and dignity to families in Palestine this winter.
Thank you for your support.