How you can build a home for Syria's homeless this Ramadan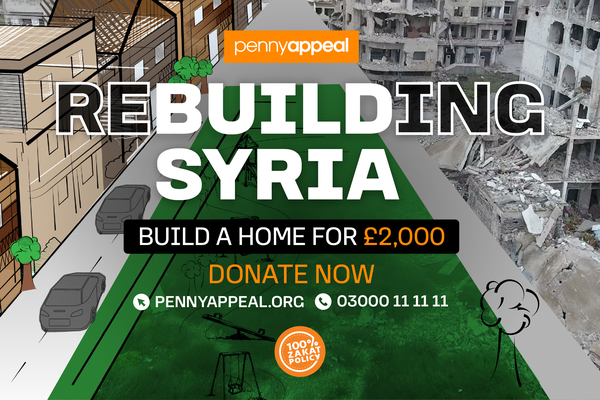 It's hard to believe that the brutal war inside Syria has been going on for over 11 years now. We have witnessed devastating levels of destruction, with over 400,000 deaths and an ongoing humanitarian crisis that has crippled millions of our innocent brothers and sisters. This effect on the Syrian population of the country has been devastating. There is a not a single family who hasn't experienced the loss of a loved one, loss of livelihoods, or even the loss of their homes, becoming homeless because of this senseless war. A staggering 5.6 million people have fled Syria to find refuge in nearby countries, some being granted asylum while others living year on year in what were supposed to be makeshift camps along country borders.
The cost of this war to innocent lives is unprecedented. It is the biggest humanitarian crisis of our lifetimes and as such, must be met with an unprecedented response of generosity and organisation to help those in desperate need.
A Crisis Within Crisis
Many of us are aware of the refugee crisis, but did you know millions more are trapped inside Syria? Fleeing the war, an estimated 6.4 million Syrians are displaced internally within Syria itself, creating a crisis of homelessness on a scale never seen before.
An estimated 31% of homes inside Syria have been destroyed, leaving families to live in flimsy tents in poorly run settlements with little or no access to clean water for drinking or hygiene. These tents amplify the heat of the sun during the summer and offer little protection from the blistering cold and rain during the winter months. Poor sanitary conditions combined with frequent flooding often leads to disease, illness and even death. The tents provided an emergency shelter but were never meant to be a permanent solution to the homelessness and humanitarian crisis in Syria.
Your Small Change, Making a Big Difference Already
Thanks to your continued kindness over the years, Penny Appeal has been providing life-saving food, access to clean water, medical supplies and shelter to thousands of Syrian families with our Emergency Appeal. Together we have helped directly helped 218,88 Syrians so far. This emergency aid is vital to provide immediate help to those in need, but it is equally important that we provide longer-term solutions to help provide stability for Syrians in need and rebuild safe and thriving communities.
This Ramadan, help lift the lives of Syrians in need from poverty to prosperity. Offer hope during these blessed days, help us Rebuild Syria together.
Penny Appeal have committed to offer a permanent shelter to hundreds of Syrians in need. For the first phase of this project, our plan is to build 92 homes within Syria. These homes will have two rooms, along with a kitchen and a washroom. They will provide shelter from the heat during the summer and safety from the cold and rain during the winter. Each home will have electricity and plumbing and will house a Syrian family in need.
Build Hope. Build a Home.
After living months and sometimes years in squalid camps, these homes offer an essential lifeline for families that have faced the consequences of war for no fault of their own. Innocent Syrian children have been born and raised in these camps, never knowing a life without pain, hunger, and desperation. You can provide them with a stable and comfortable home, alongside a supportive community that will help bring dignity to the lives of internally displaced Syrian families. This Ramadan, bring a Syrian family into your heart and put a roof over their heads.
Our £2,000 Syrian Homes offer a life-changing opportunity for families to leave behind a life of danger, poverty, and homelessness. Homes will be structured into a community that will provide a range of services for those who live there. This will include a school for the children to learn together and pursue their hopes and dreams - it is sad to think that many of these children have never been in a classroom before. Your contributions will not just transform their lives but inspire them to go on to make a change in their society too. The Syrian Homes will also have access to their own farming land which will be a vital source of food security and a way for adult residents to make a living and provide for their families.
You can help today
This Ramadan, you can be the answer to the prayers of a Syrian Family in need. You can transform a family and build for them one of our unique £2,000 Syrian homes. Donate today in your name or the name of a loved one. Every contribution, little or large makes a difference. If you can't contribute the full amount, you can start a direct debit and spread the cost out over 12 months. Remember, our Rebuild Syria project is 100% Zakat applicable, meaning if yodonate Zakat to this transformative appeal, 100% of your donation will reach those in need!

Click here to donate today or speak to one of our team on 03000 11 11 11.
Build a home from home for a Syrian family in need. Show mercy in these days of mercy and let the Most Merciful shower your life with His Mercy. Ameen.